Hawaiʻi Hotels: Which are Open, Closed and Reopening Soon—UPDATED
Planning to travel to Hawaiʻi soon? Then you'll want to check out our list of which hotels, resorts and BnBs are open or closed.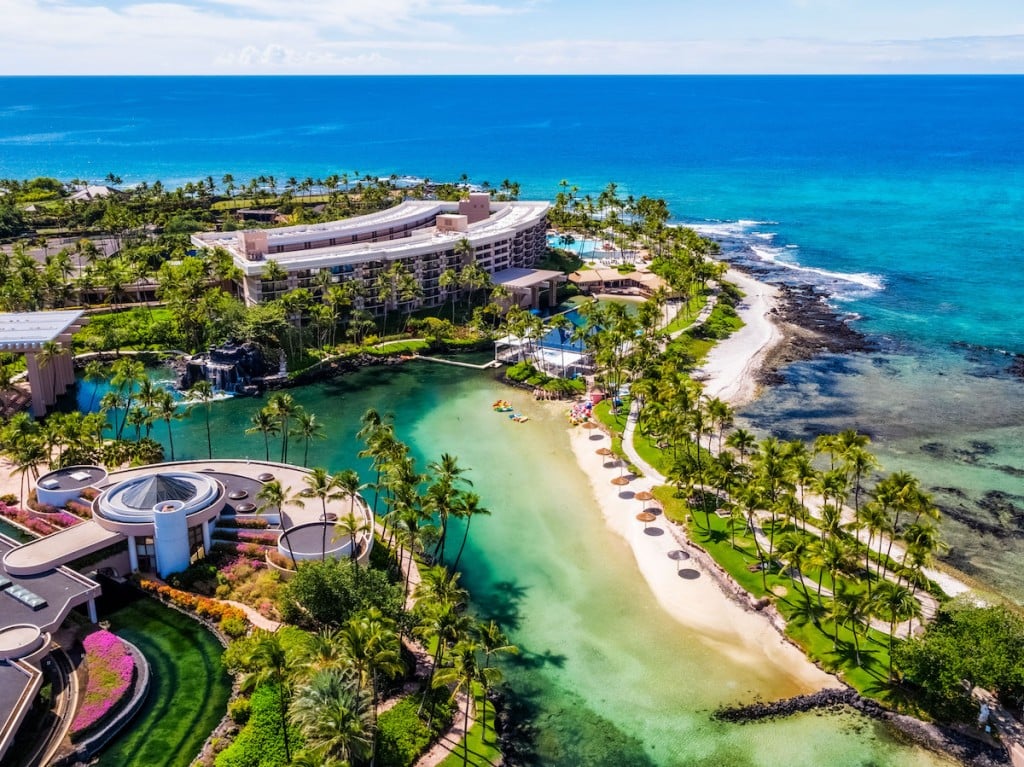 With Hawaiʻi welcoming back its visitor ʻohana on Oct. 15—when the state's new pre-travel COVID-19 testing program goes into effect—many of our Islands' hotels, resorts and BnBs are planning their reopening strategies starting this week. While some are reopening on Oct. 15, others have decided to stay closed until later in the holiday season. And still others still have no set date to open their doors yet.
To make the process of finding your accommodations a little easier, we've compiled a list of hotels, resorts and BnBs that plan to reopen, including dates.
The list will continue to be updated.
OʻAHU
Ala Moana Hotel: OPEN
ʻAlohilani Resort Waikīkī Beach: OPEN
Ambassador Hotel Waikīkī: OPEN
Aqua Aloha Surf Waikīkī: OPEN
Aqua Oasis: OPEN
Aqua Palms Waikīkī: OPEN
Aqua Skyline at Island Colony: OPEN
Aston at the Executive Center: OPEN, 3-Night Minimum
Aston at the Waikiki Banyan: OPEN, 30-Night Minimum
Aston Waikīkī Beach Tower: Open
Aston Waikīkī Circle Hotel: OPEN
Aulani, A Disney Resort & Spa: OPEN
Castle Resorts & Hotels: OPEN
Coconut Waikiki Hotel: OPEN
Aston Waikīkī Sunset: OPEN, 30-Night Minimum
Courtyard by Marriott North Shore: OPEN
Courtyard by Marriott Waikīkī Beach: OPEN
Embassy Suites by Hilton Waikīkī Beach Walk: OPEN
Embassy Suites by Hilton Oʻahu Kapolei: OPEN
ESPACIO Waikīkī: REOPENING DEC. 1, 2020
Ewa Hotel Waikīkī: OPEN
Four Seasons Resort Oʻahu at Ko ʻOlina: CLOSED, NO SET REOPENING DATE
Hale Koa Hotel: OPEN
Halekūlani Hotel: RENOVATING, ANTICIPATED COMPLETION IN SUMMER 2021
Halepuna Waikīkī by Halekūlani: CLOSED, NO SET REOPENING DATE
Hampton by Hilton Oʻahu-Kapolei: OPEN
Hilton Hawaiian Village Waikīkī Beach Resort: REOPENING DEC. 15, 2020
Hilton Waikīkī Beach: OPEN
Hotel Renew: OPEN
Hyatt Centric Waikīkī Beach: REOPENING NOV. 27, 2020
Ilikai Hotel & Luxury Suites: OPEN
Imperial Hawaiʻi Resort: OPEN
Luana Waikīkī Hotel & Luxury Suites: OPEN
Pagoda Hotel: OPEN
The Laylow, Autograph Collection: OPEN
Moana Surfrider, A Westin Resort & Spa: OPEN
ʻOHANA Waikīkī Malia: OPEN
ʻŌhiʻa Waikīkī Studio Suites: OPEN
Outrigger Reef Waikīkī Beach Resort: REOPENING APRIL 1, 2021
Outrigger Waikīkī Beach Resort: OPEN
Pacific Monarch Hotel: OPEN
Park Shore Waikīkī: OPEN
Prince Waikīkī: OPEN
Queen Kapiʻolani Hotel: REOPENING DEC. 1, 2020
Ritz-Carlton Residences, Waikīkī Beach: OPEN
Royal Grove Waikīkī: OPEN
Sheraton Princess Kaʻiulani: OPEN
Sheraton Waikīkī: OPEN
Shoreline Hotel Waikīkī: OPEN
Surfjack Hotel & Swim Club: OPEN
The Kāhala Hotel & Resort: OPEN
The Ritz-Carlton Residences, Waikīkī Beach: CLOSED, NO SET REOPENING DATE
The Royal Hawaiian, a Luxury Collection Resort: REOPENING TENT. DEC. 1, 2020
Turtle Bay Resort: REOPENING DEC. 1, 2020
White Sands Hotel: OPEN
MAUI COUNTY (MAUI, LĀNAʻI, MOLOKAʻI)
Andaz Maui at Wailea Resort: OPEN
Aston at the Maui Banyan: OPEN
Aston at the Papākea Resort: OPEN
Aston at The Whaler on Kaʻanapali Beach: OPEN
Aston Kaʻanapali Shore: OPEN
Aston Mahana at Kaʻanapali: OPEN
Aston Maui Hill: OPEN
Aston Paki Maui: OPEN
Fairmont Kea Lani: OPEN
Four Seasons Resort Lānaʻi: OPEN
Grand Wailea Maui, A Waldorf Astoria Resort: REOPENING NOV. 15, 2020
Hāna-Maui Resort: REOPENING NOV.20
Hotel Lānaʻi: OPEN
Hotel Wailea, Relais & Châteaux: OPEN
Hyatt Regency Maui Resort & Spa: OPEN
Kaʻanapali Beach Hotel: REOPENING DEC. 1, 2020
Kohea Kai Maui: OPEN
Kula Lodge: OPEN ONLY TO MAUI RESIDENTS UNTIL OCT. 15, 2020
Lumeria Maui: OPEN
Maui Coast Hotel: OPEN
Maui Kaʻanapali Villas: OPEN
Maui Seaside Hotel: OPEN
Montage Kapalua Bay: OPEN
Pāʻia Inn: OPEN
Royal Lahaina Resort: OPEN
Ritz-Carlton Kapalua: REOPENING NOV. 16, 2020
Sheraton Maui Resort & Spa: REOPENING NOVEMBER 2020
Sensei Lānaʻi, a Four Seasons Resort: OPEN
The Plantation Inn: REOPENING NOV. 15
The Westin Maui Resort & Spa: REOPENING NOV. 12, 2020
Wailea Beach Resort – Marriott, Maui: OPEN
HAWAIʻI ISLAND
Aston Kona by the Sea: OPEN
Aston Shores at Waikōloa: OPEN
Aston Waikōloa Colony Villas: OPEN
Courtyard by Marriott King Kamehameha's Kona Beach Hotel: REOPENING NOV. 16, 2020
Dolphin Bay Hotel: OPEN
Fairmont Orchid: REOPENING NOV. 13, 2020
Four Seasons Resort Hualālai: REOPENING DEC. 1, 2020
Grand Naniloa Hotel Hilo – a DoubleTree by Hilton: OPEN
Hilton Waikoloa Village: REOPENING NOV. 13, 2020
Hilo Seaside Hotel: REOPENING JAN. 1, 2021
Kona Seaside Hotel: OPEN
Mauna Kea Beach Hotel, Autograph Collection: OPEN
Mauna Lani, Auberge Resorts Collection: REOPENING NOV. 15, 2020
Palms Cliff House Inn: NOT TAKING NEW RESERVATIONS
Royal Kona Resort: OPEN
The Inn at Kulaniapia Falls: OPEN
The Westin Hapuna Beach Resort: REOPENING NOV. 20, 2020
Uncle Billy's Kona Bay Hotel: OPEN
Volcano Heritage Cottages: OPEN
Volcano House: CLOSED, NO SET REOPENING DATE
Waikōloa Beach Marriott Resort & Spa: OPEN
KAUAʻI
Aston at Poʻipū Kai: OPEN
Aston Islander on the Beach: OPEN
Club Wyndham Resort Kauaʻi Beach Villas: OPEN
Grand Hyatt Kauai Resort & Spa: OPEN
Hilton Garden Inn Kauaʻi Wailua Bay: OPEN
Kauaʻi Beach Resort: OPEN
Kauaʻi Marriott Resort: OPEN
Koʻa Kea Hotel & Resort at Poʻipū Beach: OPEN
Koloa Landing Resort at Poipu, Autograph Collection: OPEN
The ISO Mokihana: OPEN
The Lodge at Kukui'ula: OPEN
The Villas at Poʻipū Kai: OPEN
The Westin Princeville Ocean Resort Villas: OPEN
Timbers Kauai: OPEN
Waimea Plantation Cottages: OPEN