HAWAIʻI Magazine's 24th Annual Photo Contest Winners
Feast your eyes on the best photos of Hawaiʻi from our 24th annual photo contest.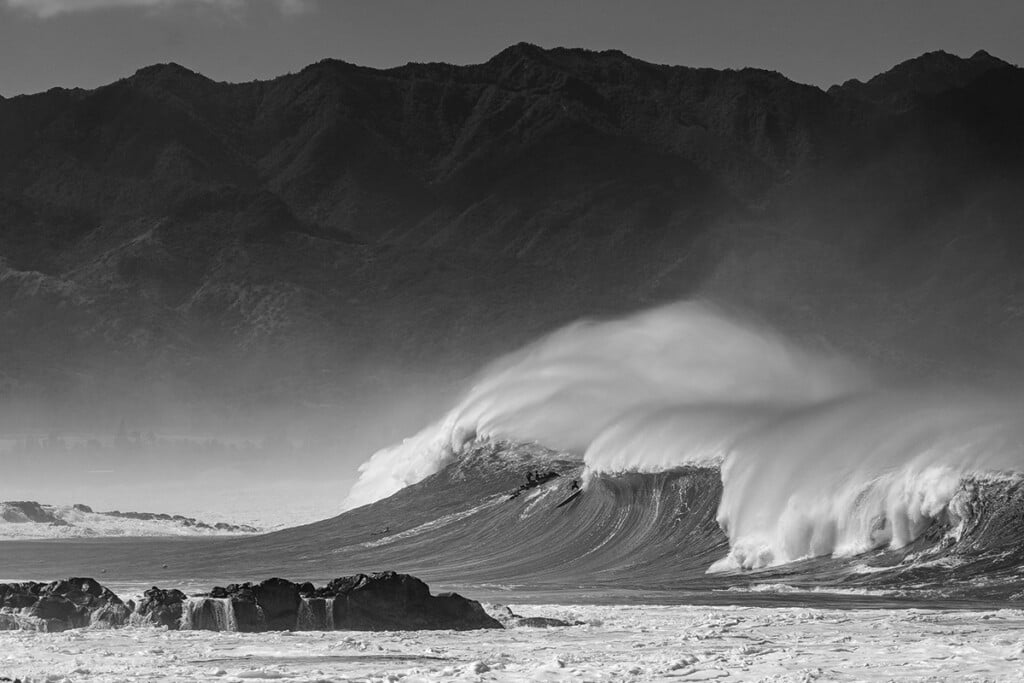 This may sound cliche, but if we had the option, everyone who submitted a photo this year would be a winner in our annual HAWAI'I Magazine Photo Contest. It was some seriously stiff competition for shutterbugs, and our in-house team of editors, art directors and photographers had a heck of a time trying to decide which photos we thought were the best of the best. In the following pages, you'll see truly stunning photography in five distinct categories—land, ocean, people, wildlife as well as sunrises and sunsets.
A feast for the eyes, these winners were able to perfectly encapsulate what makes Hawai'i so magical through the lens of their cameras. And a big thank you is in place for Alaska Airlines and the 'Alohilani Resort Waikīkī Beach for sponsoring prizes for this contest. Congratulations to the winners and mahalo to everyone who shared their special images of our beautiful islands.
Grand Prize
Brad Styron of Honolulu, Hawai'i (@bradstyron)
"This photo was taken on Jan. 16 just before noon. Hawai'i was getting pounded by the largest swell in years with the name 'Super Swell Saturday.' As I saw the forecast for this epic swell, I called up my friends over at Pro Camera Hawai'i to see if they had the Sony 200-600mm lens in stock, to my surprise they actually had two in stock. I quickly ran over to purchase this lens since I had a special photo in mind to capture Waimea Bay from the east side looking into the bowl. It was an amazing day watching the surfers take the drops. I shot photos all day from 9 a.m. to sunset."
First Place: Land
Shane Courtney of Lewiston, Idaho (@shanecourtneyphotography)
"This was my first trip to the Island of Kaua'i. I am a wedding photographer from Idaho and was booked to shoot a wedding on the island in April of 2022. My first full day on the island I booked a private helicopter tour with the doors off to view and photograph the island. The weather was amazing that morning and I couldn't be happier with this image of the Nāpali Coast!"
Runner-Up: Land
Peter Tang of Honolulu, Hawaiʻi (@petertangphotography)
"At Hawai'i Volcanoes National Park the Milky Way covers the sky over Kīlauea. The moon lights the steam that arises from the land. It's a beautiful sight that shows the wonder of nature."
First Place: Ocean
Andy Stenz of Honolulu, Hawaiʻi (@andystenz)
"I was flying in a helicopter along the North Shore of O'ahu and as we came around Ka'ena Point, we saw this large cloud a few miles offshore. The sun was casting a spotlight on the cloud and because the rain was pouring out, we were greeted with this beautiful and bright rainbow that stretched 1,000 feet to the ocean below."
Runner-Up: Ocean
Raja Iliya of Ha'ikū, Hawai'i (@rajailiya)
"I have spent countless hours in the ocean staring at this stunning view of the West Maui Mountains. However, this morning was different. The way the moon and clouds were sitting on top of the mountains and the soft texture on the water, all made it look surreal like a painting. Luckily, I happened to have my camera with me and was able to capture this picturesque moment."
First Place: People
Vance Uribe of Honolulu, Hawaiʻi (@vanceuribe)
"This shot was taken July 2019 in Hilo on the Island of Hawai'i. I had the opportunity to travel to the Big Island with the goal of documenting the protests on Mauna Kea. During a relaxing afternoon on the beach with my wife, I noticed some local children playing on this wall and jumping into the ocean and I ended up landing on this image of the girl waddling along the wall entertaining her brother and sister. Having just come from documenting protests filled with frustration and pain, I felt this photo captured the playful beauty that is the Hawaiian Islands."
Runner-Up: People
Susan Chipperton of Honolulu, Hawaiʻi (@chippertonphotography)
"I was fortunate enough to be one of only a few people on a Remembrance Tour (boat ride) operated by the Pacific Fleet Boat House at Pearl Harbor. The people in the photo were on this tour with me and I was very lucky to capture this solemn moment without the normal crowd of people from the daily tours to the Arizona Memorial."
First Place: Wildlife
Raja Iliya of Ha'ikū, Hawai'i (@rajailiya)
"I got in the water on the west side of Maui on an overcast morning with limited visibility, not expecting to see much. After swimming offshore a while, out of nowhere a mother and baby dolphin appeared and peacefully swam by. As they did, the particles on the water's surface made it look like they were swimming beneath a sea of stars."
Runner-Up: Wildlife
Brad Styron of Honolulu, Hawai'i (@bradstyron)
"I was just cruising the east side one day and stopped to take some photos of some cool palm trees. After a few shots I noticed this monk seal laying on the beach, so I broke out the zoom lens and got a super low angle to capture the sand foreground and ocean background. She would occasionally scratch her belly and then she must have had an itch on her face, so I was able to capture this cool shot of her flipper over one eye."
First Place: Sunrise or Sunset
Jeremy Johnson of Susanville, California (@jjohnson_photography )
"I've never seen weather and light change so fast in my life. We pulled up to this canyon overlook and the weather was dark, stormy and raining. This canyon was engulfed in clouds and rain was coming down almost vertically towards me. We were drenched, waiting patiently under some trees, and almost instantly it started to clear and fill the valley with the warmest light I've ever seen. Then as fast as it came it filled back up with clouds. This was our first sunset on Kaua'i."
Runner-Up: Sunrise or Sunset
Travis Morrin of Maui, Hawaiʻi (@traviskeah)
"Sunrise at Hanalei Pier. Soft pastel colors paint the morning horizon. The man-made structure looked surreal against the glowing hues. This long exposure was taken on a calm summer morning on the island of Kaua'i."