Hawaiʻi's Ultimate Getaway for Couples: Hotel Wailea, Relais & Châteaux
One of Hawaiʻi's only adult-only resorts, Hotel Wailea, Relais & Châteaux on Maui is a couple's paradise.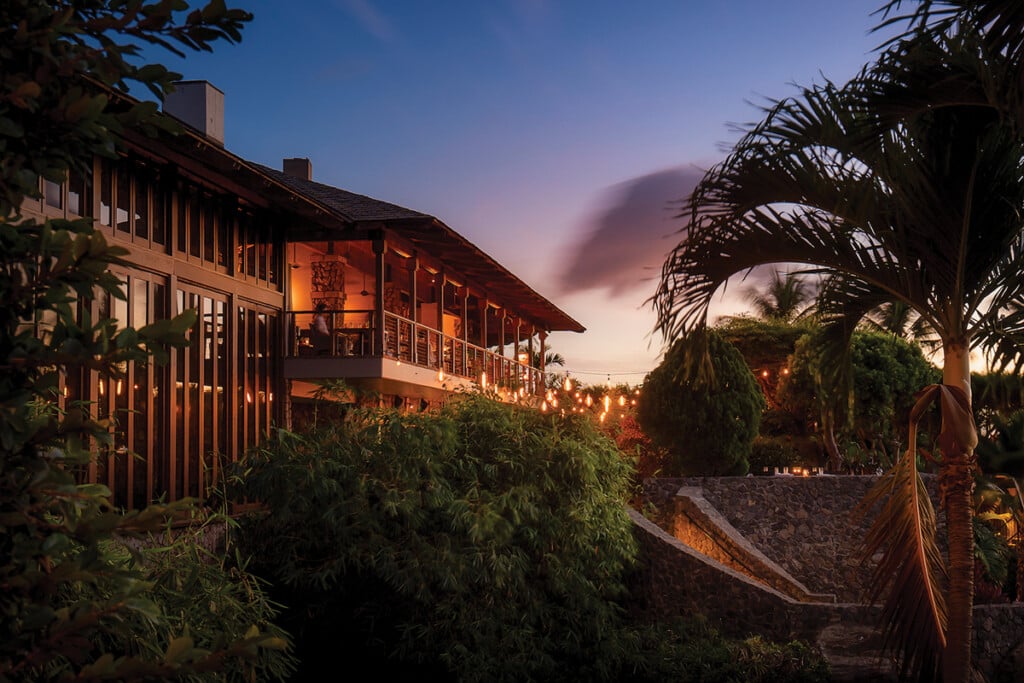 The sound of rushing water and singing lovebirds is all I can hear as my girlfriend, Kaila, and I pull up to Hotel Wailea, Relais & Châteaux. A bellman takes our bags and directs us to the check-in desk, where we're greeted with lei and two glasses of Champagne. Waiting for our room to be ready, Kaila and I walk the property and take it all in: the elegant pool deck, the inviting hammocks hung here and there and the long flowing river that descends throughout the 15-acre property. But it's the quiet, and the solitude, that makes me believe this will be the ultimate getaway.
Located on Maui's south shore, Hotel Wailea is tucked away from many of the other resorts and businesses in the area. It's as luxurious as it is private, and is a proud member of Relais & Châteaux, a hotel association of individually owned and operated luxury hotels and restaurants that meet strict admission standards and lean toward luxury. (There are 580 Relais & Châteaux members globally; Hotel Wailea is the only one in the state of Hawai'i).
The Relais & Châteaux title is well earned at Hotel Wailea. Hotel staff whisks us from the lobby to our room in the nicest golf cart I've ever seen and the suite we've been set up with is impressive too. From the spacious deck, Lāna'i and Moloka'i—as well as Molokini Islet—are in plain view. The suite comes with plenty of comfy corners and nooks, great for spending an entire afternoon cozied up with your loved one, and the exquisite bathtub has more than enough room for two.
If you wanted to, you could spend your entire Valley Isle trip on Hotel Wailea's luxurious grounds. It's part of the place's charm. Deciding to burn some calories before our dinner reservation, we took advantage of the resort's expansive list of activities for couples—which includes driving vintage roadsters around Maui, mind-opening guided meditation sessions and tropical mixology classes—and booked an aerial silk session led by instructor Andrea Fors, who has been practicing aerial acrobatics since 1998 and helped open one of the first dedicated aerial dance studios in the country, Canopy Studio in Athens, Georgia.
Taking into account our fitness levels, Fors quickly tailored an experience best suited for us, teaching us the basics of aerial silks before moving us on to more advanced techniques. A mixture of laughter and motivational pep talks, the class was a great way for Kaila and me to burn some calories before our dinner reservation. Through decades of experience, Fors knows exactly how to make learning the basics of aerial silks a fun and interactive experience, and as I found my way into a few basic poses, it was easy to see how couples could book an entire trip's worth of activities through Hotel Wailea's curated catalogue.
Before heading to dinner, Kaila and I decide to drop in at The Birdcage Bar. One of the newer additions to the property, Hotel Wailea's lobby transforms into a casual open-air bar around sunset, where you're surrounded by lovebirds, hence the name. It's a spectacular place to catch the setting sun, and the ambiance is just right. Tables, love seats, lounge chairs and more are scattered around the space, and waiters come and go looking out for whomever looks hungry or thirsty. There's no reservation required—unless you're in a party of nine or more—which is surprising as the drinks and pūpū (appetizers) are restaurant-grade first-class, and we take our time nibbling on a fresh plate of roasted Brussels sprouts and watching the sun dip below the horizon, before making our way next door.
The Restaurant at Hotel Wailea is a fine diner's paradise. Here, Island flavors are delivered with a degree of artistry you might expect at a Michelin-starred establishment, and the place is full of colors, smells and tastes that just might surprise you—in a good way. Guests can create their own three-course meals and we were blown away by the unique mix of flavors and textures in our first course choice: the Parisian-style gnocchi. Think of a gnocchi with a softer, more chewy texture, and topped with shreds of succulent wagyu beef, accentuated by a sweet garlic crumble. The more filling delicacies are on the second course menu, which features a variety of mouthwatering options. Rich in flavor, the wagyu rib-eye stole my attention away from my dinner date, who was so enamored with her plate of fettuccine that she didn't even notice.
Walking back to our suite, the silence of the property is captivating. It's so unlike any resort or hotel I've stayed at—and I've been to quite a few. Kaila and I discuss what we'll do tomorrow. Maybe a day at the beach or a trip to Wailea, but we both know that—if it comes down to it—we could always nest up in our suite and simply enjoy our time together at Hotel Wailea.
For more information on availability and bookings, visit hotelwailea.com.
Below, we've also included five hotels and resorts we think are perfect for lovebirds looking to nest in Hawaiʻi.
1. Hāna-Maui Resort, a Destination by Hyatt Hotel, Maui
Spread across 66 pristine acres, the Hāna-Maui Resort, a Destination by Hyatt Hotel, offers all the luxury couples would want from an island abode. hyatt.com/hana.
2. The Surfjack, O'ahu
For couples looking to enjoy shopping, bars and more, The Surfjack is a modern accommodation that places you in the center of Waikīkī. surfjack.com.
3. Four Seasons Resort Hualālai, Hawai'i Island
Upscale accommodations will make it hard for couples to leave their rooms upon checking in at the Four Seasons Resort Hualālai. fourseasons.com/hualalai.
4. Timbers Kaua'i, Kaua'i
At Timbers Kaua'i, you and your lover can call a pristine townhouse on the eastern shoreline of Kaua'i your own. timberskauai.com.
5. Prince Waikīkī, O'ahu
With cozy nooks and luxury accommodations perfect for couples, the Prince Waikīkī is an inviting escape from Honolulu's busy streets. princewaikiki.com.