Hawaii artist Peggy Chun dies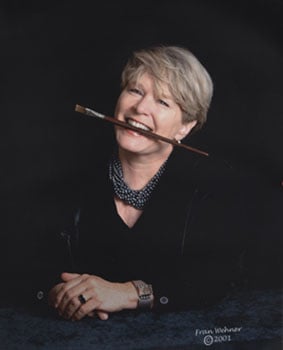 Hawaii artist Peggy Chun, known for her brilliant watercolor portraits of Island life and brave battle to continue her art even as a neurodegenerative disease seized control of her body and life, has died.
Chun passed away last night after a six-year fight with amyotrophic lateral sclerosis (ALS)—also known as Lou Gehrig's disease. She was 62.
Diagnosed with ALS in 2002 at the height of her skills and fame, Chun decided early on that the disease would inspire, not rob her of, her creativity. A year after her diagnosis, she was no longer able to paint with her right hand—so she learned to use her left. When Chun's ability to paint with that hand ended in 2004, she held her brush between her teeth and painted that way. When the disease stole all mobility and Chun was completely paralyzed, she used a computer program that read her eye movements.
When that even failed, she signaled her intentions with her eyes so that collaborators could execute her art work.
She never stopped painting. "After all, you don't paint with your hands, you paint with your heart," she wrote on her Web site.
Chun's Hawaii-inspired paintings—some serious, many whimsical—attracted a strong following both in Hawaii and worldwide. She painted Hawaii landmarks, plants, architecture, landscapes, crafts and even her beloved cats. Her cat paintings were turned into a children's book, The Watercolor Cat, by writer Shelly Mecum.
Services for Chun will be held Dec. 5 at historic Kawaiahao Church in downtown Honolulu. Visitation will begin at 1 p.m., services at 2 p.m.
A nicely written tribute to Chun's life and art by Honolulu writer Lee Cataluna ran in The Honolulu Advertiser daily newspaper this morning. It's well-worth a read.