Hawaii Chef's Choice: Favorite ahi poke and Portuguese Bean Soup recipes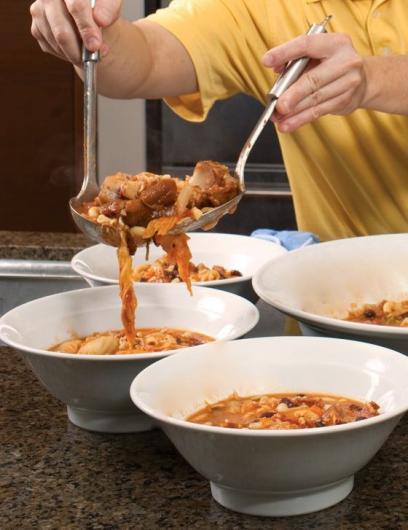 HAWAII Magazine's annual Food Issue is coming soon to a mailbox or newsstand near you.
You'll be ready to hop the next available Hawaii flight after you've finished reading all of our November/December 2011 issue's mouth-watering features focusing on Hawaii food culture and cuisine. Among the stories on our menu:
• A visit to Maui's T. Komoda Bakery for its famous handmade cream puffs and a look at the family run business's six decades of confection perfection.
• Our guide to enjoying loco moco in the Big Island birthplace of the popular Hawaii comfort food dish.
• On the 50th anniversary of Oahu comfort food haven Rainbow Drive-In, owner Jim Gusukuma's shares the 5 Things He Loves About Hawaii-style plate lunch.
In our main features section you'll find "The HAWAII Magazine Guide to Local Eats"—a collection of features spotlighting the comfort foods we always seem to reach for when we're hungry here in Hawaii, or crave when we're away. There's a photo-filled glossary of "Gotta Eat Hawaii Grinds," the 32 local food favorites we feel everyone must have while in the Islands; and even a lively look at the "Evolution of the Hawaii Food Truck," from Honolulu dockside pushcarts at the turn of the century to Oahu's current convoy of multicultural gourmet food trucks.
Here on HawaiiMagazine.com we're sharing a sneak peak (and a few extras) from one of our "Guide to Local Eats" features we had the most fun putting together, "Chef's Choice."
For the feature, we asked five Hawaii chefs to reveal their favorite local comfort foods and—as a bonus to readers—where in Hawaii you can get them, or recipes for making them at home. The line-up of chefs and choices includes BLT Steak Waikiki chef de cuisine Johann Svensson and his favorite Hawaii-style version of a popular Korean grilled meat dish; Star Noodle executive chef Sheldon Simeon's go-to dish when he's got a refrigerator full of leftovers and a pot of rice; and Hilo Bay Café executive chef Joshua Ketner's favorite all-day, all-purpose snack for Big Island fishing trips.
On the following pages, you'll find the stories and exclusive Hawaii comfort food recipes from two of our "Chef's Choice" chefs: Halekulani executive chef Vikram Garg and his favorite ahi poke and Alan Wong's Honolulu chef de cuisine Wade Ueoka and his twist on Portuguese bean soup.
Read on, and bon appetit!

---
Chef's Choice: Favorite Hawaii Comfort Foods
Wade Ueoka
Chef de Cuisine, Alan Wong's Honolulu
Born and raised: Honolulu, Oahu, Hawaii

Portuguese Bean Soup
As a line cook at Zippy's early in his career, Ueoka had carte blanche daily to select just about anything off the Hawaii comfort-food haven's vast menu as his employee meal. When Portuguese bean soup was the day's special, the choice was easy. "Talk about comfort food. You get ham hocks, sausage, beans, cabbage and a lot of vegetables. And everything just comes together," says Ueoka. "I remember having it at family parties. My uncles would make it."
Before long, Ueoka was crafting his own version, with a pungent, spicy Hawaii twist: kim chee-prepared cabbage instead of fresh cabbage.
"Many times when you eat Portuguese bean soup, there's no heat to it or spice," he says. "This adds both. I liked it. Plus, I like eating kim chee, too."
The kim chee's acidity, says Ueoka, balances with the smokiness of the soup's braised ham hocks, Portuguese sausage and corned-beef brisket. At parties with fortunate friends and family he invites over, "I always like having it ready for when everyone goes home, so they can have a nice comforting bowl of soup," he says. "But it's really good any day."
How to make Chef Wade's Kim Chee Portuguese bean soup:
Ingredients:
2 lbs. ham hocks
2 lbs. corned beef, uncooked
2 lbs. Portuguese sausage, diced large
2 pc. bay leaf
3 pc. garlic cloves
1 ½ gallons water
1 tsp. dried oregano
½ tsp. dried chili flakes
1 cup onion, diced large
¾ cup carrot, diced large
1 cup tomato paste
2 cups diced canned tomato
3 cups canned kidney beans with liquid
1/2 cup dried macaroni pasta, uncooked
4 cups won bok (Chinese cabbage) kim chee
Preparation:
1) Place the ham hock, corned beef, bay leaves, garlic cloves, and water into a pot. Bring to a boil over high heat, then reduce to medium heat and let simmer for 2 1/2 hours.
2) When the corned beef is fork tender, remove it from the pot, cut it into large cubes and set aside.
3) In a separate pot, over medium high heat, sauté the Portuguese sausage until it is lightly browned. Add the oregano and dried chili flakes and stir to combine the ingredients. Cook for about two minutes then add the onion, carrots, and corned beef cubes. Cook for another three minutes then add the tomato paste. Mix the ingredients, making sure they are combined well.
4) Add all the contents from the first pot (stock and ham hock) to the second pot (Portuguese sausage, corned beef, carrots, etc.) and bring to a boil over high heat.
5) Reduce to medium heat and simmer for 10 minutes. Add the diced tomato and macaroni pasta and simmer until the pasta is cooked: about 8 to 10 minutes.
6) When ready to serve add the kim chee, bring to a boil and serve in soup bowls.
Recipe serves: 20 (You can, of course, halve or even quarter the recipe. But nobody in Hawaii ever really makes a small pot of Portuguese bean soup.)
Enjoy Chef Wade's cooking at: Alan Wong's Honolulu, 1857 S. King St., Honolulu, O'ahu, (808) 949-2526, www.alanwongs.com

---
Chef's Choice: Favorite Hawaii Comfort Foods
Vikram Garg
Executive Chef, Halekulani
Born and raised: Andaman Nicobar Islands, India
Ahi Poke
"Visually, it looked like a dish where, unconsciously, your chopsticks would go to it," says Garg, of his first encounter with ahi poke, on an Oahu visit as a Halekulani guest chef in 2006. "When I had my first bite, it was like fish candy to me. The combination of flavors—a little bit of shoyu, raw onion, ginger, sesame, the ocean aroma of ogo (a type of seaweed)—it was mind blowing. I just fell in love."
A few years later, as Halekulani's executive chef, Garg challenged his kitchen staff to make him a great poke. "And one guy walks up and says, 'You know what, Chef? I'm gonna make you a real Hawaiian poke.'" From that moment on, Randall Kolomona Kaaloa's ahi poke was Garg's favorite. Taste is one big reason.
"But there's a love he puts in there. He's absolutely passionate about it," says Garg, of the soft-spoken cook (pictured, left). "I usually have it late in the evening in the kitchen. If he sees me walking around, nibbling, he'll say, 'You hungry, Chef? I'll make it for you.' He knows."
How to make Randall Kolomona Kaaloa's 'ahi poke:
Ingredients:
1 lb. fresh ahi, cut into cubes
½ oz. ogo, chopped
4 oz. Maui onion, julienned
1 oz. green onion, chopped
½ tsp. fresh ginger, chopped fine
1-2 pc. Hawaiian chili peppers, chopped fine
¼ tsp. toasted sesame seeds
1 Tbsp shoyu (soy sauce)
To taste Hawaiian sea salt
Preparation:
Place all of the ingredients in a bowl, combine thoroughly, and serve with taro chips.
Recipe serves: 4
Enjoy Chef Vikram's cooking at: Halekulani Hotel, 2199 Kālia Road, Honolulu, O'ahu, (808) 923-2311, www.halekulani.com