Hawaii Chocolate Festival serving grown-in-the-Islands goodies this weekend in Honolulu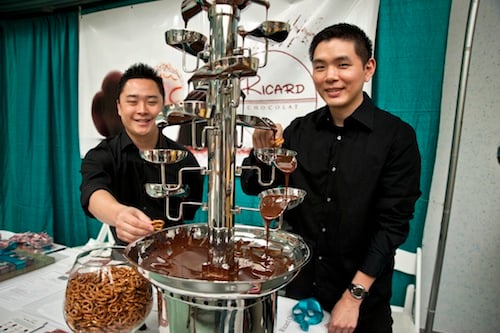 Cacao is thriving in Hawaii's tropical soil. Reason enough to celebrate with, say, samples of chocolate-covered pineapple, apple banana, coffee beans and macadamia nuts? We think so. Nodding agreement?
If so, and you happen to be on Oahu this weekend, check out the Hawaii Chocolate Festival, noon to 5 p.m. on Sat., Feb. 23 at Dole Cannery Shops in Honolulu. Now in its third year, the fest will showcase nearly 30 chocolate vendors creating products made exclusively from beans grown in Hawaii (the only state in the nation growing cacao).
Tickets are $20 in advance online and $25 at the door. For more ticket information, click here. In addition to browsing booths and learning about the state's cacao crop, an admission ticket will fetch 10 chocolate samplings of your choice from some of the top chocolatiers in the Islands.
Among the Oahu vendors: Padovani's Chocolates by Philippe Padovani, Waialua Estate and Malie Kai from the North Shore, Madre Chocolates and Manoa Chocolate Hawaii from Kailua. Neighbor islands: Sweet Paradise Chocolates (Maui) and the Big Island's Original Hawaiian Chocolate Factory.
The event's tasty offerings will include Hawaiian Cheesecakes' mini cheesecake cupcakes with double-chocolate cheesecake (New York-style cheesecake on a layer of Waialua Estates dark chocolate on a macadamia nut shortbread crust, with a dark chocolate ganache).
Dessert chefs will also be serving up chocolate bacon, chocolate-covered tropical fruit and nuts. Beverages will range from Naughty Cow Chocolate Liqueur to Kona Brewing Companies Black Sand Porter with Big Island Grown Cocoa Nibs.
Among the event's guest speakers are Ed Sequine with Mars Global Chocolate, and Art Pollard, founder and head chocolate-maker for Amano Chocolates.
In conjunction with the fest, Special Events Hawaii has organized the Hawaii Chocolate Festival Roadshow, a month-long series of events to be held at various locations in celebration of the state's Hawaii-Grown Cacao Month (February). Click here for roadshow calendar listings. For additional festival information, click here or call (808) 234-0404.