Hawaii Ecotourism Association awards first-ever green certification to 14 tour companies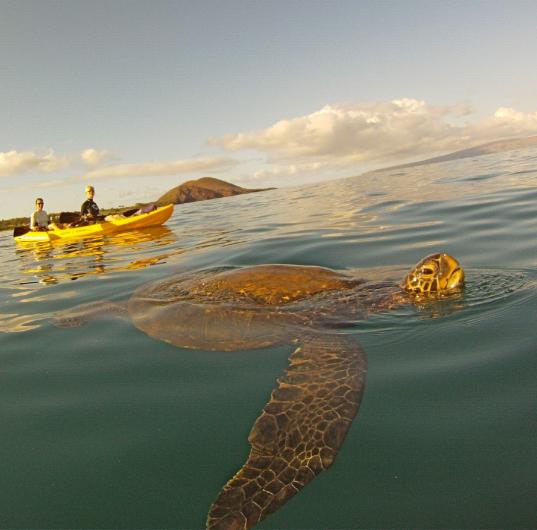 Not all ecotourism operations in Hawaii — or anywhere else, actually — are the same shade of green.
Most provide some sort of nature experience, anything from a hike in a remote area to a snorkeling cruise circling an offshore reef. But which ones are most respectful of the host culture? Which contribute to environmental efforts and local communities?
In an effort to spotlight Hawaii's ecotour operators sporting the deepest shades of green, the Hawaii Ecotourism Association (HEA) has developed a certification program. This week, it honored 14 tour companies that have earned Hawaii's first-ever "green" certification.
Through the nonprofit's program, which has been in the works for the last 18 months or so, "Hawaii is the first state to try to get a handle on this," says Diana King, a member of the association's board of directors.
In a written statement, HEA's president, Chris Colvin, said: "The purpose of certification is to support, promote, educate, and strengthen on-the-ground tourism practices with respect to honoring and caring for our natural and cultural resources, resulting in better resource conservation, higher visitor satisfaction, and more community support for the visitor industry."
HEA's certification is awarded to applicant ecotour operations that meet the following requirements:
• Provide a direct, personal experience of nature for customers;
• Maintain a written sustainability plan that guides operations and demonstrates commitment to HEA ecotourism principles;
• Contribute to conservation outcomes annually to statewide and/or local community-based environmental conservation initiatives;
• Contribute to the local communities in which the applicant operates;
• Demonstrate effective management of operating principles tied to the environment, interpretation, consumer evaluation, marketing, and staff.
HEA's program reviews applications through site visits and other assessments. Those meeting requirements are issued gold, silver or bronze certification. Gold honorees are certified for a three-year period, while silver and bronze honorees can make adjustments to their operations and reapply next year for gold status.
The inaugural group includes three gold-certified ecotour operators: Atlantis Adventures (Oahu, Maui and the Big Island), Trilogy Excursions (Maui) and Volcano Discovery (Big Island).
The silver-certified: Hawaiian Paddle Sports (Maui), Hike Maui (Maui), Jack's Diving Locker (Big Island), Kayak Kauai (Kauai), Kualoa Ranch (Oahu), Pacific Islands Institute (Oahu, Maui, Kauai, Molokai and the Big Island), Pacific Whale Foundation (Maui), and Wild Side Specialty Tours (Oahu).
Bronze-certified: Annette's Adventures (Oahu), Bike Hawaii (Oahu) and Hawaii Forest & Trail (Big Island).
The ecotourism certification program was developed with funding from a Hawaii Tourism Authority natural resources award. In-kind support was contributed by the University of Hawaii at Manoa's College of Tropical Agriculture and Human Resources, Department of Natural Resources and Environmental Management. Support for the program's development was provided by a volunteer advisory panel representing business, government, and nonprofit interests.
Founded in 1994, the Hawaii Ecotourism Association advocates for ecotourism as a means to protect Hawai'i's natural environment and native culture. Its membership base is composed of tour and lodging operators, travel writers, and community and environmental. For more information about HEA, click here.