Hawaii farms take honors in worldwide coffee-of-the-year competition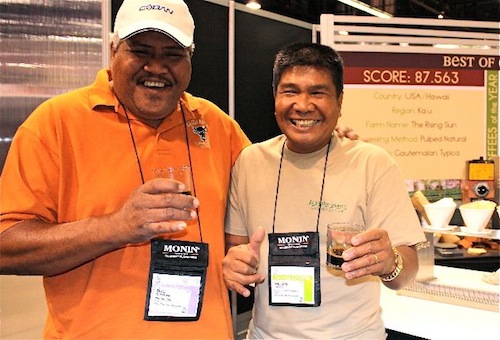 Three Big Island coffee farms are ranked among the top 10 in the Roasters Guild of the Specialty Coffee Association of America's annual Coffee of the Year international competition for 2012.
All Kau area coffee farms, the Hawaii winners are:
• The Rising Sun/Will and Grace Farms — farmers Will and Grace Tabios;
• Rusty's Hawaiian — farmer Lorie Obra; and
• Alii Hawaiian Hula Hands Coffee — farmers Francis and Trinidad Marques.
The other winning coffees come from farms in Honduras, Columbia and Ethiopia.

More than 250 coffee samples representing 26 countries vied in the prestigious competition — held last week in Long Beach, Calif. — to be recognized as the best specialty coffee from around the globe for the 2011-2012 season.
A panel of experienced coffee-cupping judges blindly evaluated the sensory attributes of each coffee and issued scores for fragrance and aroma, taste, flavor, acidity, aftertaste and body.
In a news release issued by the Kau Coffee Festival's organizers, Rusty's Obra said: "This is a special day at Rusty's Hawaiian Coffee." She adds, "It was my late husband Rusty's vision that Kau would become one of the world's top coffee-producing origins. Seeing three Kau coffees among the Coffees of the Year winners continues to keep his legacy and vision alive. This victory is for Rusty, for Kau, for Hawaii and the USA."
Alii Hawaiian Hula Hands' Trinidad Marques linked the farm's success to a sacred source. "It's the spiritual connection to the aina (land). As Hawaiians, the aina and nature speak to us. I knew one day we would make it. It feels great to see the results of our perseverance."
The coffees and the growers will be celebrated at the Specialty Coffee Association of America's 24th annual Expo in Portland, Ore., set for April 18-22 and again at the fourth annual Kau Coffee Festival in Pahala on the Big Island, May 12.
Festival organizer Chris Manfredi of Kau Farm and Ranch Co., said: "I'm again so pleased and proud of all the Kau growers." He added, "Their dedication, combined passion and willingness to work together make Kau a very special place and Kau coffee exceptional."
For details about the festival, click here. And for more information about the Specialty Coffee Association of America, click here.