Hawaii-filmed TV military drama series "Last Resort" debuts tomorrow night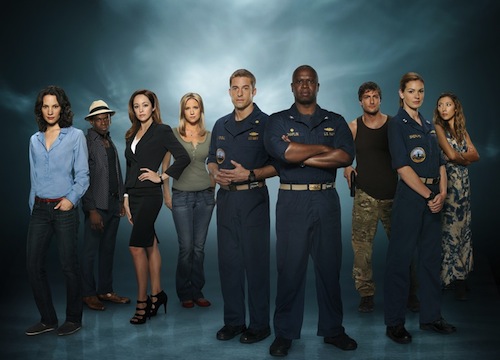 The latest Hawaii-filmed TV drama series, Last Resort, will make its debut tomorrow night (Sept. 27) on ABC. The American military drama stars Andre Braugher (Men of a Certain Age), Scott Speedman (The Vow, Felicity) and Robert Patrick (True Blood).
Here's a bit of the show's pilot storyline.
The fictional USS Colorado, a ballistic missile submarine — the most powerful sub in the ocean these days — has just been given a suspicious order to fire nuclear weapons at Pakistan. When the Colorado's captain, Marcus Chaplin (Braugher), asks for a confirmation on the order, he is removed from his post, leaving the decision-making to crewmember Sam Kendal (Speedman). Struck with the same uncertainty about the order, Kendal refuses to fire. That move appears to set the stage for the Colorado being declared as an enemy of its own country. The crew then seeks refuge on the fictional isle of Sainte Marina, which looks a lot like, ahem, Oahu coastline.
A "Fall TV Preview" that appeared in the Los Angeles Times earlier this month noted that like ABC's Hawaii-filmed Lost (2004-10) Last Resort is a "high-concept drama." In the case of the Last Resort, the drama "ambitiously stretches from the White House to 500 feet below of the ocean."
When asked about comparisons with Lost, cast member Braugher said: "We stand on the shoulders of giants that came before us, but, ultimately, we think this show has its own unique vision."
After the final episode of Lost aired in May 2010, ABC brought Off the Map to Oahu. The medical drama series about doctors working is a remote South American village, premiered in January 2011 and was canceled in May 2011. ABC moved The River to Oahu in 2011. Set deep in the Amazon, The River followed the story tied to the search for a missing wildlife expert/TV personality and delved into paranormal themes. It debuted in February and has since been canceled.
Click on the image below to watch an ABB "inside look" video about Last Resort's characters and plot line. For more information about the new show, click here.