Hawaii Fishing & Seafood Festival all about celebrating our Islands' fresh catch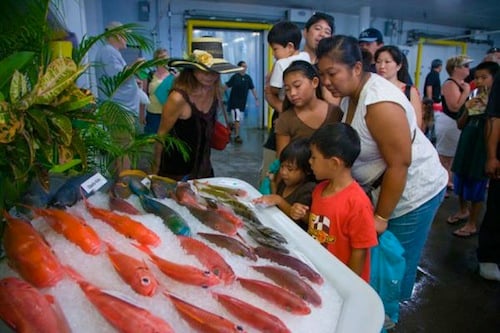 Seafood your thing? Ahi. Aku. Opelu. Opah. Crab. Lobster. If it swims and lives in Hawaiian waters and is edible are you all over it for lunch and dinner?
The largest community celebration of Hawaii's fishing and seafood heritage happens on Sunday as the Hawaii Fishing and Seafood Festival host its eighth annual event at the Honolulu Fishing Village at Pier 38.
Why go?
Well, for one thing, if you're still reading this you must really like seafood. And if you're really into seafood, the daylong festival aims to host more than 100 different seafood vendors, along with fishing workshops, fishing vessel tours and seafood cooking demonstrations. Also on the schedule are tours of the Honolulu Fish Auction facility and live fishing demonstrations.
The festival is free, happens from 9 a.m. to 4 p.m. on Oct. 13, and annually attracts more than 20,000 residents and visitors.
The goal of the Hawaii Fishing and Seafood Festival is promoting awareness of marine conservation, ocean safety and responsible fishing. Other fest-related events this week included a "Fishing for Hawaii's Hungry" two-day trolling tournament (which took place on Oct. 5 and 6) and "Sea-To-Me Tasting Night" grazing dinner (which happened on Oct. 5), both fundraisers for Hawaii Community College culinary programs.
But Sunday's Hawaii Fishing & Seafood Festival is the main event.
Free public parking and free shuttle service will be provided at Honolulu Community College (874 Dillingham Blvd., Honolulu), about a half-mile inland from Pier 38, beginning at 8 a.m. There will also be limited free valet parking at Pier 38.
The Pacific Islands Fisheries Group, a nonprofit organization providing a network to keep fishermen informed about what's going on in the community, annually organizes the Hawaii Fishing & Seafood Festival. The group also supports programs that directly benefit Hawaii's marine resources.
For more information about the Hawaii Fishing & Seafood Festival, click here.