Hawaii Five-0 books third season, CBS keeps TV police drama's cameras rolling on Oahu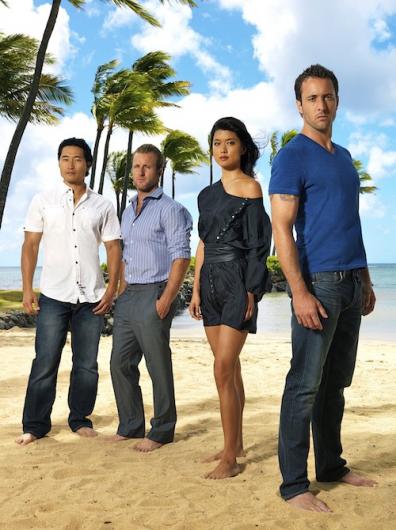 Hawaii Five-0 is now booked for a third season.
The Hawaii-filmed re-imagined police procedural drama is one of 18 primetime television series renewed by CBS this week for the 2012-13 season. The list includes nine dramas, four comedies, three reality shows and two news magazines. For the second straight year, Hawaii Five-0 holds the No. 2 ranking among the popular dramas in the lineup, behind NCIS: Los Angeles, according to a CBS news release.
So, we'll be seeing more filming around Oahu later this year featuring the rule-bending Steve McGarrett (Alex O'Loughlin) and the rest of the Five-0 team — Danny "Danno" Williams (Scott Caan), Kona "Kono" Kalakaua (Grace Park) and Chin Ho Kelly (Daniel Dae Kim).
In addition to further developing story-lines tied to the primary cast (pictured, above) and show regulars, such as Dr. Max Bergman (Masi Oka), Hawaii Five-0's sophomore season has featured cameo roles for several very well known actors, ranging from Ed Asner, who reprised a role he played more than 30 years ago on the original Hawaii Five-O series, to James Caan, whose son plays "Danno" in the current series.
Another television series with episodes shot in Hawaii, The River, is not faring as well with viewers. In its seventh episode, which aired Tuesday night, the paranormal-themed series on ABC reportedly attracted 4.1 million viewers, which put it well behind the 11.2 million viewers who watched the top CBS crime drama, NCIS: Los Angeles.
The pilot episode for The River was filmed in Puerto Rico, as was the pilot for Off the Map, an ABC series than moved to Hawaii during 2010. Off the Map, a medical drama about doctors working is a remote South American village, premiered in January 2011 and was canceled by ABC last spring.
Set deep in the Amazon, The River follows the story of wildlife expert and TV personality Emmet Cole (Bruce Greenwood), who goes missing in the jungle. Six months after his disappearance, his emergency beacon activates. This prompts his family and co-workers, along with as a television documentary crew, to set out on a journey to find him (cast pictured, left). The season finale is scheduled for next week. So far, it appears that The River is failing to rivet viewers as much as ABC's Hawaii-filmed Lost series did.
Would you like to share your thoughts about these shows or other Hawaii-filmed TV series? Please leave your comments on our HAWAII Magazine Facebook page. Mahalo.