Hawaii Five-0 launching third season with Waikiki beach advance screening, Sept. 23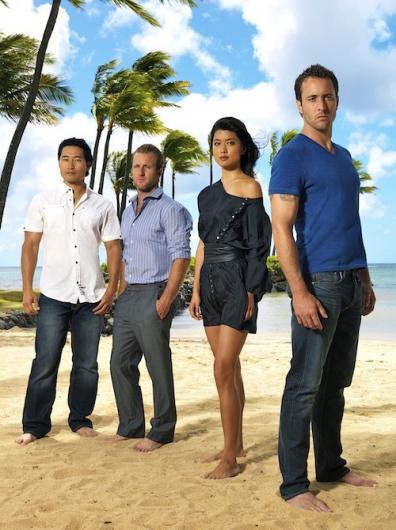 Last year (and the year before), the scene looked something like this: thousands of excited fans happily snapping photos and cheering for Hawaii Five-O cast members as the actors walk a red carpet rolled out on the sand edging Oahu's south shore.
Then, a few of the lead actors and others tied to our favorite Hawaii-filmed re-imagined police procedural TV drama address fans from a stage fronting a 30-foot screen. And finally, the crowd quiets down for the special Sunset on the Beach advance screening of a show episode in Waikiki.
Sound like fun? According to local news reports, if you happen to be on Oahu on Sun., Sept. 23, you are cordially invited to check out Hawaii Five-O's third round of red-carpet razzmatazz, which will be followed by the screening of the first episode of the 2012-13 season. The episode will be broadcast elsewhere on Mon., Sept. 24.
Alex O'Loughlin (rule-bending Det. Steve McGarrett) and the show's other primary cast members — Scott Caan (Danny "Danno" Williams), Grace Park (Kona "Kono" Kalakaua) and Daniel Dae Kim (Chin Ho Kelly)— are expected to attend as are other cast members and show producers/executives. If you want to see the carpet-walkers up-close, arrive early. Fans will begin assembling long before sunset for the free event at Kuhio Beach Park, across street from the Honolulu Zoo.
In March, Hawaii-Five-O was among 18 prime time television series renewed by CBS for the 2012-13 season.
It appears that filming is still under way. A few weeks ago, we spotted camera crews setting up early morning shots in leafy Manoa Valley, and earlier this week cameras and actors were situated near Honolulu's Chinatown area, just a few blocks from HAWAII Magazine's downtown offices.
For additional information about Hawaii Five-O, click here.