Hawaii Five-0 prepares for sixth season return, Waikiki premiere slated for this Sat., Sept. 12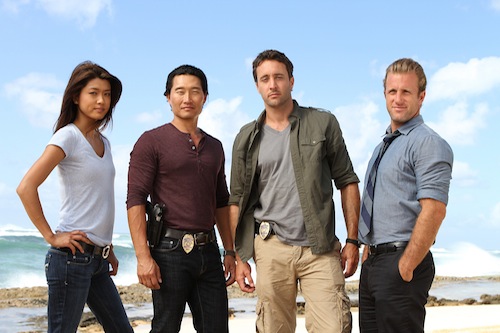 The Waikiki sunset premiere of CBS's Hawaii Five-0 has become an annual fan-favorite event since the modern iteration of the 70s classic began in 2010.
Many of the show's regular stars—and special guest performer John Ondrasik of Five for Fighting—are expected to make appearances at Waikiki's Queens Beach, across from the Honolulu Zoo, for the sixth season premiere this Sat., Sept. 12. Red carpet arrivals should begin around 6 p.m. with the post-sunset screening starting close to 7 p.m.
This year, premiere-goers will get to find out what happens next in the popular drama almost two weeks prior to the show's official Fri., Sept. 25 airdate on CBS.
The two-part season finale including episode 117, "Prey," and 118, "Until We Die," aired on May 8.
When we last left the Hawaii Five-0 team, they had just resolved the case of a murdered bounty hunter with help (and a cameo) from none other than Dog the Bounty Hunter. The fraught romance between Honolulu Police Officer Kono Kalakaua, (Grace Park) and Adam Noshimuri (Ian Anthony Dale)—who comes from a family of gangsters—seemed to be nearing a happy climax in a gorgeous mountainside wedding, when reports of a nuclear bomb surfaced in Waikiki. The entire state was at risk. Through a series of chair gripping moments, the bomb was corralled and dispatched by Danny (Scott Caan) and McGarrett (Alex O'Loughlin)—they dropped it by helicopter into the Pacific Ocean 50 miles from shore. More emotional drama ensued when Danny learned he is the father of Rachel William's (Claire van der Bloom) son, even though he was told he wasn't in Season 2. He's finding out now because the child needs a bone marrow transplant and Danny is a likely match. As finales are wont to do, a lot is left unresolved—including the wedding and romance potential between Catherine Rollins (Michelle Borth) and McGarrett.
If you're in Waikiki this weekend, find out what happens next as the new season is broadcast on the 18 by 32-foot outdoor jumbo screen. As always, the screening is free and open to the public—the event regularly draws crowds of thousands, so be sure to show up before sundown to get the best spot on the sand.