Hawaii Food & Wine Festival announces lineup for daytime events on Oahu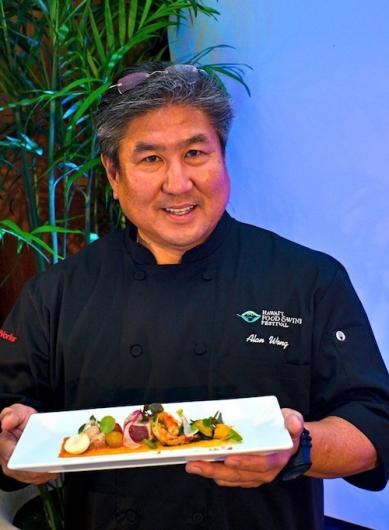 Organizers of the third annual Hawaii Food & Wine Festival, slated for Sept. 1-9, last week announced the lineup for daytime events that offer up-close-and-personal experiences with chefs, farmers, winemakers, and cultural practitioners.
The fest, which showcases Hawaii's bounty of locally sourced produce, seafood, beef and poultry, features more than 70 internationally renowned master chefs, culinary personalities, and wine and spirit producers.
Co-founded by two of Hawaii's James Beard Award-winning chefs, Roy Yamaguchi and Alan Wong (pictured, right), fest proceeds support the sustainability, cultural, and educational efforts of the Hawaii Agricultural Foundation, the Culinary Institute of the Pacific, Leeward Community College Culinary Program, Paepae o Heeia, Papahana Kuaola, Hawaii Culinary Education Foundation, Maui Culinary Academy, and Maui County Farm Bureau.
Among the daytime event highlights:
• Girls Got Game +1 — An assembly of more than one dozen superstar chefs and Hawaii farmers, all female except one, collaborate to create a Sunday brunch. Among the stars in the chef lineup: Harumi Kurihara of Yutori No Kukan (Tokyo) and Emma Hearst of Sorella (New York). Brunch collaboration.
• Fish and Poi: Lunch at the Loi — Participants will learn how Hawaiian cultural practitioners are keeping the sustainable culinary practices of ancient Hawaii alive today. The event includes a visit a historic fishpond and loi (taro field) on the windward coastline of Oahu.
For more information about daytime events, ranging from wine seminars with some of the top producers in California to cooking demos spotlighting Hawaii-grown chocolate and exotic fruits, click here.