Hawaii has 10 of the World's 14 Climate Zones: An Explorer's Guide to Each of Them
You can visit them all on Hawaii Island or find a few scattered throughout the Islands.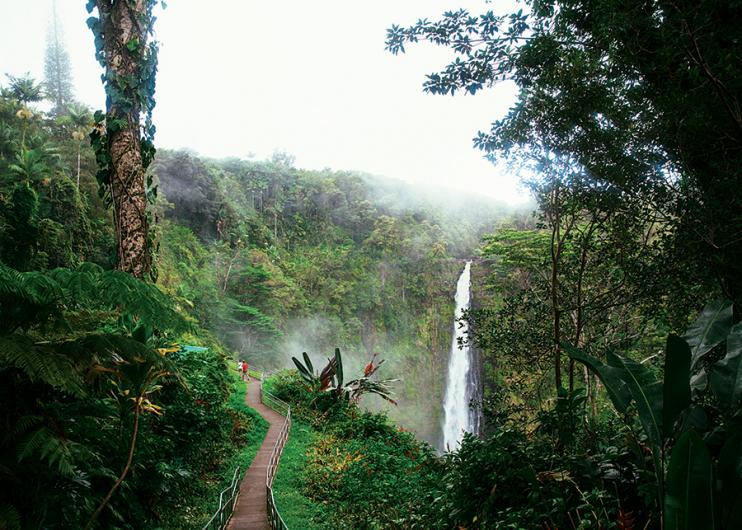 The Hawaiian Islands claim 10 of the world's myriad climate zones, the only place on earth with so many concentrated in one small area. You can visit all of them on Hawai'i Island, or find a few scattered throughout the Islands. Ready to zone out? Here's your guide.
Hawaii has 10 of the world's 14 climate zones.
Perhaps you've heard this interesting bit of climatological trivia at a cocktail party or read about it on some random geography website you found groggy-eyed at two in the morning. Maybe you've read the real deal was more like 9 of 13 climate zones. Or 10 of 28. Whatever.
Is any of it true? Well, yes and no.
The Hawaiian Islands really do possess at least 10 zones of the Koppen Climate Classification System, the most widely used method adopted by climatologists for identifying and defining worldwide climate zones. The only one of our Islands where you'll truly find all 10 zones, however, is Hawai'i Island.
That so many of earth's climates are found on an island chain as small and isolated as Hawai'i—and all of them on the single 4,028-square-mile landmass that is our largest island—is an intriguing statistic. The genesis of that statistic is just as fascinating.
The original version of Russian-German climatologist Wladimir Koppen's classification system, published in 1884, initially divided the world's climates into five main groups, with at least 14 subcategories spread among them. The system was based on the idea that an area's native vegetation—itself a reflection of annual and monthly temperatures and seasonal precipitation—offered the best and most empirical indicators of what that area's climate might be. In intervening years, Köppen continued to modify his system, adding subcategories on his own and in partnership with German climatologist Rudolf Geiger. The modern version of Koppen's original system, now called the Koppen-Geiger Climate Classification System, contains more than 29 individual climate classifications.
The revelation that Hawaii Island possessed 10 of Koppen's original 14 world climate zones first appeared in a 1978 report celebrating the 20th anniversary of the island's Mauna Loa Observatory. For their study, "Climate and Water Balance on the Big Island," a trio of University of Hawaii at Hilo geology professors mapped what they found to be an unusually large range of climate diversity on Hawai'i Island comparable with far larger world landmasses. Of Köppen's original five main climate groups, which he classified A, B, C, D and E, and 14 subgroups, classified by multi-letter combinations referencing the main climate group, the geologists concluded that Hawaii Island could claim four of the first and 10 of the latter:
A. HUMID TROPICAL CLIMATES
• Tropical Continuously Wet (Af)
• Tropical Winter-Dry (Aw)
• Tropical Summer-Dry (As)
• Tropical Monsoon (Am)
B. ARID AND SEMI-ARID CLIMATES
• Hot Semi-Desert (BSh)
• Hot Desert (BWh)
C. TEMPERATE CLIMATES
• Continuously Wet Warm Temperate (Cfb)
• Summer-Dry Warm Temperate (Csb)
• Summer-Dry Cool Temperate (Csc)
E. ICE CLIMATES
• Periglacial Climate (ET)
According to the study, the only Köppen category not occurring on Hawaii Island was the main Cold Continental Climates (D) and its three subcategories linked to large Northern and Southern Hemisphere landmasses, and the Polar Ice Cap subcategory of Ice Climates (E), on which Antarctica and the North Pole currently have dibs.
In the 37 years since, no one has updated or duplicated the trio's Hawai'i Island studies nor repeated their methodology on the other Hawaiian Islands. According to Dr. Thomas Giambelluca, a University of Hawaii at Manoa Department of Geology professor, modern rainfall maps, mapping techniques and research instruments would, in a similar study, very likely offer even more revelations about just how many Koppen subcategory climate zones Hawai'i Island and the Hawaiian Islands really have. Hawaii Island, however, would still possess more of these zones than any other island.
"Why does the Big Island have more than the other islands? Because it's big and high," says Giambelluca. "By being high, you get the colder climates. By being big, you have a lot more interaction with winds, creating different wind regimes that affect the climate."
In the spirit of immediately heading outdoors to see them all—and encouraging our reader 'ohana to do the same—we thought it would be fascinating and adventurous to take a closer look at each of the 10 original Köppen zones in Hawai'i, identify where we could immerse ourselves in them (or at least find them) and list some of the best activities pursuable in each. With the help of some scientific folk possessing far more climatological knowledge than yours truly, we also took
a fun, somewhat scientific stab at identifying by landscape, rainfall and temperature where each climate zone might fall on the neighbor islands, if they did at all. (Maui, with six possible Köppen climate zones, by our count, came closest to Hawaii Island's 10.)
The results, we believe, are decidedly cool in a non-climatological way. Let's zone out!
(Af) TROPICAL CONTINUOUSLY WET
Subcategory of Humid Tropical Climates (A)
Where is it greenest in Hawaii? Right here. Average monthly temperatures above 64.4°F and high annual rainfall characterize every one of the subcategories of Humid Tropical Climates, but this one stands out by having no distinct dry season. The zone is found primarily on the windward sides of the Islands on mountainsides drawing substantial rains. Monthly average rainfall in this zone is 2.4 inches or more. On Hawaii Island, where this climate stretches north from the Puna district, through Hilo and up the Hamakua Coast from sea level to as high as the 3,000-foot elevation of Mauna Kea volcano, rainfall levels may exceed 300 inches annually. If you're in search of waterfalls, be ready to get ecstatic in this zone.
ON HAWAII ISLAND
> Waipi'o Valley. Largest valley on the island.
> Kalapana and Puna Coastline. Experience this rugged coastline via Red Cinder Road.
> Hāmākua Coast. New and Old Māmalahoa Highways explore its green landscapes.
> Kahuku Unit. Most recently acquired acreage of Hawai'i Volcanoes National park.
> Akaka Falls.  422-foot rainforest waterfall.
> Hilo. Biggest city in the island's Af zone; home of Waiānuenue (aka Rainbow) Falls.
ON other ISLANDs:
> Manoa Falls Trail, Oahu. Urban Honolulu rainforest trek.
> North shore Kauai beaches. Take Kuhio Highway from Hanalei to Kee Beach to see them all.
> Hana Coast, Maui.  Nearly all 64 miles of the winding Hāna Highway are in this zone.
> Windward O'ahu.  The whole coast from Kaneohe to Kahuku.
> Halawa Valley and Falls. East Molokai's most beautiful natural wonders.
>  AROUND THE WORLD: Antalaha, Madagascar • Kisumu, Kenya • Limon, Costa Rica • Changuinola, Panama • Salvador, Brazil • Puyo, Ecuador
(Aw) TROPICAL WINTER-DRY
Subcategory of Humid Tropical Climates (A)
A 70-mile sliver of Hawai'i Island southwest coastline and uplands, home to snorkelers' haven Kealakekua Bay and the famed Kona coffee farm belt, is the only place in the entire Hawaiian archipelago with an extensive area of this climate. Here, the prevailing tradewinds that cool the Islands are cut off by the immense peak elevations of 13,678-foot Mauna Loa and 8,271-foot Hualālai volcanoes, and warm sea breezes provide much of the air circulation. Afternoon rainfall is common in this zone due to higher land-surface temperatures strengthened by sea breezes and convective instability and mornings are cool—a plus for coffee growers. Winters are typically dry in this zone and rainfall is heaviest in the summer.
ON HAWAII ISLAND
> Kealakekua Bay.  Snorkelers' haven and home of the Captain Cook mounument.
> Holualoa Coffee Belt. Where 100 percent of 100-percent-Kona coffee is grown.
> Puuhonua o Honaunau National Historical Park. Oceanside refuge for early Hawaiian kapu (taboo) breakers.
> Milolii. The last true fishing village in Hawaii.
>  AROUND THE WORLD: Mumbai, India • Bangkok, Thailand Caracas, Venezuela • Darwin, Northern Territory, Australia
(As) TROPICAL SUMMER-DRY 
Subcategory of Humid Tropical Climates (A)
Hawaii is one of only a few places in the world with this climate zone characterized by peak rainfall during winter months. (In most tropical areas, rainfall peaks during summer.) You'll find it primarily in lowland areas straddling the windward and leeward sides of the Islands. Large stretches of it include the rugged coastline boundary of Hawaii Volcanoes National Park and adjacent southeast Kau coastline of Hawaii Island and north shore of Maui near Paia town and its famous surfing and windsurfing beaches. The zone has a very distinct summer dry season. Lacking regular tradewinds, these areas also receive very little mountain rainfall.
ON HAWAII ISLAND
> Ka Lae. Southernmost point on the island and in the U.S.
> Upolu Point.  Northernmost point on the island.
> Punalu'u Black Sand Beach.  Hawaiian green sea turtles love chilling on this beach.
> Chain of Craters Road, makai (towards the ocean).   Go for the lava fields and Hōlei Pali natural sea arch.
> Pāhala and Nā'ālehu. Towns closest to the Ka'ū district's international award-winning coffee farms.
ON other ISLANDs:
> Peahi and Hookipa Beaches, Maui. The former world-famous for board surfing, the latter for windsurfing.
> Kalaupapa Peninsula, Molokai. Isolated national historical park marking the former site of Hawaii's largest leprosy settlement.
>  AROUND THE WORLD:  Mombasa, Kenya • Monti Cristi, Dominican Republic
(Am) TROPICAL MONSOON  
Subcategory of Humid Tropical Climates (A)
According to the 1978 Hawaii Island climate study, the only location in the Islands where this climate occurs is a roughly 10-mile slice of raised coastal acreage makai of the Hamakua Coast town of Paauilo. It's a somewhat rare climate elsewhere in the world, as well, featuring high annual rainfall—much of it occurring during the warmest months of the year—and a short dry season. On Hawaii Island, large, towering forests of non-native eucalyptus trees planted for logging purposes primarily mark the zone. Though summer afternoons here are prone to sudden, intense rain showers, the area likely received its climate classification due to the study's measurement of a distinct wet and dry season rather than a tendency for a full-blown monsoon season.
ON HAWAII ISLAND:
> Paauilo. Drive by the eucalyptus forests. Visit Earl's Paauilo Store for sushi bento rolls.
>  AROUND THE WORLD: Cairns, Queensland, Australia • Miami, FL
(BSh) HOT SEMI-DESERT 
Subcategory of Arid and Semi-Arid Climates (B)
in short, where some of hawai'i's best beaches are. Though not measured officially by any statewide climate study, this zone would likely be found throughout the Islands in our most populous coastal towns and most popular resort areas, including Honolulu, Waikiki, Kaanapali and Poipu. It may even be the climate zone with the most statewide acreage. On Hawaii Island, it occurs on a relatively small portion of the South Kohala coastline that, interestingly enough, does not include the area's world-famous beaches (see Hot Desert). Like its partner subcategory of the Koppen system's Arid and Semi-Arid Climates' main category, annual landscape evaporation here exceeds precipitation. Low rainfall is accompanied by average annual temperatures consistently greater than 64.4°F. Without human intervention, natural vegetation in this zone would largely consist of patchy scrubland, populated by bushes and grasses.
ON HAWAII ISLAND:
> Kailua-Kona Village. Walk along the pier and sea wall. Visit oceanside Hulihe'e Palace.
> Kaloko-Honokohau National Historical Park. Wildlife refuge and preserved early Hawaiian settlement.
> Kekaha Kai State Park and Bays. Three beautiful white sand beaches. One great coastal trail connecting them.
ON other ISLANDs:
> Metro-Honolulu and Waikiki Beach, Oahu. Biggest city in Hawaii. Biggest resort area in Hawaii.
> Waimea Canyon State Park, Kauai.  Also known as the "Grand Canyon of the Pacific."
>  AROUND THE WORLD:  Laredo, Texas • Mazatlan, Mexico • Rundu, Namibia
(BWh) HOT DESERT 
Subcategory of Arid and Semi-Arid Climates (B)
Almost all of the south Kohala Coast's famously lengthy stretches of white sand beach are found in this warmest Hawai'i climate zone. On Hawaii Island, the zone extends along the coast and a few miles inland from the lusciously teal waters and ample tidepools of Kiholo Bay to just north of the town of Kawaihae. The area is the driest in the Hawaiian Islands, recording less than 10 inches of rainfall annually and extremely hot days averaging 83°F annually. Another cool fact about Hawaii Island's version of this zone: As opposed to other hot deserts around the world, ours are among the easiest to tolerate thanks to cool ocean breezes dropping in on the land and, especially, the beaches.
ON HAWAII ISLAND:
> Puukohola Heiau National Historic Site. Ruins of last major early Hawaiian temple.
> Puako Petroglyph Archaeological Preserve. Field of some 3,000 images carved in stone by early Hawaiians.
> Hapuna Beach Park. The most popular white sand beach on the island.
> Kaunoa Beach. The arguably best white sand beach on the island.
>  AROUND THE WORLD: Tucson, AZ • Cairo, Egypt • Dubai, United Arab Emirates
(Cfb) CONTINUOUSLY WET WARM TEMPERATE  
Subcategory of Temperate Climates (C)
Feeling a bit of a nip in the air? This subcategory of the Koppen system's Temperate Climates category boasts four months of daily temperatures averaging between 50°F and 71.6°F, and ample rainfall year-round. While not the most populous climate zone on Hawai'i Island (see Tropical Continuously Wet for that), Continuously Wet Warm Temperate landscapes claim the largest share of the island's acreage. From the verdant, mid-elevation pasturelands of the Kohala mountains, the zone stretches like a ribbon southeast through the dense upland native rainforests of the Hāmākua Coast, Hilo and Puna, around both Mauna Kea and Mauna Loa, then north again through the highlands of the Kona Coast and Hualalai volcano. In these chillier elevations, between 2,500 and 6,500 feet above sea level, annual rainfall averages between 60 and 150 inches. Deep-forest hiking and birdwatching are particularly awesome here. Make sure to bring along a rain jacket.
ON HAWAII ISLAND:
> Waimea. Hawaii Island's cool, green cowboy town.
> Hawaii Volcanoes National Park. Well, its summit area craters and rainforests anyway.
> Kalopa State Recreation Area. High-elevation camping and cabin area. Terrific native forest and endangered flora hike.
> Hakalau Forest National Wildlife Refuge. Heaven for endemic-bird-seeking birders. Permission required to enter some areas.
ON other ISLANDs:
> Kokee State Park, Kauai.  High-elevation, high-rainfall native forest area with lots of great
hiking trails.
> Kaupo Gap, Maui. The wettest location at the summit crater of Haleakala volcano and longest hike.
>  AROUND THE WORLD:  Auckland, New Zealand • London, United Kingdom • Paris, France
(Csb) SUMMER-DRY WARM TEMPERATE    
Subcategory of Temperate Climates (C)
Keep your shorts on. It's still not quite chilly enough for you to bust out your fleece jacket. Temperatures here are about the same as the Continuously Wet Warm Temperate zone, albeit with less rainfall, especially in the summer. On Hawaii Island, the zone encompasses much of the scenic rolling hills and pasturelands alongside the highest elevations of the Kohala Mountain Road and the alternatingly dry and wet pasturelands alongside the lower leeward portions of Saddle Road between Mauna Kea and Mauna Loa. It also likely includes some of Maui's most unique highland forests and the cloud forest watershed shadowing Lāna'i City. Winter months in this zone produce 70 percent of its total annual rainfall, while precipitation in its driest summer month may drop as low as 1.18 inches.
Makawao Forest Reserve, Maui. Photo: Sue Hudelson
ON HAWAII ISLAND:
> Mauna Kea State Recreation Area.  Camping area at the base of the Mauna Kea and Mauna Loa natural saddle.
> Kohala Mountain Road. Beautiful drive between Waimea and Hāwī towns over Kohala mountain.
ON other ISLANDs:
> Makawao Forest Reserve, Maui. High-elevation forest with great hiking and mountain biking trails.
> Munro Trail, Lanai. Muddy, but wonderfully scenic cloud forest trail to the island's highest point, Lanaihale.
>  AROUND THE WORLD:  San Francisco, CA • Seattle, WA • Cape Town, South Africa
(Csc) SUMMER-DRY COOL TEMPERATE  
Subcategory of Temperate Climates (C)
You may now get your warm jacket out. Perhaps even a parka. It's cold here, with average monthly temperature four months of the year below 50°F. (Well, that's cold for us Hawaii residents, anyway.) You'll encounter this climate zone driving—or, if you're really tough, hiking—between the 8,200- and 10,500-foot elevations of Mauna Kea and Mauna Loa, and, very likely, at the 10,073-foot summit of Haleakala. As with Hawaii, the zone is typically found elsewhere on earth in the subalpine areas of high mountain peaks, just below the Periglacial arctic tundra (see next climate zone). Natural vegetation is relatively sparse and extremely hardy. Snowfall occasionally occurs in this zone, especially on Mauna Kea, but morning and evening frost are more the norm. On Mauna Kea, we think of the area as a pit stop before getting our hands on Hawai'i snow.
ON HAWAII ISLAND:
> Mauna Kea Visitor Information Station. Solar telescopes set up by day, stargazing telescopes set up by night on the 9,200-foot elevation patio.
> Mauna Kea Silversword Garden. A small collection of the rare Hawaii plant species, neighboring the Mauna Kea visitor station.
ON other ISLANDs:
> Hosmer's Grove, Maui. Haleakala National Park campground with global and Hawai'i endemic tree forests.
> Haleakala Highway. Everything from the 7,000-foot elevation park headquarters to the 10,023-foot elevation summit.
>  AROUND THE WORLD: Bohemia Mountain, Cascades, Oregon
(ET) PERIGLACIAL
Subcategory of Ice Climates (E)
The 13,796-feet-above-sea-level summit area of Hawai'i Island's Mauna Kea volcano—and, arguably, Mauna Loa's summit—are the only locations in the entire state where you'll find this zone, classified elsewhere around the world by warmest average monthly temperatures between 32°F and 50°F. The summit of Haleakala on Maui comes close, with average monthly highs of 54.6°F. Mauna Loa's summit, originally classified as Periglacial in the 1978 Hawaii Island climate study, currently records average monthly highs of 54°F, technically kicking it down to Summer-Dry Cool Temperate. Mauna Loa's 13,678-foot summit landscape, however, like Mauna Kea's, casts a definitively Periglacial character, with evening temperatures below freezing, winter snowfall as its main form of precipitation, permanently frozen soil and a treeless tundra-like landscape. We're willing to keep Mauna Loa Periglacial if you are.
ON HAWAII ISLAND:
> Mauna Kea summit observatories. As high as you're gonna get on the mountain.
> Mauna Loa Observatory and Trail. Trailhead for brutal hike to the summit's Mokuaweoweo Crater.
> Mauna Kea Ice Age Natural Area Reserve. Glacier-carved cinder cones from Mauna Kea's 10,000 to 13,000-foot elevations.
> Lake Waiau. At 13,020-feet above sea level, one of the highest lakes in the U.S.
>  AROUND THE WORLD:  Mount Fuji, Japan • Mount Washington, NH • Iqaluit, Nunavut, Canada
MAHALO: Some research and hypotheses for this article were determined using the "Rainfall Atlas of Hawai'i" (rainfall.geography.hawaii.edu) and "Climate of Hawaii" (climate.geography.hawaii.edu) websites, created by the Geography Department of the University of Hawaii at Manoa. Another major reference used was Mauna Loa Observatory: A 20th Anniversary Report (National Oceanic and Atmospheric Administration, 1978). BONUS: For expanded lists of Hawaii places to experience the 10 climate zones, visit hawaiimagazine.com in May.
This article, "All The World in One Place," originally appeared in the May/June 2015 issue of HAWAI'I Magazine, THE GREAT HAWAII OUTDOORS.