Hawaii International Film Festival in Honolulu to spotlight Korean riff on classic heist film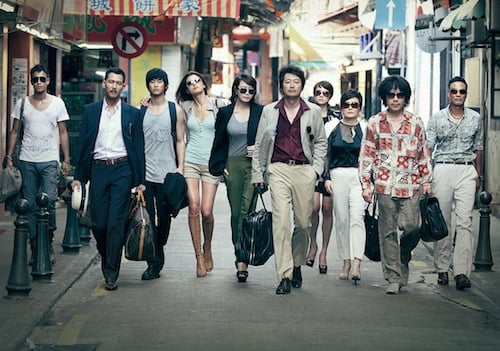 The 32nd annual Hawaii International Film Festival (HIFF), slated for Oct. 11-21 in Honolulu, will showcase 219 films from 43 countries, including prestige titles, fest favorites and buzz-worthy films.
While we realize seeing all of the films —spanning 11 days— might be a bit extreme, we do highly recommend keeping an eye out for three screening in particular: The Sapphires (opening night), Silver Lining Playbook (centerpiece gala), as well as The Thieves (closing night) (pictured, above).
A news release issued today by HIFF also notes that the fest will hold various presentations, workshops and an inaugural "Creative Lab," which aims to explore emerging media via low-cost digital tools and online distribution.
To check out the film fest's full schedule, click here. Most of the screenings will be held at Regal Dole Cannery Stadium 18 Theatres & IMAX Tickets in Honolulu. For ticket information, click here or call (808) 447-0577.
Here's a bit more information about the three films slated for high-profile screenings.
• The Sapphires (Australia) (pictured, above) is based on the lives of four Aboriginal sisters and their journey to become the Australian version of "The Supremes." Set in 1968, the sisters are discovered by talent scout named Dave (Chris O' Dowd, Bridesmaids). Based on a true story, The Sapphires celebrates youthful emotion, family, and music. The film will be shown at 8:30 p.m. on Thurs., Oct. 11, Dole Cannery.
• Silver Lining Playbook (United States) (pictured, above) stars Bradley Cooper (Hangover), Jennifer Lawrence (The Hunger Games), Robert De Niro (Limitless, Meet the Parents), Jacki Weaver (Animal Kingdom), Anupam Kher (Bend it like Beckham), and Chris Tucker (Rush Hour). The film follows Pat Solitano (Cooper) as he attempts to get back on his feet after losing his house, his job, and his wife. When Pat meets Tiffany (Lawrence), a mysterious girl with her own problems, she offers to help him reconnect with his wife, but only if he does something for her. An unexpected bond forms, creating a "silver lining" in both their lives. The film will be screened at 6: 30 p.m. on Wed., Oct. 17, Dole Cannery.
• The Thieves (South Korea) is one of Korea's biggest box-office smashes of all time. Described as a cool, fun and sexy Pan-Asian riff on the classic "heist film," it kicks off with Yenicall (Gianna Jun, My Sassy Girl) in the middle of a diamond heist, leaping across buildings. Yenicall's crew includes characters such as Popeye (Jung-jae Lee, The Housemaid), and Pepsi (Hye-su Kim, Tazza, The High Rollers). The story follow's the crew's attempt to steal the "Tear of the Sun" diamond. The film will be shown at 6:30 p.m. on Sun., Oct. 21, Dole Cannery.
For more information about the Hawaii International Film Festival, click here.