Hawaii International Film Festival kicks off tomorrow with Korea's Oscar submission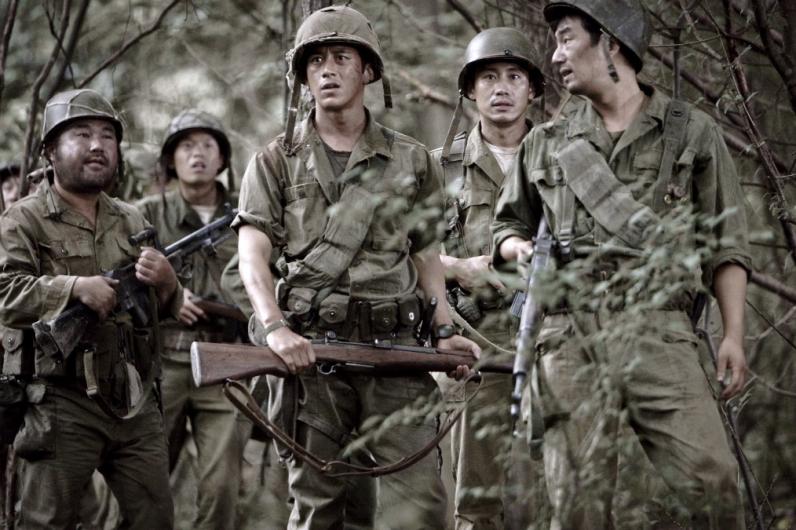 The 31st annual Hawaii International Film Festival (HIFF), which features a lineup of 212 films from 43 countries, gets under way tomorrow in Honolulu.

In a news release, the nonprofit's executive director, Chuck Boller, said: "People always ask me which films they should see at HIFF." He continued, "I always tell them to not miss the opening, centerpiece and closing films, as well as the nominated films and galas. If you can manage to see all of these, or a good portion of them, you will be seeing some of the very finest films HIFF has to offer."

This year's opening night film is the Korean submission for the Oscar's Best Foreign Language film
The Front Line
(
pictured, above
). It will screen at 8 p.m. on Thurs., Oct. 13 at Regal Dole Cannery Stadium 18 Theatres & IMAX. According to a synopsis posted on HIFF's website, the film "offers a classically hellish picture of front-line warfare but turns several of the cliches of war movies inside-out." Set during the Korean War, most of the film takes place on one (fictional) hill, which has been captured and recaptured by both sides, with considerable loss of life each time.
The festival's centerpiece film is Pina 3D (pictured, above) will screen at 8:15 p.m. on Wed., Oct. 19 at the Dole Cannery venue. The dance film "takes the audience on a sensual, visually stunning journey of discovery into a new dimension: straight onto the stage" with a legendary dance ensemble and follows dancers out of the theatre into the city and the surrounding areas of Wuppertal, Germany.

The Hawaii-filmed The Descendants, (pictured, above) starring George Clooney and directed by Alexander Payne will be screened as the closing film, 6 p.m. Oct. 23 at Dole Cannery. Based on the best-selling novel by Hawaii writer Kaui Hart Hemmings, the dramedy follows the story of Matt King (Clooney) — a wealthy landowner, husband and father of two girls — who is forced to reexamine his life and relationships in the after his wife is severely injured in a boating accident near Wakiki. Shailene Woodley (The Secret Life of the American Teenager, ABC television series) and Amara Miller (both pictured, top) star as King's daughters. (We can't wait to see this film, which was shot on Oahu and Kauai, and has received praise elsewhere on the film festival circuit. To watch a few trailers, click here.)
Along with these high-profile films are perennial sections such as the Halekulani Golden Orchid Awards for best feature film and best documentary, and Gala Presentations, which include films gunning for recognition during the film industry's annual awards season.
HIFF will be screening films that cover timely subject matter. The festival groups these films in sections ranging from Extreme (racy and controversial issues) and Made in Hawaii (local film industry) to Sound x Vision (convergence of film and music) and Express Yourself (LGBT lifestyles).
HIFF will also continue its tradition of celebrating select locations with "spotlight sections" including: Spotlight on Japan, New Chinese Cinema, Spotlight on Korea, Hong Kong Cinema, and Spotlight on Philppines. And new addition to the lineup, Spotlight on India.
To check out the entire film festival's program and schedule, click here. Tickets: $12, general public; $10, seniors, military, students, children; and $8, HIFF Ohana members (HIFF's film club)
Tickets may be purchased online or in person at the HIFF box office (Guest Services Desk at Regal Dole Cannery Stadium 18 Theatres & IMAX) For additional information, call (808) 447-0577.