Hawaii International Film Festival turns 33, expands screenings to Kauai and Big Island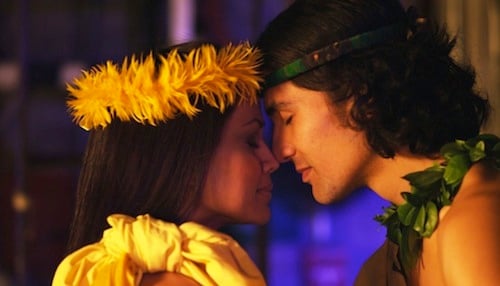 From Hawaiian Love and The Shark God in 1913 to the currently-filming Untitled Cameron Crowe project, Hawaii can claim a very long history of starring on the silver screen. A full century, to be exact.
To commemorate the 100th anniversary of Hawaii in feature films, this year's 33rd annual Hawaii International Film Festival will be adding a few new programs to its already packed 10 days of Oahu screenings, running from Oct. 10-20, expanding screenings for the first time to the Big Island and Kauai, Oct. 24-27.
HIFF organizers aim to screen approximately 209 films from 42 countries over the course of the festival. The screening list this year includes a whopping 16 world premieres, 28 U.S. premieres and 108 Hawaii premieres. It's reputation already solid for showcasing emerging films from the Asia and the Pacific Region, HIFF will this year also expand its schedule to include select European films as part of "EuroCinema Hawaii"—a sort-of festival within the festival.
Returning to HIFF for a second year will be its Creative Lab programs, which offer film entrepreneurs creative skills and lessons in the film business aimed toward advancing their careers.
Hayao Miyazaki's
The Wind Rises,
opening night film, Oct. 10
HIFF 2013's diverse screening categories will also again include its popular "Made in Hawaii" film lineup, this year featuring four films:
• Dress — Shot against the backdrop of Hawaii, this film is a poetic and emotional tale of Ben, and his two sons, as they struggle to cope with the death of his wife, Maile.
Showing at 12:30 p.m. Oct. 13 at Dole Cannery and 6:30 p.m. Oct. 15 at Consolidated Koko Marina
• Puamana — This documentary produced by Meleanna Aluli Meyer and directed by the late documentary filmmaker Les Blank features interviews, songs and performances by Irmgard Farden Aluli, one of Hawaii's most loved and influential musical composers.
Showing at 6 p.m. Oct. 13 at Dole Cannery
Railroading Paradise,
part of HIFFS "Made in Hawaii" film screen category, Oct. 18, 19
• Railroading Paradise — A documentary about the Sierra Club's role in Oahu's rail controversy and how its leadership arrived at a position in favor of rail.
Showing at 6:30 p.m. Oct. 18 at Dole Cannery and 3:30 p.m. Oct. 19 at Consolidated Koko Marina
• Seeds of Aloha — This warm and funny talk-story-style documentary about slack-key master George Kahumoku Jr. explores the talented Renaissance Man's roots, art and inspiration.
Showing at 6 p.m. Oct. 14 at Dole Cannery and 1 p.m. Oct. 16 at Consolidated Koko Marina
HIFF events outdoor events will include a free screening of the 1961 musical Blue Hawaii—in our opinion, Elvis Presley's finest cinematic two hours—on Waikiki Beach, at 7 p.m., Oct. 12, and "Kung Fu Theatre in Our Kakaako," 7 p.m., Oct. 12.
Blue Hawaii,
screening free at "Sunset on the Beach," Waikiki, Oct. 12
For additional information about the Hawaii International Film Festival and a schedule of film screenings and venues on Oahu, Kauai and the Big Island, click here.
See you at the movies.