Hawaii Island stars in season finale of Travel Channel's "Bizarre Foods"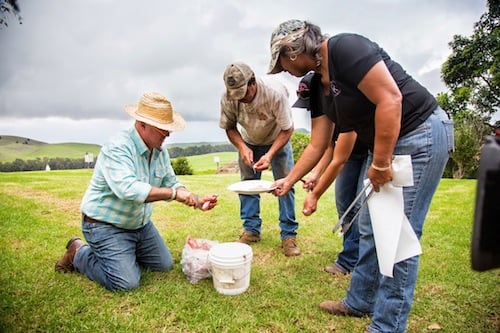 Poke? Yes please. SPAM musubi? Sure. Garlic steer's testicles or grilled abalone intestines? Maybe not so much.
It will come as little surprise to our HAWAII Magazine and HawaiiMagazine.com readers that our state is a multicultural culinary wonderland. But, Andrew Zimmern, host of the popular Travel Channel show "Bizarre Foods," still managed to surprise us with some of the more unusual local offerings he uncovered on recent trip to Hawaii Island.
His adventures are documented in Hawaii's Big Island: Eyeballs and Abalone, the final installment of the show's ninth season. The hour-long season finale premieres this Mon., Jan 19 at 9 p.m. EST, PST and Hawaii Time, and 8 p.m. CST on the Travel Channel.
The episode was filmed entirely on the island's eastern and northern sides and affords a heaping serving of local scenery and area residents.
True to the show's food-meets-travel theme, the episode includes a mix of restaurant and food store visits interspersed with adventurous food-procuring activities. Zimmern samples Kailua-Kona-based Kaaloa Super J's take on pork laulau (shredded meat wrapped in taro leaves) before veering off into uncharted waters with KTA Super Stores owner's own recipe for cooked tuna eyeballs.
The host also tries his hand procuring fresh yellowfin ahi (tuna) using the traditional Japanese "greenstick" method on a charter boat off the Kona coast, learns how Big Island Abalone grow their product, and enjoys an unusual meal including breadfruit macaroni salad and fried garlic steer testicles after rounding up cattle with a 3rd generation paniolo (Hawaiian cowboy) at the Kahua Ranch in North Kohala.
You'll have to tune in on Monday at 9 p.m. to learn how he fared foraging for a meal of invasive Tahitian freshwater prawns with a north coast family.
This is not Zimmern's first trip to Hawaii. In previous seasons of "Bizarre Foods" the host has attempted boar hunting on Maui, tasted dried octopus bile sacs on Oahu and endured a variety of SPAM preparations (it turns out he's not a fan).
For more information about "Bizarre Foods," click here.