HAWAII Magazine's 2019 Photo Contest Winners
The stunning Hawaii photos that won first and second place in our annual contest.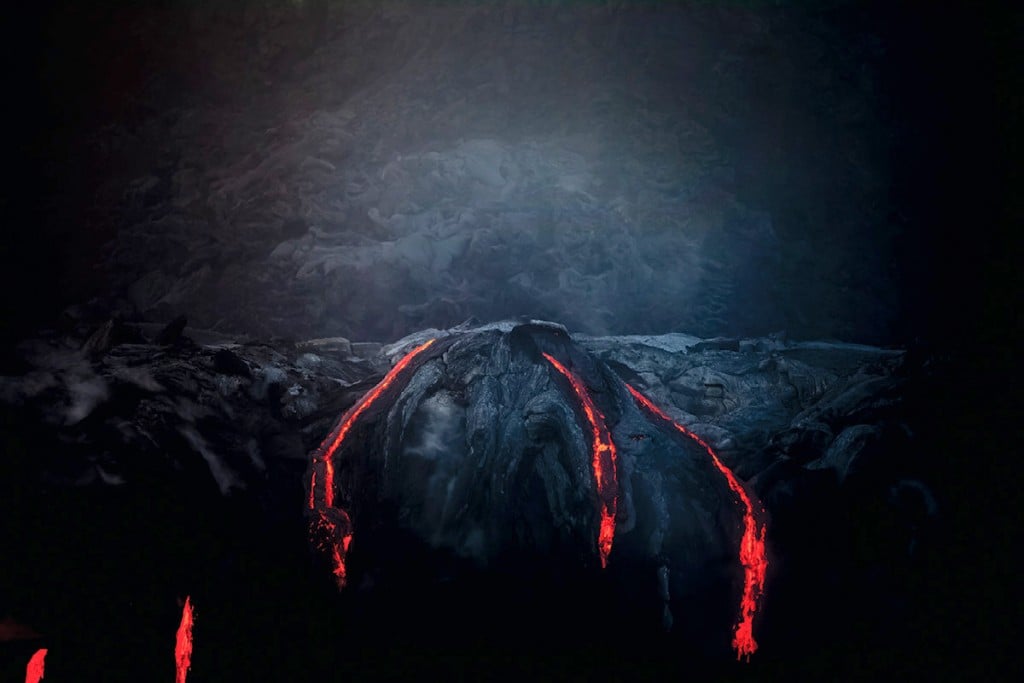 The 2019 HAWAII Magazine Photo Contest has come to a close, and it was a tough task for our in-house team of editors, designers and staff to pick the top winners. Featured here are the first- and second-place winners in the categories of land, ocean, people, wildlife and food, as well as a grand prize winner who wowed our judges. A big congratulations to all of the winners, and mahalo to everyone who shared their images of our beautiful Islands with us.
The grand prize-winning photo above, shot by Zeus Quijano Jr. from Orange, California, was taken at Kupapau Point, Hawaii Island, and perfectly captures the awe and sense of danger, but also compelling, nearly irresistable beauty, that flowing lava inspires. The more we contemplated it, the more it gave us what locals call "chicken skin."
"When this composition presented itself, I almost felt like I was on another planet," the photographer wrote. "It was 2016 and lava had been steadily entering the ocean. Soon after, the flow stopped and then the fire hose began."
Hoomaikai (congratulations), Zeus!
Below are the other category winners.
Land | First Place
Tou Thor from San Francisco, California
Magic Island, Oahu
"I always loved spending evenings watching the sunset at Magic Island. Just like the name implies, this place is very magical and I'm sure most people agree."
Land | Second Place
Danny Wild from Nanuet, New York
Waimea Valley, Kauai
"I took this photo after some rainy weather moved through Waimea Canyon, leaving a rainbow over the canyon's iconic waterfall."
Wildlife | First Place
Peter K. Tang from Honolulu, Oahu
Kamuela, Hawaiʻi Island
"This pueo (Hawaiian short-eared owl) sat on this post on the Big Island of Hawaii. My friend Darcy Fiero and I would drive back and forth until we saw a pueo. Some flew away and some didn't mind [having their] picture taken."
Wildlife | Second Place
Jason O'Rourke from Honolulu, Oahu
Turtle Bay, Oahu
"Lei Ola, born in a small tidal pool at the North Shore's Turtle Bay Resort, is pictured here the day she was weaned, which is about as healthy and fat as a Hawaiian monk seal pup will be."
Food | First Place
Marie Frost from Dexter, Michigan
Lahaina, Maui
"Lilikoi (passion fruit) shave ice isn't only delicious—it also looks perfect on a purple picnic table."
Ocean | First Place
Jason O'Rourke from Honolulu, Oahu
Kee Beach, Kauai
"A towering fan wave forms off the Napali Coast as waves rushing back from the cliffs collide with the next set coming in."
Ocean | Second Place
Mark Buckler from Southern Shores, North Carolina
Kee Beach, Kauai
"Probably my favorite place to photograph on any of the Islands is Kee Beach on Kauai in the winter. The waves there are unique and absolutely spectacular."
People | First Place
Beth Cagnogi from Kihei, Maui
Kapalua Bay, Maui
"My husband and three boys love jumping off cliffs here in Hawaii, and Kapalua Bay has some lower rocks with a ladder for the younger crowd, so my daughter got to jump, too."
People | Second Place
Cody Roberts from Makawao, Maui
Waimanalo, Oahu
"She is the light in my day. My beautiful girlfriend overlooking the raw beauty of Oahu just after sunrise."
Prizes
GRAND PRIZE:
Roundtrip air travel for two to Honolulu on Alaska Airlines
​For over 85 years, Alaska Airlines has been guided by integrity, caring, ingenuity, professionalism and a unique spirit. Together with its partner regional airlines, Alaska Airlines serves 100 cities through an expansive network in Alaska, the Lower 48, Hawaii, Canada, Mexico and Costa Rica.
A six-day/five-night stay at the Surfjack Hotel & Swim Club in Waikiki
The Surfjack is a swell little spot in Waikiki. With handcrafted design elements created by local artists and a laid-back modern aloha atmospheric vibe, you simply can't find a place like it anywhere else in the world. Warm staff and friendly service will make you feel like you are among friends. The Surfjack is a great place to experience the Hawaii of today while still being close to all the classic Hawaiian hot spots.
$500 gift voucher to Hawaii Camera
Hawaii Camera Rental is Oahu's go-to spot for renting cameras, lenses, underwater gear and pro video equipment from major brands such as Canon, Nikon, Sony, Profoto and Panasonic.
FIRST-PLACE PRIZES (ONE WINNER IN EACH CATEGORY):
First-place winners in each category will receive one (1) $100 gift voucher to be used towards a rental at Hawaii Camera.