HAWAI'I Magazine's 2021 Photo Contest Winners
The stunning photos taken in the Islands that won first and second place in our annual contest.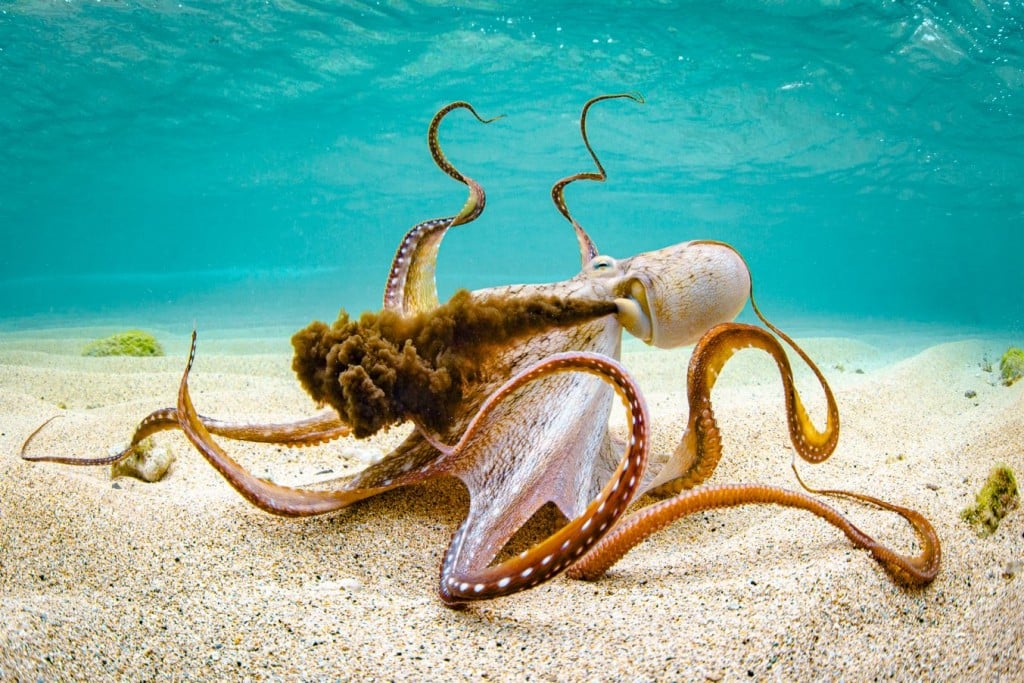 HAWAIʻI Magazine's annual photo contest is back, and judging which shots won this year's categories—Land, Ocean, Wildlife, Sunset and People—was harder than ever before. Fortunately, our editors, art directors and staffers made some tough calls and came out with a decision, adorning each category with a first prize winner and an honorary runner-up. Congratulations to all of the winners and mahalo to everyone who shared their images of our beautiful Islands with us.
Grand Prize
Shane Myers from Mililani, Oʻahu
@shanemyersphoto
Hauʻula
"I was out cruising the shallows when I saw a tako gliding by… we seemed to startle each other, it inked, and just like that vanished into the sea."
Land | First Place
Gareth Ormita from Wahiawā, Oʻahu
@g.ormita
Poamoho, Wahiawā
"With the pandemic lockdown and all the beaches being closed, I decided to take a bike ride into the pineapple fields behind Poamoho in Wahiawā to shoot a sunset photo. I posted it to my Instagram and captioned it, 'Social Distancing with Pineapple.'"
Land | Second Place
Jason Smith from ʻEwa Beach, Oʻahu
Kualoa, Oʻahu
"Th awe-inspiring mountains and valleys of Kualoa."
Ocean | First Place
Chris Donaldson from Toronto, Ontario, Canada
@chrisdonaldsonphotography
Nāpali Coast, Kauaʻi
"It was our dream to go to Hawai'i and we finally did for our honeymoon. We spent most of our time on Kaua'i and decided to take a Nāpali Coast boat tour. I had already taken hundreds of photos, mainly in the other direction, when I happened to look off the back of the boat and spotted dolphins. I managed to get this one and only shot before they were gone."
Ocean | Second Place
Neal Miyake from Honolulu, Oʻahu
@neosponge
North Shore, Oʻahu
"When waves break they sometimes create underwater vortex rings. They are both hypnotic and fleeting in nature."
People | First Place
Sean Thomas from Wahiawā, Oʻahu
@saltyimagseco
Waimea Bay, Oʻahu
"This image was taken by drone at Waimea Bay on the North Shore of O'ahu. My friends and I saw there was a paddle-out in solidarity with the Black Lives Matter movement. This image shows that we can come together no matter what the circumstances are and have a positive conversation to better our communities."
People | Second Place
Skyler Doppelmayer from Waipahu, Oʻahu
@_skybot_
Puaʻena Point, Oʻahu
"A fishermen's net catching the last light of the day."
Wildlife | First Place
Philip Vu from Waikīkī, Oʻahu
@philllipv
Haleiʻiwa, Oʻahu
"Sharks have a social hierarchy and normally the one closest to the surface is the alpha. Here is a shot of an alpha Galapagos shark. Many people on the island are photographers and love to take selfies and document their experiences with wildlife, but I'd love for people to make sure they're not chasing down the animals but instead just analyzing their behavior, and making sure the animal is OK with it."
Wildlife | Second Place
Ron Walker from Bay Shore, New York
@rjwphoto
Oʻahu
"Honu swimming along the rocks below the breaking waves."
Sunset | First Place
Leighton Lum from ʻAiea
@photography_by_leighton
Maui
"I set out to shoot sunset while on a short trip to Maui back in 2018. A good friend of mine knew of this special place where the turtles come up into a cave to rest but wasn't exactly sure on how to get there, so we geared up and gave it a shot. It was quite difficult to get to; we had to walk through the water along a cliffside and the tide was rising so it wasn't very easy. We walked for about 45 minutes along the slippery coastline until we spotted a few turtles. We followed them and they led us to this cave where what we thought was a bunch of rocks at first was actually a bunch of turtles! We quickly found a spot that was unoccupied and set up for sunset. We sat in the cave for about three hours! The tide was rising, which at times was a little alarming and scary for our camera gear. We stayed all the way until the sun went down. In those three hours of waiting we were almost completely blocked in by turtles as more and more started to show up!"
Sunset | Second Place
Dennis Douglas from Mililani, Oʻahu
@808_photoman
North Shore, Oʻahu
"A serene sunset view from the North Shore of Oʻahu."