HAWAII Magazine's "75 Places to Eat Like A Local": For the Carnivore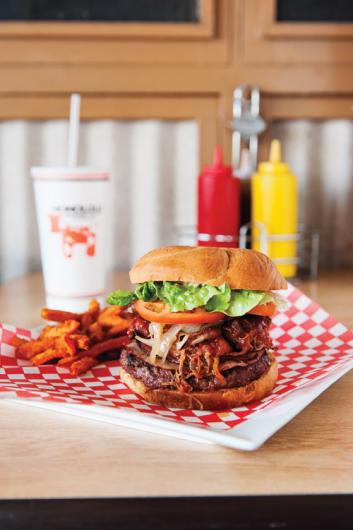 HAWAII Magazine's 2013 Food Issue is on sale now and chockfull of features focused on Hawaii eats.
The November/December issue's main course, however, is "75 Places to Eat Like A Local," a guide to the Hawaii places you'll find us grabbing a bite to eat, or telling our friends and family to nosh at. They're the cafes we send our Mainland-dwelling former college roommates to when they visit Hawaii and want comfort food. The Honolulu noodle bars we take neighbor island family to eat when they visit "the big city." And much more.
Throughout November and December, we'll be sharing a few categories and eateries from our "75 Places to Eat Like a Local" feature here on HawaiiMagazine.com. (Not all 75, of course. For that, you'll have to purchase the issue.) Last week, we revealed the picks in our "HOMEGROWN" category. Below is the second category we're sharing: the five restaurants that made our "CARNIVORE" category.
Enjoy!

75 Places to Eat Like A Local
"Carnivore"
Category 12 of 15
Meet the Hawaii places we eat meat.
Honolulu Burger Co.
Yes, there are vegetarian options here, but you don't want to hear about any of those. You want to hear about the Buta Kau Kau Burger (a 1/3 lb. patty topped with bacon, Black Forest ham, kalua pig and BBQ sauce) and the Aa Chili Burger (topped with housemade chili, Portuguese sausage and melted cheddar). You want to hear that Honolulu Burger Co.'s burgers are 100 percent Big Island range-fed beef. Most of all, you want to eat here now.
Two locations on Oahu—1295 S. Beretania St., (808) 626-5202; 4210 Waialae Ave., (808) 735-5202; both in Honolulu • Website
Ilocandia Filipino Store
You want one thing at this small Lahaina general store, which also sells homestyle Filipino food to-go: lechon kawali, deep fried pieces of pork belly served crackling on the outside, tender on the inside, tossed with chopped tomato, onion and Filipino fish sauce. We'll thank Maui chef Sheldon Simeon forever for cluing us in.
840 Wainee St., Lahaina, Maui • (808) 667-6724

Combo plate lunch with crispy roast pork, sirloin steak and shoyu ahi poke from Alicia's Market. Photo: Derek Paiva.
Alicia's Market
The aroma of cooked meat envelops you upon entering, right before you see the carnivore abbondanza before you. Crispy roast pork and duck, char siu ribs, whole roast chickens, turkey tails, steak and more. Order by the pound. Order plate-lunch style with a side of fresh poke or local-style crab salad. It's all meat-tastic.
267 Mokauea St., Honolulu, Oahu • (808) 841-1921 • Website
Lucy's Taqueria
This popular downtown Hilo taqueria serves up a full menu of tasty made-to-order Mexican food from family recipes. Everything's good. But what gets Lucy's listed here is its taqueria meat choices, ranging from the expected (beef, pork, chicken, chorizo) to street-food heaven (beef cheek, tongue, tripe).
194 Kilauea Ave., Hilo, Big Island • (808) 315-8246 • Website
Papa Ole's Kitchen
The specialty of the house at this Windward Oahu eatery is its pulehu beef short ribs. Seasoned simply with sea salt, the marbled, meaty ribs are grilled-to-order, heavily charred (essentially the meaning of "pulehu") and served plate lunch-style with rice and macaroni salad. A marinated kalbi version of the ribs is just as tasty.
54-316 Kamehameha Highway, Hauula, Oahu • (808) 293-2292 • Website