HAWAII Magazine's "75 Places to Eat Like A Local": From the Sea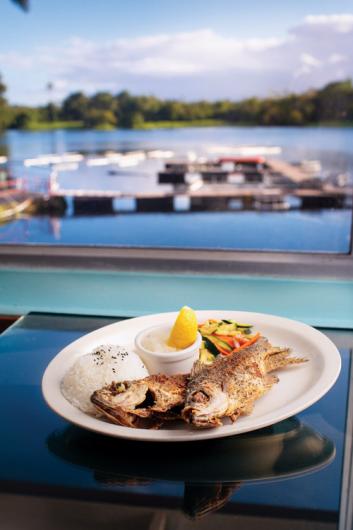 Through the end of December, we're sharing categories from HAWAII Magazine's 2013 Food Issue main feature, "75 Places to Eat Like a Local."
You'll find the issue on sale now (at least for the next three weeks or so), loaded with features focused on Hawaii eats and where to get 'em, as well as the full 75-strong collection of Hawaii food spots you'll find us grabbing a plate lunch, inhaling a bowl of noodles, sating our sweet tooth, or telling our friends and family to do the same.
Elsewhere in the November/December issue, we quench our thirst at Kauai fresh juice business Akamai Juice Co., learn the history of (and, yes, consume) Maui restaurant Sam Sato's famous dry mein, rate the famed shrimp trucks and shacks of Oahu's north shore and visit with the mochi master behind the Big Island's much-loved Two Ladies Kitchen. We even chat up Chef Andrew Le, of popular Oahu pop-up and newly brick-and-mortar restaurant The Pig & The Lady, on the 5 Things He Loves About Owning A Hawaii Pop-Up Restaurant."
Over the past month-and-a-half, we revealed picks in our "HOMEGROWN," "CARNIVORE,""BREAKFAST," and "LUXE & LOCAL" categories. Here's the fifth category we're sharing from our "75 Places to Eat Like A Local" feature: the five restaurants that made our "FROM THE SEA" category.
Enjoy!
75 Places to Eat Like A Local
"From the Sea"
Category 7 of 15

We have the best seafood in the world, and these folks know what to do with it.
The Seaside Restaurant & Aqua Farm
To diehard fans of local fish like aholehole (flagtail), moi (Pacific threadfin) and akule (big-eyed scad), thre are few better ways of cooking up whole, fresh catch than dusting it in flour and pan-frying it in hot oil, 'til crispy. We like that Seaside always has local fish on its menu perfect to serve up this way—often pulled from its own aquaculture farm in a brackish pond behind the restaurant.
1790 Kalanianaole Ave. Hilo, Big Island • (808) 935-8825 • Website

Mitch's Fish Market & Sushi Bar
The regulars who congregate at this modest sushi bar near the airport don't want you to know. Know, that is, that the sushi here is among the best we've had, crafted with stunningly fresh seafood procured locally and internationally. They'd likely rather we not mention Mitch's sweet live abalone, lobster or creamy negitoro (fatty tuna belly. So we'll shut up now.
524 Ohohia St., Honolulu, Oahu • (808) 837-7774 • Website
Fresh prawns in the market case at Kyung's Seafood in Honolulu, Oahu. Photo: Derek Paiva.
Kyung's Seafood
Tasty, homestyle Korean food served in large portions is half of Kyung's greatness. The other half? A refrigerated market case filled with high-grade, fresh-caught ahi, which its owners are only too happy to cut and mix with sweet Maui onion, green onion, crunchy ogo (seaweed) and a generous dollop of tobiko (flying fish rose) to craft some of the best poke we've ever had.
1269 S. King St., Honolulu, Oahu • (808) 589-1144
Mama's Fish House
At some point in our lives, every seafood-loving Hawaii resident comes home to Mama's. If we're really fortunate, however, we get to return to the oceanside Paia restaurant, each time savoring the unique joy of selecting our fish and other seafood delicacies from a menu so fresh-catch-focused it credits the fishermen who brought in the fishy haul.
799 Poho Place, Paia, Maui • (808) 579-8488 • Website
Nico's at Pier 38
Yes, despite its expansion (now including an indoor "boat bar"), Nico's still has a line out the door come lunchtime. Time it right, though, and you can at least score a table while you wait. You'll be well-rewarded with doesn't –get-fresher-than-this selections procured from next-door Honolulu Fish Auction. Worth the wait, in our opinion: Nico's seared ahi poke salad and fried ahi belly.
1133 N. Nimitz Highway, Honolulu, Oahu • (808) 540-1377 • Website