HAWAII Magazine's Best Calendar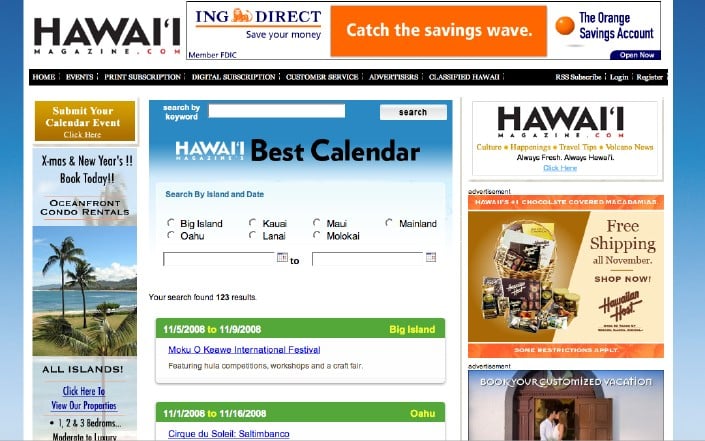 HAWAII Magazine readers like the calendar section in the magazine. Now they're likely to fall in love with our online calendar.
We recently launched HAWAII Magazine's Best Calendar this past Saturday, featuring more than 100 events.
Now you'll never have to wonder what to do on a Friday night in Hanapepe, Kauai, or when ukulele master Jake Shimabukuro will be playing in California. Find out by searching our brand-new online calendar.
Besides listing activities happening in Hawaii, we'll also listed Hawaii-related events happening across the Mainland. With the Internet's capability, there's no limit on the number of events we can list. You can search our database of activities by island, date or keyword.
Not to worry: Our print calendar will continue to appear in our magazine. However, our calendar at HawaiiMagazine.com can provide you with the latest updates. As soon as we find out about a new event, even if it's not in the magazine, we'll let you know.
Got an event to share with us? It's free and easy. Simply click the "Submit Your Calendar Event" button found on our Events page. You'll need to be a HawaiiMagazine.com member. Click here to sign up for your free membership.
If you've already signed up for an account and posted comments on our daily articles, you're all set. Just sign in here.