HAWAII Magazine's "Hidden Waikiki" Guide: Edibles, Part 1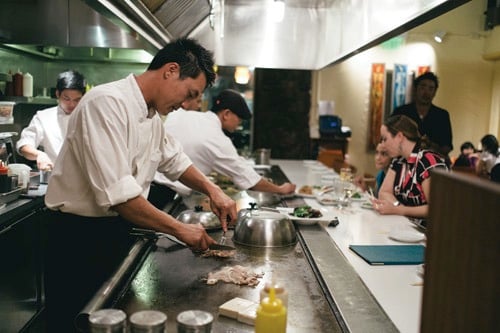 That's roughly how much street time and literal legwork our staff collectively put into our "Hidden Waikiki" guide, which you'll find in its entirety in HAWAII Magazine's current March/April issue.
What's "Hidden Waikiki" all about?
It's our first-ever, user-friendly guide to the under-the-radar spots we hit when we visit the world famous, ever-fascinating and wholly unique Hawaii resort destination. If you've only laid out on Waikiki's renowned beachfront, perused its luxury retail stores or dined at its well-represented collection of national chain restaurants, know this: You've experienced very little of what Waikiki really has to offer.
That's where our "Hidden Waikiki" guide comes in.
Hawaii's biggest, most-visited resort destination reveals a whole lot more for folks in the mood to explore—from groovy eateries and night spots tucked away on its backstreets to tiny noodle shops and eclectic local retail stores hiding in plain sight off the main drags, Kalakaua and Kuhio Avenues. In "Hidden Waikiki" we reveal our favorites of these.
The March/April 2014 issue of HAWAII is on sale now nationwide or available for individual copy purchase using our Apple Newsstand HAWAII Magazine iPad and iPhone apps. Purchase an iPad subscription to HAWAII Magazine and you'll get the issue with "Hidden Waikiki" immediately as part of your subscription.
Over the next few weeks, we'll be sharing excerpts from our "Hidden Waikiki" guide's 12 categories. Here's the first of 'em:

"Hidden Waikiki" Guide
"Edibles, Part 1"
Category 1 of 12
Our favorite Waikiki backstreet, side-street and hidden-on-the-main-streets places to eat.
Jinroku Pacific
Okonomiyaki, a Japanese dish packing any number of ingredients—from seafood and meats to vegetables and cheese, or all of the above—into a mountainous grilled omelet-like pancake, is the most raved about menu item at this open-air teppanyaki grill. Select a favorite from Jinroku's impressive okonomiyaki menu and they'll grill it up right in front of you. 

2427 Kūhiō Ave. • (808) 926-8955 • jinrokupacific.com
Goofy Café & Dine
We love the ethos of this all-day breakfast spot. Big on procuring as many locally grown, organic ingredients as it can find, its menu proudly lists all of the Hawaii farms and producers it sources from. Try the Shinsato Farm pork belly Eggs Benedict and Big Island-raised honey and vanilla sweet bread French toast.
If Goofy's can find it local, it's on the lunch and dinner menu, too. 

1831 Ala Moana Blvd. • (808) 943-0077 • goofy-honolulu.com
Veggie Wrap and Berry Berry fruit smoothie at Tucker & Bevvy. Photo by David Croxford.
Tucker & Bevvy
Fresh-made picnic food is the purpose of this bright, homey sandwich, juice and smoothie café, steps away from Kapiolani Park. Order a smoked ahi wrap with white bean hummus and taro chips, a freshly juiced Mean Green (kale, green apple, broccoli, cucumber, celery, parsley, cilantro, lemon and ginger) and off you go. 

2586 Kalākaua Ave. • (808) 922-0099 • tuckerandbevvy.com
Gorilla in the Cafe
This compact, modern café is our favorite Waikiki spot for coffee. The reason? Its slavish devotion to brewing and selling only Hawaii-grown beans—all from farms producing and roasting some of the coffee world's most highly lauded beans (Rusty's Hawaiian and Isla Coffee from the Big Island's Kau district, for starters). 

2155 Kalākaua Ave. • (808) 922-2055
Hawaiiana Café & Sushi
Tucked—some might say, hidden—near the entrance of the real world-retro Breakers Hotel, our top Waikiki hole-in-the-wall for a grab-and-go ahi poke or spicy ahi bowl also features a menu of fresh-made sushi, ahi salads, noodle dishes, chirashi bowls and a tasty garlic shrimp plate lunch. Inexpensive, fresh and tasty. 

The Breakers Hotel, • 260 Beachwalk • (808) 772-8879