Hawaii national parks offering free entry, volunteer opportunities on National Public Lands Day, Sept. 27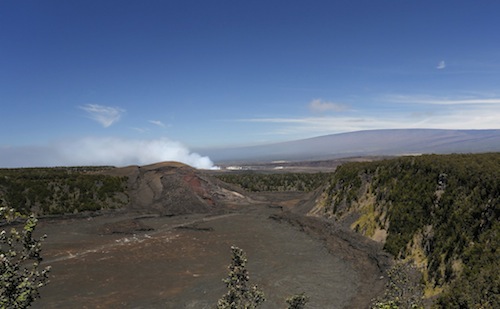 As Earth's most isolated inhabited archipelago, Hawaii is blessed with striking natural beauty—eerie volcanic landscapes, lush rainforests and valleys and luxuriously sandy beaches. Fortunately for residents and visitors, much of this scenic wonder is found on lands open to free public access.
This Sat. Sept. 27, all Hawaii national parks will participate in National Public Lands Day (NPLD), an annual day aimed at affording the public opportunities to visit, help maintain and learn about our nation's parklands and public spaces. Now in its 21st year, National Public Lands Day is the nation's largest single-day volunteer effort for public lands. More than 175,000 people nationwide volunteered for NPLD 2013, removing 23,000 lbs. of invasive plants; planting 100,000 trees, shrubs and native plants; building and maintaining 1,500 miles of trails; and removing 500 tons of trash from public lands.
Hawaii's three national parks that charge fees for entry—Hawaii Volcanoes National Park and Puuhonua O Honaunau National Park on Hawaii Island, and Haleakala National Park on Maui—will be celebrating Sept. 27 NPLD with a "fee-free" day. Hawaii Volcanoes National Park will be hosting NPLD special programming that include a free, guided hike with a ranger to learn about the park's unique ecosystem (12:30-3:30 p.m., meet at the Kilauea Overlook), and a volunteer opportunity aiding park ecologists with the removal of invasive Himalayan ginger plants from Kilauea volcano's summit (9 a.m.-noon, meet at Kilauea Visitor Center). Other volunteer opportunities include a trash pick up along Mamalahoa Highway (Route 11), which runs through the park (9-11 a.m., meet at mile marker 40).
Volunteering in the rainforest of Hawaii Volcanoes National Park. Photo: National Park Service.
All volunteers who help out in Hawaii Volcanoes National Park on NPLD will be given a free pass to enter the park on another day.
Although Hawaii's state park state park system—managed by the state Dept. of Land and Natural Resources—is not officially on board for NPLD, a few parks will be offering special programming on Saturday. Kokee Museum, part of Kokee State Park just north of Waimea Canyon on the northwest side of Kauai, is calling for volunteers to help clean its Kanaloahuluhulu Meadow and other museum areas. Clean begins at 8:30 a.m., Sept. 27 at Kokee Museum. Tools and lunch will be provided.
Kanaloahuluhulu Meadow is being tidied up in preparation for the annual Eo E Emalani Alakai festival, a cultural event commemorating Hawaii's Queen Emma and her 1871 journey to the area. The festival happens on Sat., Oct. 11.
For more information check out the website for National Public Lands Day. You can also click here for a list of Hawaii's National parks or click here to learn more about Hawaii state parks.