Hawaii observing 71st anniversary of Pearl Harbor attack with survivor-focused events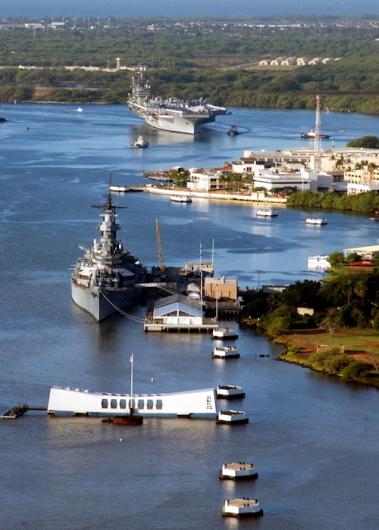 Events tied to the 71st anniversary of Pearl Harbor Day are under way this week on Oahu. Among them: an engaging discussion with survivors and other eyewitnesses of the Dec. 7, 1941 attack; a ceremony marking the exact time the attack started; and an evening parade through the Waikiki area.
• After Dark in the Park — 6:30 p.m. tonight at Pearl Harbor's National Park Service's World War II Valor in the Pacific National Monument. Candid discussion with military survivors and others who witnessed the Japanese aerial attack that propelled the United States into World War II. Admission is free and open to the public. However, seating is limited. For reservations, call (808) 424-7300, ext. 7048.
• Pearl Harbor Day Ceremony — 7:45 a.m. the national monument's visitor's center. At 7:55 a.m. on Fri., Dec. 7 — the exact time the attack began on Dec. 7, 1941 — survivors, military officials and others attending the anniversary ceremony at Pearl Harbor (held in full view of the USS Arizona Memorial), will pause for a moment of silence.
Oil, sometimes called "black tears" still seeps up from the sunken USS Arizona (pictured, left), beading the surface of the water at the battleship's memorial. The Park Service describes the battleship as the "final resting place for many of the 1,177 crewmen who lost their lives on December 7, 1941." The number of American casualties that day totaled more than 2,300 sailors, soldiers and civilians.
Nearly four years after the Pearl Harbor attack, Imperial Japan's formal surrender took place on Sept. 2, 1945, aboard the USS Missouri, anchored in Tokyo Bay. The "Mighty Mo" battleship is now located in Pearl Harbor, a ship's length from the USS Arizona (pictured, at top of page).
• 2012 Pearl Harbor Memorial Parade — 6 p.m. on Fri., Dec. 7, starting at Fort DeRussey Park. The parade, which features Pearl Harbor Day military survivors and marching bands, travels through Waikiki along Kalakaua Avenue, finishing at Kapiolani Park. This year's parade is commemorates the anniversary of the Pearl Harbor attack as well as the 50th anniversary of the Arizona Memorial, which was dedicated in 1962. Opening ceremonies will get under way at 5 p.m. at Fort DeRussey Park. For more parade information, click here.
For more information about events at the national monument marking the 71st anniversary of Pearl Harbor Day, click here.