HAWAII Survival Guide: Ala Moana Center
In this five-part series, we tell you everything you need to know about shopping and eating at Hawaii's largest mall.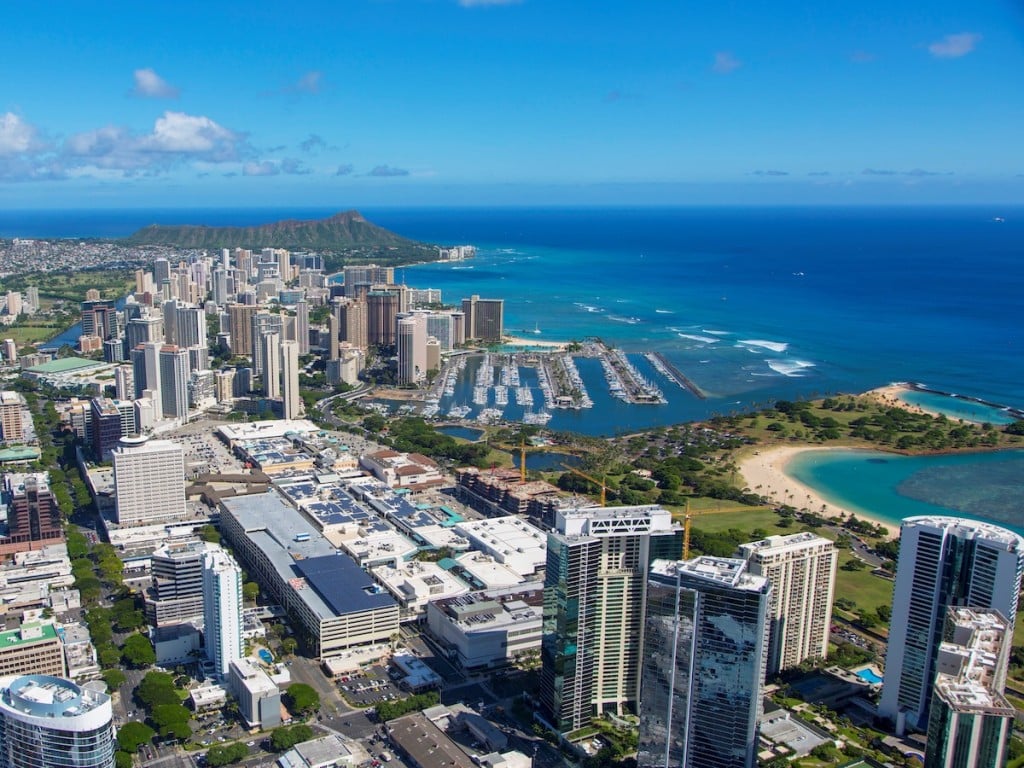 This is part one of a five-part series.
This story started the way many stories do: We encountered a problem that needed a solution.
The problem? We couldn't figure out the new parking situation at Ala Moana Center, the state's largest mall, in Honolulu
The solution? Spend an entire day at the mall until we figured it out.
The result? This five-part series about how to survive Ala Moana Center. Mostly because we needed a guide ourselves.
Our editorial team walked the entire 55-acre mall, which boasts more than 2 million square feet of retail space and is one of the Top 10 biggest malls in the U.S. (It's currently still the largest outdoor mall in America.) We figured out where everything is—from restrooms to selfie walls—to make your next visit to Ala Moana Center productive and stress-free.
Here's what we know:
Celebrating its 60th anniversary, Ala Moana Center opened on Aug. 13, 1959 with about 80 stores on two levels and 4,000 parking spaces. Original stores included Sears, Shirokiya, The Slipper House, Longs Drugs, Andrade, Carol & Mary, Woolworth, McInerny, Crack Seed Center, Foodland and Golden Palace. Seven years later, the second phase was completed, doubling the size of the center and increasing the number of stores to 155 and parking stalls to 7,800. Liberty House (which became Macy's) and J.C. Penney anchored this end of the mall. A few years later, both department stores added fourth levels.
The mall never stopped growing.
Since then there have been so many changes, it's hard to keep track of them all. New food courts opened, big-name tenants (Sears, J.C. Penney) left. Shops and restaurants have come and gone, evolved and survived. Of the original tenants, there are only a few left, namely Longs Drugs (now owned by CVS), Foodland (now Foodland Farms), Reyn's (now Reyn Spooner), Shirokiya (now Shirokiya Japan Village Walk) and Watumull's.
In 1990, the mall grew vertically—adding 51,000 more square feet—and luxury retailers like Chanel, Gucci, Emporio Armani and Dior opened, creating a shift in the mall's aesthetics and luring higher-end shoppers, namely from Japan. Neiman Marcus opened in 1996, Nordstrom followed in 2008, and dozens of more stores and thousands of more parking stalls were added. The latest expansion was completed in 2015—called the Ewa Wing Expansion—with the addition of Bloomingdale's, Shirokiya Japan Village Walk and an entirely new vibe to this end of the mall.
To give you some perspective, Ala Moana Center opened with 87 stores and restaurants; now it has more than 350. Back then, it had 680,000 square feet of retail space; now it boasts 2.4 million square feet. And when the mall opened in 1959, there were 4,000 parking stalls; today, there are 11,000, including 4,500 stalls across nine levels of the Mauka Ewa Parking Structure—the mall's largest.
When we say Ala Moana Center has changed, we really mean it.
Growing up in Honolulu—I'm a townie, I admit it—life centered around this mall. I spent hours with friends here after school, buying li hing mui and lemon peel from the Crack Seed Center or browsing the Japanese stationery section at Shirokiya. I can honestly say Ala Moana Center was an integral part of my childhood.
As I get older, the mall becomes different things to me: a place to meet up with girlfriends, where I go to splurge on a massage or get my watch fixed, a place to celebrate birthdays or find the perfect gift, somewhere I go to hide in a bookstore or get a coffee jelly drink.
While there's a practical function of the mall—to buy stuff, to eat stuff, to get stuff done—there's an emotional side, too. I remember watching numerous Super Bowls at Sears while my parents walked the mall. I bought my first iPhone here. I had my baby shower here.
Though I'm not much of a shopper, I do love this mall.
So on this last week of November, when folks are gearing up for the biggest shopping weekend of the year, we decided to put together the must-knows, must-dos and must-eats of Ala Moana Center.
Here's the schedule for the week:
Monday: HAWAI'I Survival Guide: Ala Moana Center, The Overview
We hope you discover all the reasons why this mall gets more than 50 million shopping visits each year. (We've already been there twice this week.)
To learn more about Ala Moana Center's 60th anniversary, including purchasing its commemorative book by Kay Kiyosaki Day, click here.