HAWAII Survival Guide: Play Areas, Selfie Spots and Other Amenities at Ala Moana Center
From barbers and bathrooms to strollers and Wi-Fi, Ala Moana Center covers all the bases.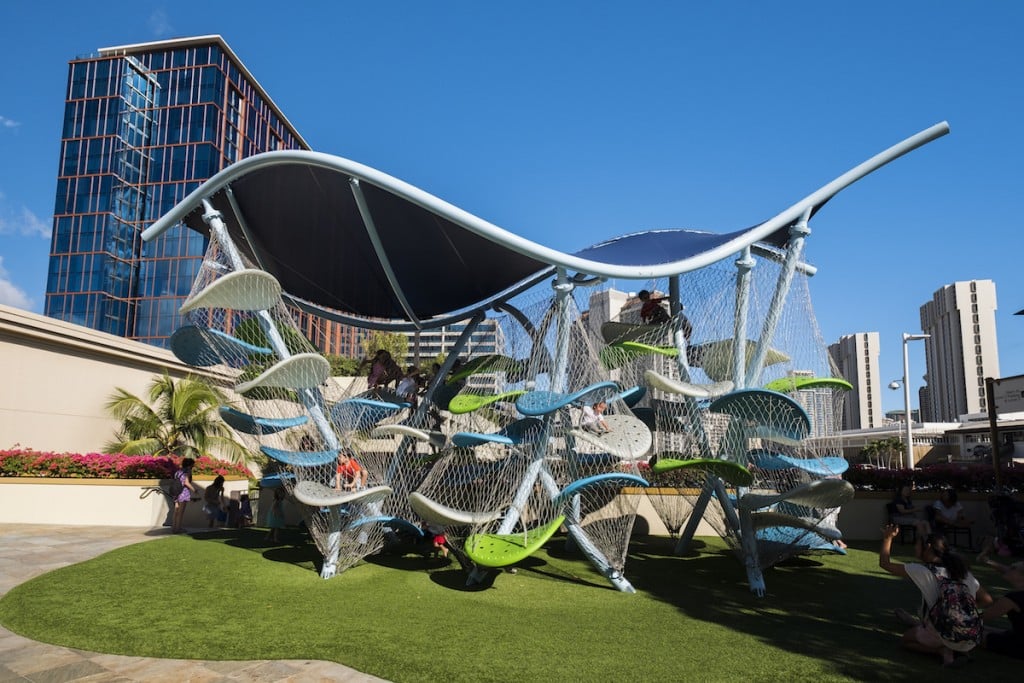 This is part four of a five-part series.
A trip to Ala Moana Center can range from a quick stop at Longs to an all-day shopping safari. If you're planning for the latter, you may want to know about some of the key amenities the mall offers, as well as shops and businesses that can help make your day easier. So whether you're looking for the mall's bougiest bathrooms, a breakneck barbershop or the perfect selfie spot, we've got you covered.
Where's the (best) bathroom?
It's probably the most important question you can ask.
For starters, there are six main bathrooms at Ala Moana Center (the ones inside retail shops don't count).
Center Court near Centerstage (the biggest)
In Makai Market Food Court
In The Lanai between Brug and Teppanyaki Farmer (the nicest)
Ewa Wing near Zara
Ewa Wing near Banana Republic (the most hidden)
Hookipa Terrace near GEN Korean BBQ House
The restrooms at Center Court, near Banana Republic and in the Ewa Wing all have family bathrooms. You need to buzz security, though, to get in.
One of our favorites is in The Lanai, which is the newest and looks pretty slick. But there aren't many stalls and this food court does get crowded during lunch and dinner. So expect a wait.
Another favorite bathroom is the one near Zara. It's out of the way, clean and spacious. If you really want to experience a transcendental bathroom experience, some of the mall's swankier department stores have washrooms and lounges.
Any cute selfie spots near me?
Yes, actually. There are a few walls around the mall—and inside stores— decorated with cute, colorful graphics and pictures perfect for your Instagram feed.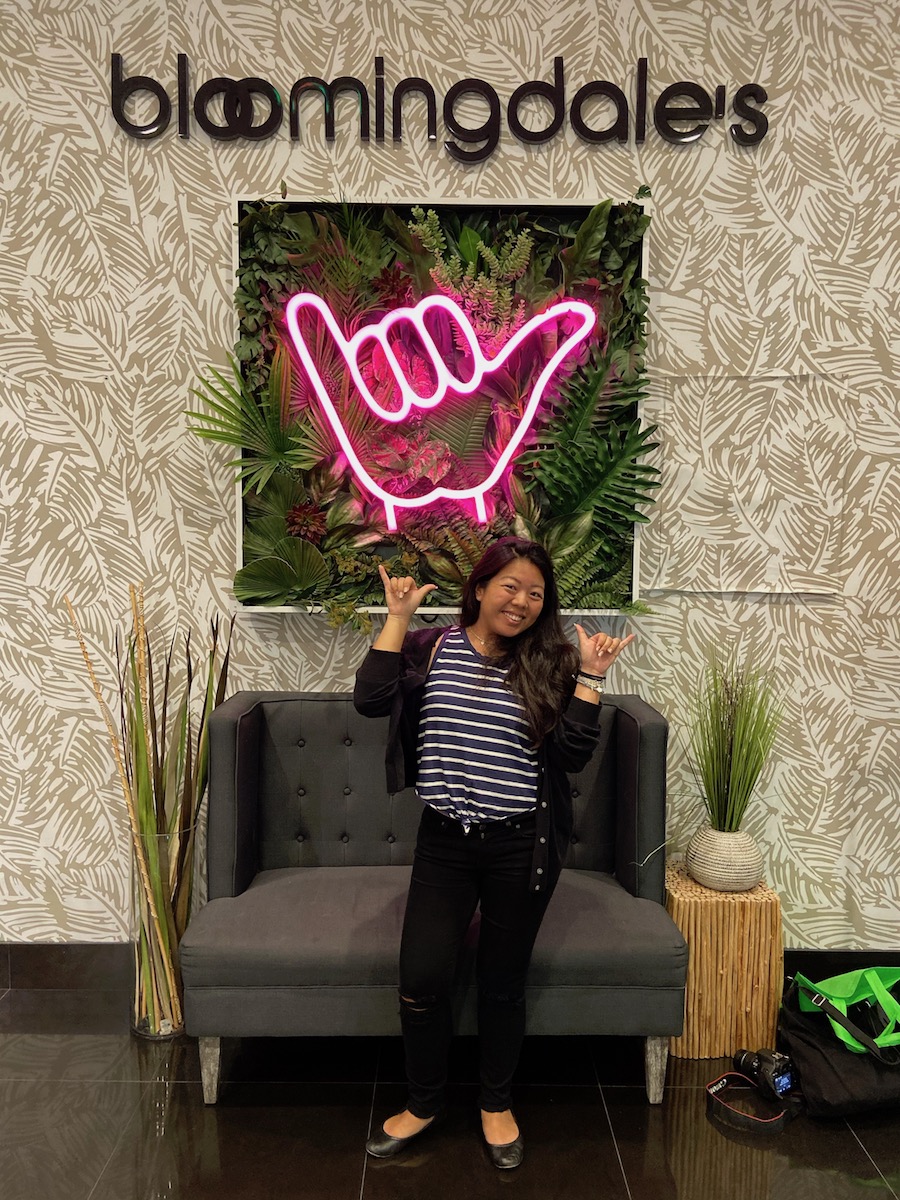 There's a cute setup at the small street level entrance into Bloomingdale's. Here you can find a very on-fleek chair below a colorful aloha sign, as well as a harder to capture, but just as attractive, mural of colorful characters and designs painted on the wall of the escalator that leads up into the department store.
The center of the mall's second level, just above Centerstage, also has a spot for selfies: a lush green wall adorned with fairy lights that spell out "Ala Moana Center." It was erected to celebrate the mall's 60th anniversary this year. Shoppers are invited to take a photo here and use the hashtag #Happy60AlaMoana and tag @alamoanacenter.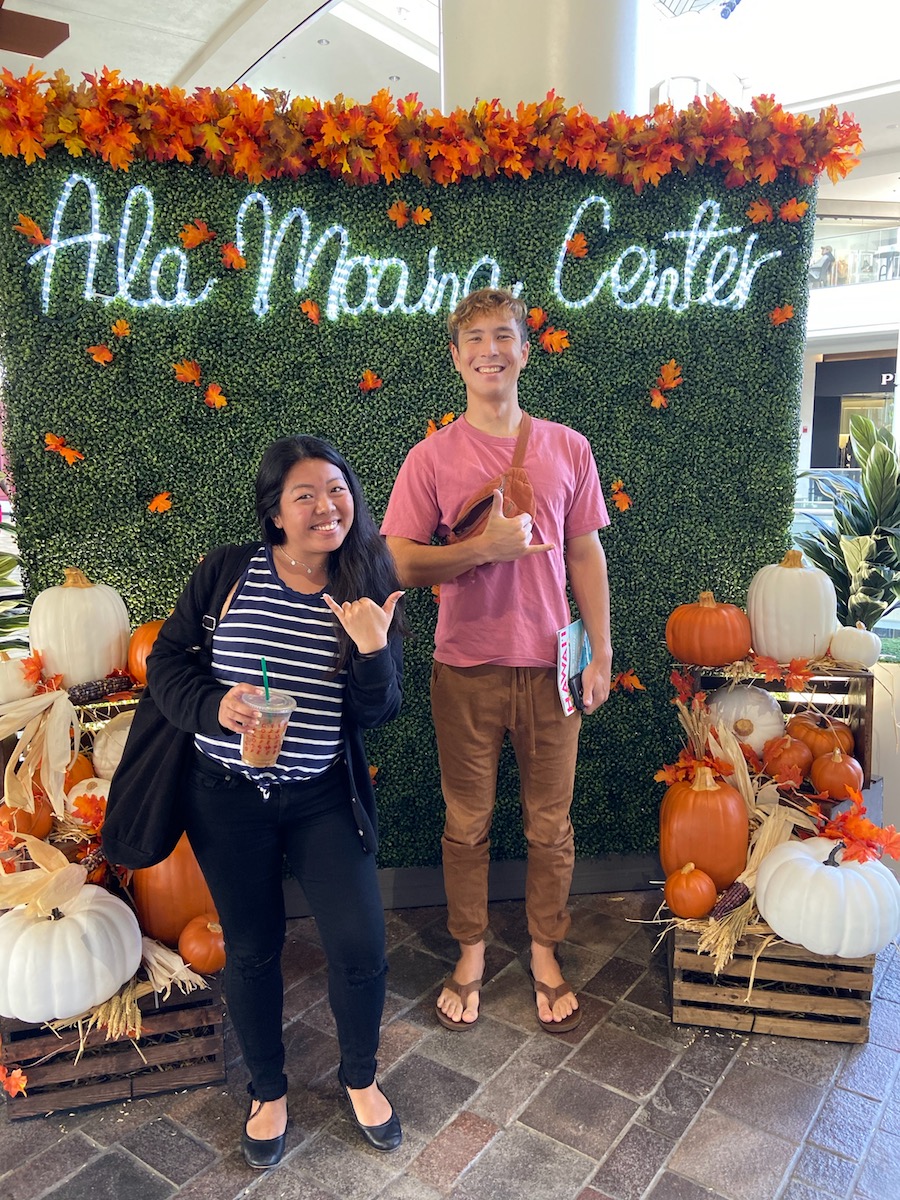 Aloha Confectionery has some sweet graphics to pose in front of, preferably with one of the shop's equally sweet treats.
If you want a limited-time selfie, find the Squishable's pop-up shop on the third level next to Neiman Marcus. But hurry: It will only be around until Jan. 5. Aside from being one of the cutest shops at Ala Moana, with all sorts of adorable pillows in stock, its selfie setup is among the mall's most colorful and bright.
Can I get my clothes dry-cleaned?
A lot can happen in the mall. Coffee spills. Baby spits up. Sandwich explodes. Whatever the case, Al Phillips the Cleaner, located on the ground level of the mall between Marshalls and Shirokiya Japan Village Walk, can clean whatever's dirty while you shop.
I desperately need a massage.
Of course, you do. Head to Hoala Salon and Spa (Level 3, near Neiman Marcus), which uses Aveda products and offers an escape from the bustling mall. This full-service salon has everything from facials to manicures. But you're here for a massage, and we recommended the stress-fix body massage ($135 for 60 minutes, $175 for 80 minutes), which employs the tranquil scent of lavender and deep-tissue techniques and foot reflexology. You'll feel refreshed—and ready to keep shopping.
What if I need a trim—and quick?
Thom's Barber Shop, located between Mr. Tea Cafe and Subway on the mall's street level, is known for its fast, affordable (haircuts are $15) and most importantly, good, haircuts. The barbers at Thom's Barber Shop will get you in and out in under 20 minutes.
Where can my kids go to burn off excess energy?
If you're looking for a place in Ala Moana Center for your keiki (children) to cut loose, head on over to Target. Just outside its third-level doors is a play area perfect for energetic kids. The climbing structure is big and colorful and there are plenty of shaded places for parents to sit while watching their keiki monkey around.
Some shops, like Allison Izu and the Disney Store, have areas where kids can hang out. At Allison Izu, there's a little corner where kids can draw; in the Disney Store, keiki can watch Disney films and color.
There's a small fake-grassy area in the new Ewa Wing—right in the middle, on the mall level near Bloomingdale's—where families often congregate and let their kids explore.
Can I rent a stroller?
Parents, rejoice. Ala Moana Center has rentable single and double strollers that will only cost you $6 to use. There are three stations to grab a stroller, all of which are located on the street level. You can find one in front of Poke & Box in the Makai Market Food Court, and outside AT&T and See's Candies.
What if I need to mail something?
There's a full-service post office on the ground level of the mall, next to The Vitamin Shoppe and Al Phillips the Cleaner. (It's one of the mall's original tenants.) This means off-island shoppers can ship whatever they bought back home—and then shop some more! Genius.
Is there a guest services counter?
Located near the mauka (mountain-facing) entrance of the Makai Market Food Court, Ala Moana Center's guest services kiosk is the place to go if you're feeling a little overwhelmed. It's got maps, city bus schedules and a staff of helpful mall experts ready to act as your personal concierges, giving you advice on where to go, what to see and most importantly, how to get there. It's also the mall's lost and found.
Can I register to vote?
If, on a whim, you're at the mall and realize you want to be a registered voter, you can also get that done at Ala Moana Center. Ala Moana Satellite City Hall is on the ground level, right next to the Barnes & Noble, and handles an assortment of registrations (bicycle and moped registration, motor vehicle registration, voter registration) and permitting (out-of-state permits, fireworks permits and picnic permits). The line can get a little long, so remember: The early bird gets the picnic permit.
What's the Wi-Fi?
Join a network called "AlaMoanaCenterGuest," enter your email address and voila, you're in.
Where can I charge my iPhone?
Habitant, a lounge and cocktail bar located on the second floor of Nordstrom, by the escalators, doesn't just offer craft drinks and ono (delicious) appetizers. The bar also has tables with iPhone charging ports—no cables though, so bring your own—built in.
Here's the schedule for the week:
Thursday: Play Areas, Selfie Spots and Other Amenities at Ala Moana Center