HAWAII Survival Guide: Where to Eat (and Drink) at Ala Moana Center
Hangry shopper? Keep this list handy.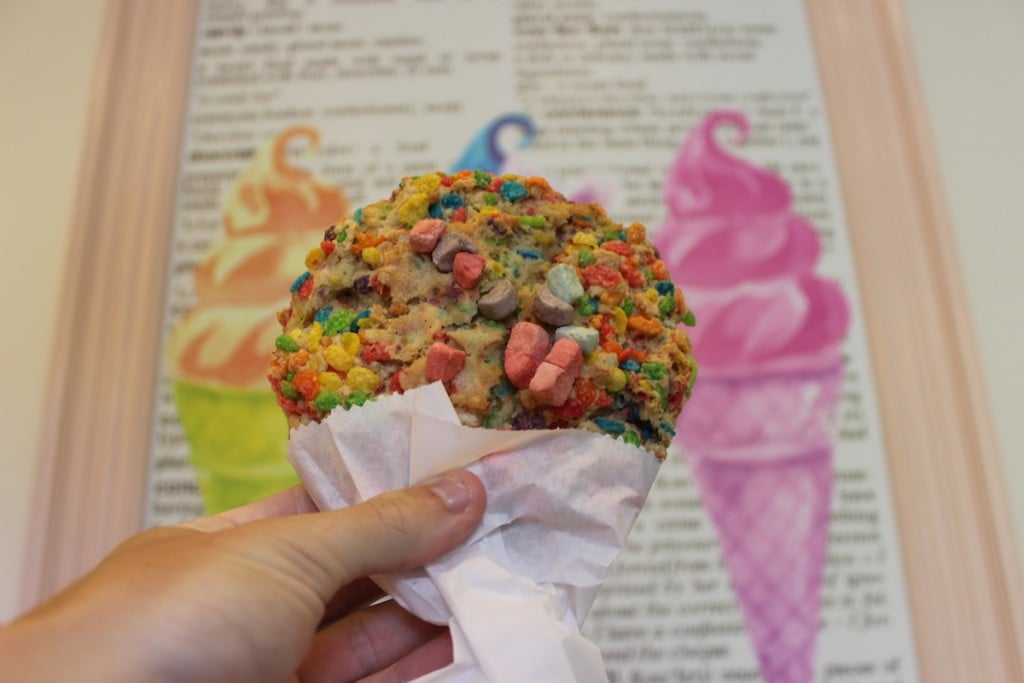 This is part one of a five-part series.
Whether you're a power shopper or shopping bag holder, everyone needs to eat. (And sometimes we need a drink, too.)
We walked the entirety of Ala Moana Center—yes, all 2.4 million square feet of retail space, or at least it felt like it—and scoured the more than 160 dining options to find the best eats, drinks and snacks for your next trip to Hawaii's largest mall.
If you're a power shopper
You don't have time for a languid lunch break. You're here to shop and food slows you down. We get it. Here are some places that will get you fed and back to shopping in a flash.
Ahi & Vegetable
Location: Mall Level 2, in The Lanai
Grab a poke bowl, a tray of sushi or a bento to go at this popular shop in The Lanai food court. (This is its third location on Oahu.) What sets this stall apart from the others is its super-fresh fish straight from the local auction.
Foodland Farms
Location: Street Level 1, Ewa Wing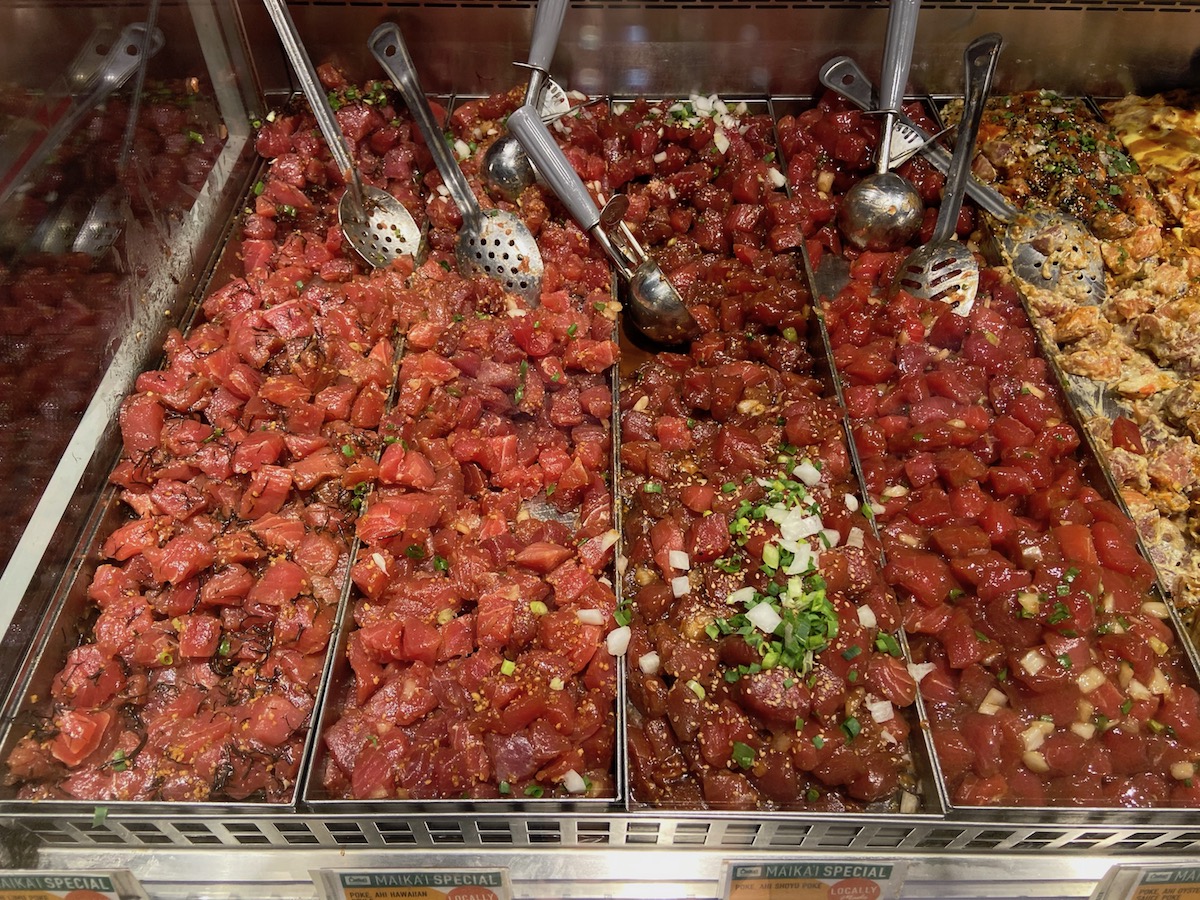 This next-level locally owned grocery store is packed with to-go foods, including Spam musubi, sandwiches, freshly made juices and smoothies, and a full hot bar with items like gandule quinoa and ulu (breadfruit) beef stew. A big draw are its poke bowls; you can choose from Foodland's variety of poke, from shoyu ahi to wasabi salmon. And if you plan to do actual grocery shopping, you can utilize its will-call service to hold your groceries while you shop the rest of the mall. There are 15-minute stalls near the storefront for you to pull up after you're done with your shopping—and the service is free.
Musubi Café Iyasume
Location: Mall Level 2, in The Lanai
It's all about the grab-and-go musubi (Japanese rice balls) here, which is perfect for shoppers who don't want to stop and eat. The most popular is the Spam musubi combo with egg, avocado and bacon. If you don't see it, ask. The workers in the back will make whatever you want—but you'll have to wait. Another bonus: This stall opens at 8 a.m.—before many other eateries—so you can grab something before shops open. (The café's second location in the Shirokiya Japan Village Walk opens later.)
Tanioka's (CLOSED)
Location: Mall Level 2, Ewa Wing
View this post on Instagram
The longtime seafood-focused eatery in Waipahu opened a pop-up at Ala Moana Center during the holiday season. (It's open until Dec. 23.) You can create your own plate lunches—grilled steak, fried chicken, barbecue shortribs and more—get a poke bowl or grab Tanioka's signature ahi patty or Spam musubi. It even sells Tanioka's merchandise, so you can shop while you eat, too.
Ike's Love & Sandwiches
Location: Mall Level 2, in The Lanai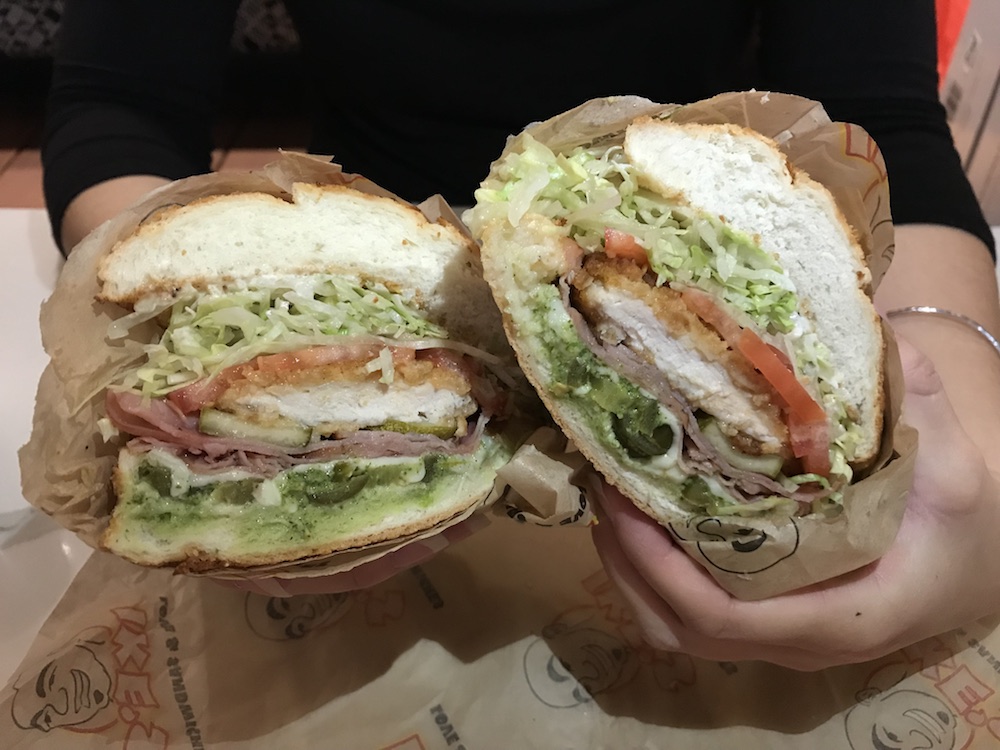 This San Franciso-based sandwich chain is known for its made-to-order 'wiches, fun extras and combinations exclusive to each of its more than 40 locations. Unique to the Ala Moana menu are the Lord of the Flies (ham, pineapple, barbecue sauce and provolone), Laniakea (vegan fried chicken, pineapple, teriyaki, cucumbers and provolone), Joe vs. The Volcano (vegan fried chicken, pineapple, marinara sauce and provolone) and Golly-zilla (halal chicken, pineapple, teriyaki sauce, wasabi mayo and Swiss cheese). Our pick is the Alan Wong, stuffed with roast beef, ham, turkey, pastrami and provolone with Ike's popular Godfather sauce, a mild creamy horseradish Dijon mayo. Only opt for the chain's signature Dutch bread; it's the best. Sandwiches are made to order, so expect a little wait—but these are substantial meals that will keep you full and fueled all day.
If you want to sit down and actually relax
Maybe you don't have the energy—or patience—to power through an entire day of shopping with minimal food breaks. Maybe you wore uncomfortable shoes. Or maybe you've dragged your non-shopping partner or entire family on a field trip to the mall. You probably need a good, long break.
Liliha Bakery
Location: Inside Macy's
Earlier this year Liliha Bakery, which has been an institution in Hawaii since 1950, opened a third location in Macy's—and it has quickly become a hot spot for lunch and dinner at the mall. It boasts 170 seats in a roomy, kid-friendly dining room, with a full bar and all of the bakery's beloved dishes, from hamburger steak to kimchi fried rice. You can order breakfast, too. The best part? There's even a bakery, so you can order all of your favorite pastries—Coco Puffs and poi mochi doughnuts, anyone?—too.
Mariposa
Location: Inside Neiman Marcus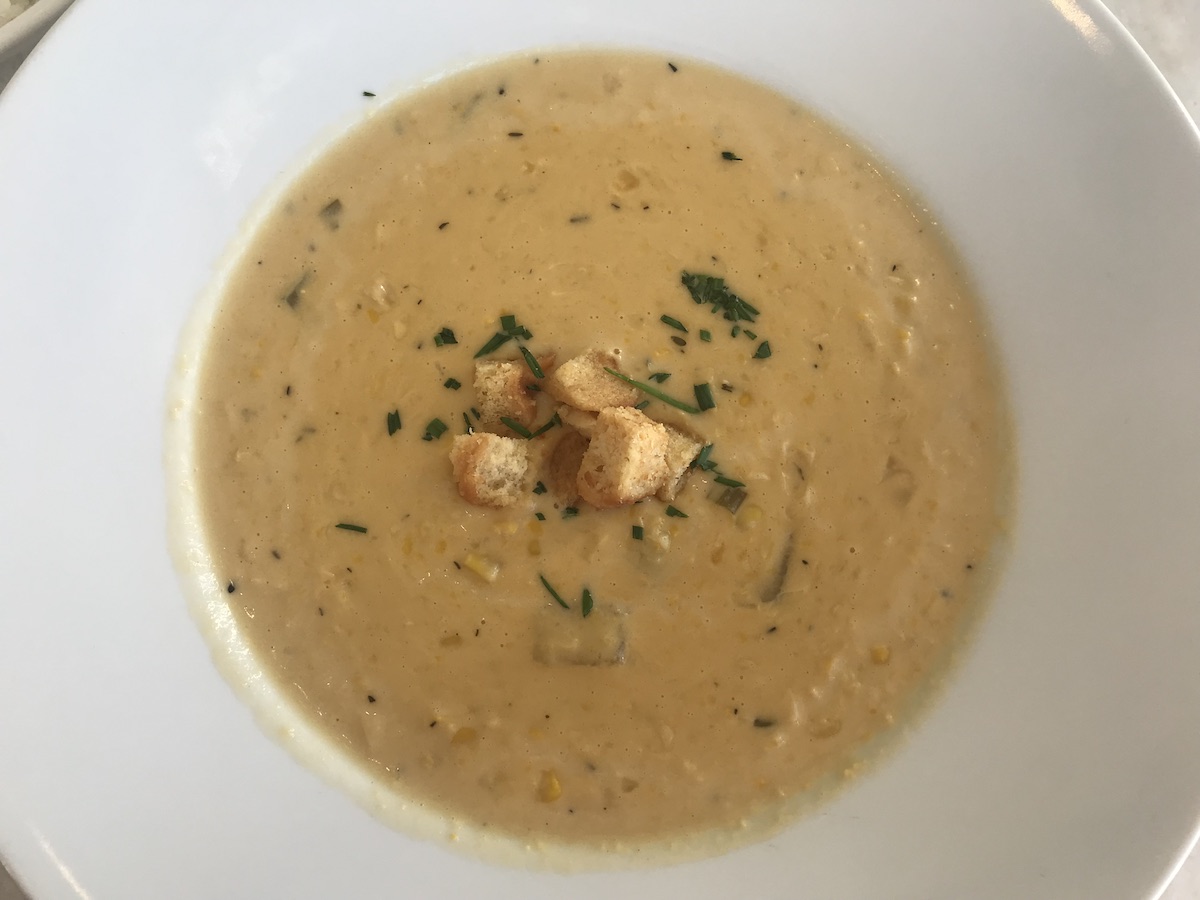 Mariposa is the perfect spot for unhurried lunches, even with kids. The open-air dining room, with views of Ala Moana Beach Park, is spacious and comfortable. You'll feel relaxed just sitting here (maybe with a mango margarita). Its all-day menu features creamy Kahuku corn chowder with monkey bread croutons, lobster club with bacon and roasted peppers, and the signature wagyu burger with melted cheddar and a side of sweet potato fries. Mariposa also runs happy hour from 3 to 6 p.m. daily (except Friday, when it's 3 to 5 p.m.), with $4 beers and $8 wine and cocktails, and bites for $6 to $10. Your day may end here—and that's OK.
Ruscello
Location: Inside Nordstrom
This popular casual lunch spot offers something for everyone, including kids: a kalua pork sandwich with house slaw, various pizzas and salads, mushroom ravioli and starters that can be shared. And you can't go wrong with Ruscello's famous Roma tomato-basil soup. (Order extra crostini. Trust us.)
Forty Carrots (CLOSED)
Location: Inside Bloomingdale's
Famous for its frozen yogurt—and yes, this location serves it, too—Forty Carrots is a nice respite from the bustling mall. Hidden in Bloomingdale's—it's not easy to find—this little eatery serves sandwiches, salads, poke and hearty entrées, including an upgraded loco moco with lobster tail and sautéed foie gras. It even offers a great happy hour from 3 to 6 p.m. daily, with deals on appetizers and drinks, including a tasty lilikoi (passion fruit) martini.
If you just want noodles
Sometimes all you want is a big, warm bowl of noodles. It's comfort in a bowl. We know the feeling.
Goma Tei
Location: Street Level 1
A go-to spot for ramen, Goma Tei boasts craveable bowls filled with housemade noodles and unique broths, from spicy tan tan to the flavorful shoyu-based dashi (broth). This ramen shop also serves Japanese-style curry and cold noodles.
Ramen Bario
Location: Street Level 1, in Makai Market Food Court
Ramen Bario opened its second location here, with the same hearty bowls of ramen that made its Waikiki shop so popular. One of its most unique dishes is tsukemen, wth noodles and broth served separately. You dip the noodles into the soup, the flavor of which is more concentrated, before eating them.
Mama Pho
Location: Hookipa Terrace, Upper Level 4, near Macy's
This is the second—and much larger—location for Mama Pho, which serves authentic Vietnamese fare, from vegetarian spring rolls to lemongrass chicken sandwiches to hot bowls of pho. Some of the restaurant's special dishes include a spicy beef and vermicelli soup, oxtail soup and an interesting Vietnamese taco crêpe.
If you're craving sweets
Blood sugar running low? Here are a few spots that will boost your energy levels.
Aloha Confectionery
Level 3, near Target
View this post on Instagram
This sweets shop near Target is open and inviting—and it sells some of the biggest, most colorful cookies you'll find at the mall (or anywhere). There are also scones, shortbread cookies, local snacks and soft serve that uses real milk. Bonus: Everything here is Instagrammable.
Gelato Bar
Location: Inside Nordstrom
One of our favorite reasons to head to this end of the mall, the Gelato Bar at Nordstrom serves addictive gelato and sorbet using all-natural ingredients. Flavors include Kona coffee, green tea, mint Oreo, caramel, black sesame and pistachio.
SomiSomi Soft Serve & Taiyaki
Location: Street Level 1, near Makai Market Food Court
View this post on Instagram
The California-based chain opened its first Hawaii location at Ala Moana Center last year and it was an instant hit. Who can resist a fish-shaped waffle cone that's served warm and filled with soft serve? Flavors include milk, matcha, ube, black sesame and coffee.
Charmy
Location: Inside Shirokiya Japan Village Walk
View this post on Instagram
You can't miss this stall inside Shirokiya Japan Village Walk. Just look for the pink. (The entire stall is drenched in it.) The menu isn't the easiest to decipher—we couldn't figure out what Ms. Ribbon and Kiss Me were—but the soft serve flavors are basic: vanilla, strawberry or a mix of both. What makes this place unique are the multiflavored, multicolored waffle cones and cookies you can add to the soft serve to make it Instagram worthy.
Patisserie La Palme D'or
Location: Mall Level 2, near Macy's
If you're looking for something a bit more refined and upscale, head to this French-inspired bakery known for its gorgeous desserts. You can order slices of strawberry shortcake, tiramisu, small fruit tarts, mini mont blanc and Japanese-style soufflé cheesecake. If you're on the go, grab a coffee jelly drink—coffee-flavored gelatin topped with milk that's a fun treat when you mix the two.
If you need caffeine
When you need caffeine but you want something other than Starbucks. (Or you don't want to stand in line.)
Island Brew Coffeehouse
Location: Level 3, Ewa Wing
View this post on Instagram
The fact that this coffee shop is a bit out of the way is what makes it so great. Island Brew Coffeehouse specializes in 100% locally grown and roasted coffee, particularly ones from Kona and Kau on Hawaii Island. The relaxed atmosphere is great for a quick break and the drinks—classic lattes, espresso, blended drinks, cold-brewed iced coffee, teas and smoothies—are the perfect pick-me-up. The shop serves breakfast and lunch all day, too, with vegan and gluten-free options.
Island Vintage Coffee
Location: Street Level 1, near Centerstage
Located right in the middle of the mall, Island Vintage Coffee focuses on 100% Kona coffee. And it serves a great acai bowl, with fresh fruits, crunch granola and local honey.
Kazan Café
Location: Inside Shirokiya Japan Village Walk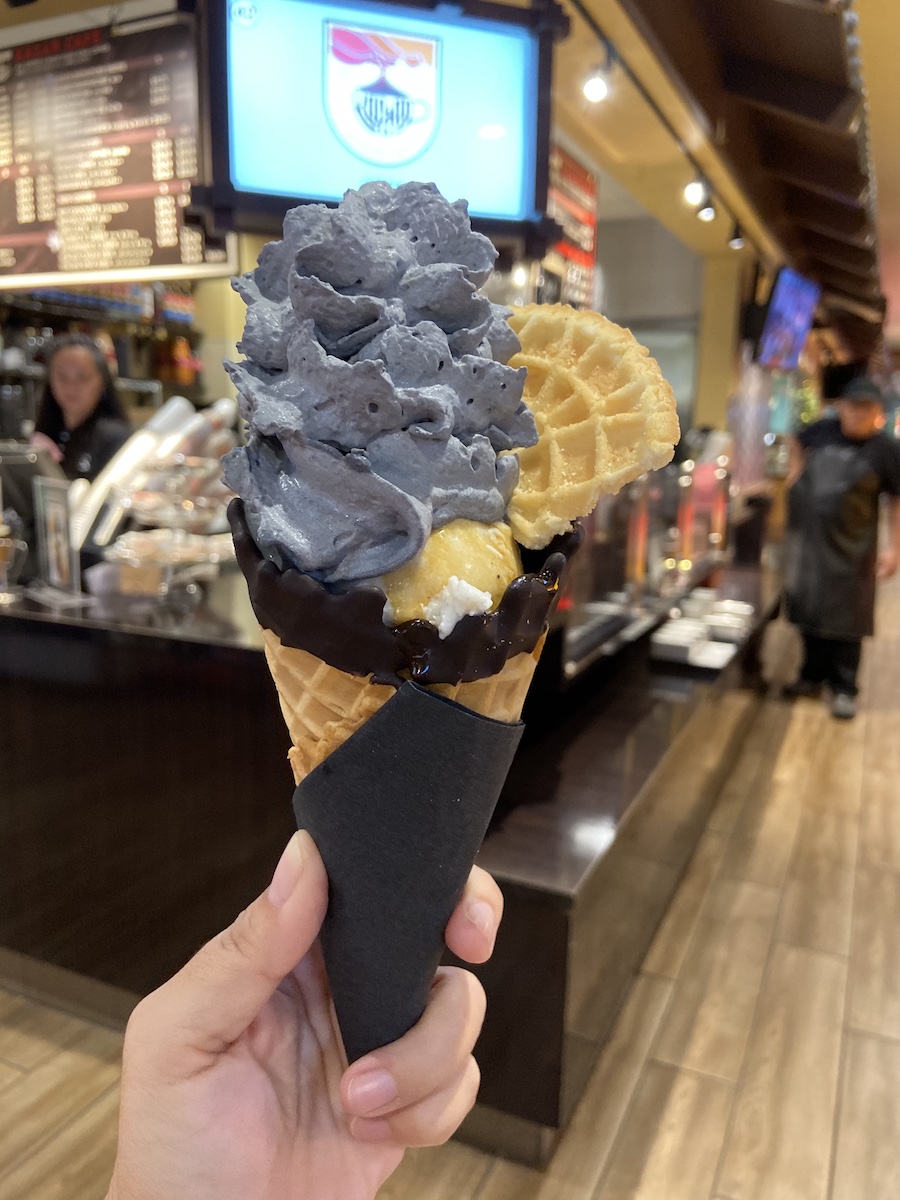 Serving 100% Kona and Kona blend roasts in siphon, cold brew or hot drop options, this stall in Shirokiya Japan Village walk has whatever caffeine boost you need. Our favorite coffee treat is the affogato in a waffle one: vanilla ice cream topped with espresso and a charcoal-infused whipped cream in a very sturdy waffle cone. It's a sweet rush of sugar and caffeine at once.
Mr. Tea Café
Location: Street Level 1, near Old Navy
View this post on Instagram
If coffee isn't your think, head to this hip café, which serves various milk, iced and hot teas. All of the iced teas can be upgraded with passion fruit, peach, kiwi, mango, lychee or lemon. You can also add various toppings, including the café's signature boba, custard pudding, chia seeds, jellies or ice cream. One of its more popular drinks is the wintermelon iced tea, a drink kids grow up drinking in Taiwan.
If you really need a drink
You don't have to explain anything.
Habitant
Location: Inside Nordstrom
The genius of this bar is that it's located right in Nordstrom—a perfect spot for the non-shoppers to kick back with a glass of wine or an Old Fashioned. It offers small plates—mushroom bruschetta, tofu salad, kalua pork sliders, ahi poke—for noshing and live music. But the craft cocktails are the real stars here.
Agave & Vine
Location: Mall Level 2, in The Lanai
A fun spot in The Lanai, Agave & Wine has an impressive selection of tequilas and wine (as its name would imply) and large HDTVs for those more interested in football than shopping. The bar also serves hand-crafted cocktails and craft beers. There are daily specials—we love Rehab Sundays with $5 bloody Marys—and happy hour runs from 3 to 6 p.m. daily, with a late-night happy hour from 9 to midnight on Fridays and Saturdays.
Beer Garden
Location: Inside Shirokiya Japan Village Walk
We only have one thing to say: $1 beers. All day, every day. (You can get sake, shochu, wine, beer and hard seltzer, too.)
Mai Tai Bar
Location: Hookipa Terrace Upper Level 4, near Macy's
This quinessential pau hana spot is perched on the fourth level of the mall with an open lanai that gives this bar a laid-back vibe. Find bar essentials here—fish tacos, pork sliders, poke, popcorn shrimp, calamari—and an extensive list of beers, wines, spirits and house cocktails, including six different mai tais. Happy hour runs from 4 to 7 p.m. daily with $5 drink specials and apps—and the late-night happy hour (for you hardcore shoppers) is from 8 to 11 p.m. with $8 pitchers of beer and more. Plus, there's usually live music.
Here's the schedule for the week:
Tuesday: Where to Eat (and Drink) at Ala Moana Center