HAWAII Survival Guide: Where to Find the Best Parking at Ala Moana Center
Finding a parking stall, especially one near your destination, is a tall task, so we've made it a little easier with this Ala Moana Center parking guide.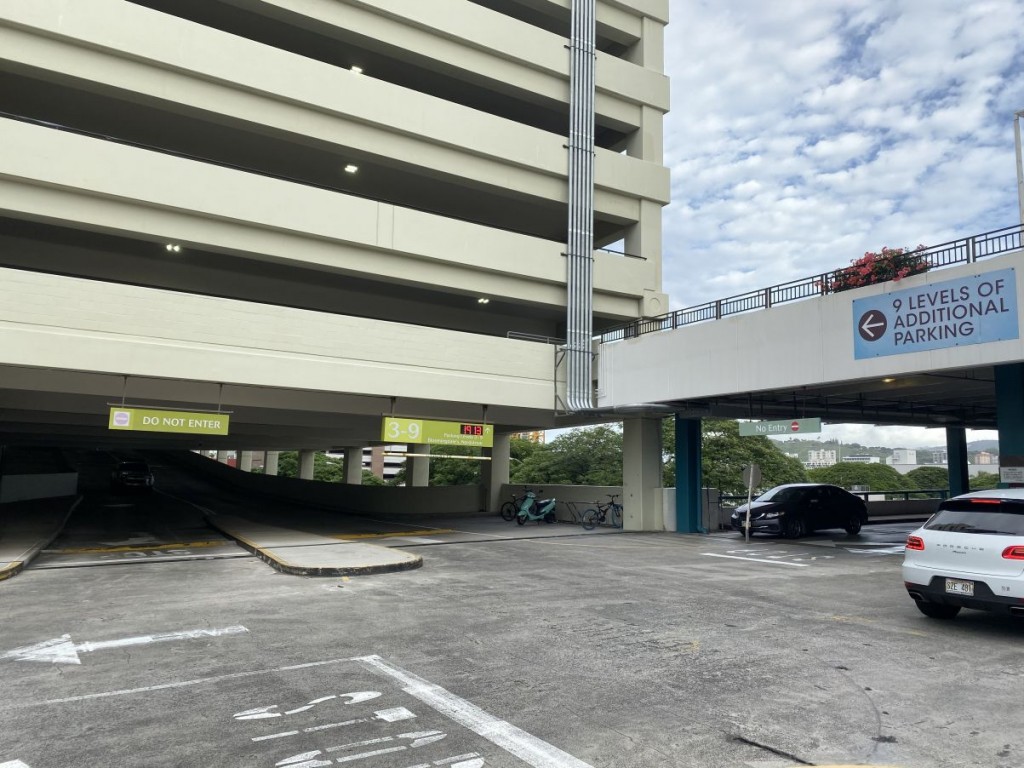 This is part three of a five-part series.
As every driver knows, parking in a crowded shopping center can be a nightmare. Navigating endless rows of stalls, going up so many ramps you swear you're breaking the stratosphere, and hopelessly driving farther and farther away from your original destination can be a soul-sucking experience. Fortunately, finding your stall among the 11,000, free-to-park spots available at Ala Moana Center can be a little easier once you know the ins and outs of the mall's many parking lots. Below are guidelines and visual aids to help make sure that you don't end up on the wrong side of the mall—or worse, not find parking at all.
The Mauka Ewa Structure
If you're not picky about where you park, the newly constructed mega parking lot on the mauka (mountain-side) and Ewa (west-side) corner of the mall is a solid choice. There are roughly 4,500 spots here, which are spread out across nine levels. With multiple elevators on each floor that can take you all the way down to the ground level of Ala Moana Center, and walkways that connect right to the mall on lower levels, your only real problem here is remembering which floor you parked on. Fortunately, there is color-coated imagery on each level to help you out.
It's much harder to find an open stall on the mall level of the Mauka Ewa structure—the one fronting Genki Sushi and Shabuya—but it's worth a look if you're headed to Ala Moana Center early, like before stores open. This colossal lot feeds into the Nordstrom side of the mall, so if you've got an appointment at the Apple Store or are looking to grab a drink at Lucky Strike Social Honolulu—both on the opposite end of the mall, near Macy's—be prepared for a long walk.
As this is the biggest parking lot at Ala Moana Center, there are numerous ways for drivers to enter. If you're heading into Ala Moana Center via Keeaumoku Street, turn right onto Kona Street and left onto Kona Iki Street into the mall. Stay in the right lane and turn right after entering the ground level of the mall and you should see a large ramp that will take you into the structure.
There's also an easier entrance into the lot via the ramp located at the intersection of Piikoi and Waimanu streets.
The last entry into this massive structure is after you've gone up the main ramp at the intersection of Kapiolani Boulevard and Keeaumoku Street (next to Walgreens). Once you've ascended into the mall, take your first right and you should be headed directly toward the structure.
The Waikiki Mauka Structure(s)
Located on the Waikiki-side of Ala Moana Center, and facing mauka are two structures that could end your parking woes. The first one is situated right next to Target, which has its own street entrance on Kapiolani Boulevard. If you're looking to park on the Macy's side of the mall, try this lot first. It rarely fills up.
There are four levels of stalls available to you here, and if you can't find a spot in this lot, drive to the second or third floor and use one of two connecting bridges to enter Ala Moana Center's gigantic top-level, open-air parking area. Situated in front of Lucky Strike Social Honolulu, this massive rooftop parking area has an abundance of stalls; however, those with large vehicles might want a spotter when pulling in as the spaces here are tight. It's a great place to park if you're planning to go to Macy's, Liliha Bakery or anywhere on this end of the mall.
If you still can't find a place to put your car, head to the ramp situated in the middle of the lot, which will take you into the guts of Ala Moana Center. From here, you can scour the mall's second floor, which has parking stalls packed around the entire center.
The Ground Level
Ala Moana Center has expanded vertically in recent years, so parking five floors up in a structure can result in quite the walk if you're trying to visit ground-level shops, or are thinking about catching a show at Centerstage. Fortunately, there are a lot of parking stalls to choose from on the ground floor of the mall, with stalls nearly wrapping the entirety of the shopping center. However, the best, most convenient stalls can be found on the mauka and makai (ocean-facing) sides of Ala Moana Center.
Let's start with the mauka side of the mall. For the easiest entry to the ground level, head straight down Keeaumoku Street—and don't go up the ramp, which will take you to the mall's second level. Instead, we recommend driving all the way down into the mall and turning right, once you reach Ala Moana Center's own little thoroughfare. The stalls in front of stores like Hawaiian Island Creations and The Vitamin Shoppe tend to be the least crowded. Once you get past Starbucks, however, and closer to Foodland Farms, the open stalls become much harder to find, as both Shirokiya Japan Village Walk and Foodland Farms bring in quite the crowd. (NOTE: Stalls near Foodland Farms have time limits.)
On the makai side of the mall is a parking lot that's almost hidden away from the public. You can find it by heading down Ala Moana Boulevard, driving toward the airport (away from Waikiki), and looking for the turn-in with a sign above it that reads "Macy's." While this lot may look like some sort of strange loading zone or employee parking, it's actually one of the better parking areas in the mall.
There's Valet?
There is! Kind of. Ala Moana Center will be offering holiday valet parking starting Black Friday, Nov. 29, and running through Monday, Dec. 30. The service is located on the second level of the mall, in the Ewa Wing, across from Jamba Juice; cost is $8 per car. If you happen to be driving a Lexus, valet parking is complimentary.
Here's the schedule for the week:
Wednesday: Where to Find the Best Parking at Ala Moana Center