Hawaii teen's "Spirit of the Islands" artwork featured as mural on Alaska Airlines plane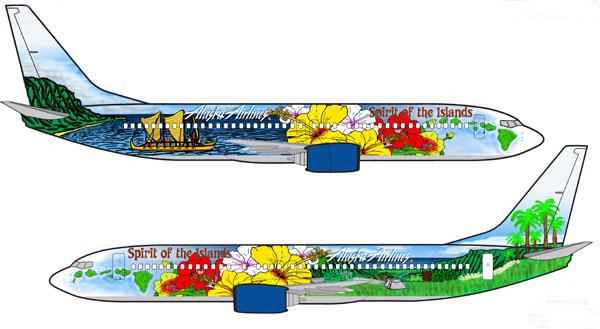 Touching down on the tarmac at Honolulu International Airport at midday: an Alaska Airlines 737 decked out in a thoroughly Hawaii paint design. Under the phrase Spirit of the Islands, is a scene depicting an ancient Polynesian voyaging canoe sailing near a Hawaii shoreline, bright yellow hibiscus (the state flower), and a map of the Hawaiian Islands chain.
The design is the artwork of Aaron Nee, a Honolulu area high school student, who recently won Alaska Airlines' Paint-the-Plane contest, which honors the Aloha State's unique culture. As the grand-prize winner, Nee won a trip for four to any of the carrier's destinations and a $5,000 scholarship. In a news release, Nee said he plans to earmark the scholarship money for college and he'll take his family to New York, where he hopes to see snow for the first time.
Nee's design was selected from some 2,700 entries (submitted by students ranging from kindergarteners to high school seniors), which was sponsored by the Seattle-based airline as well as Hawaii's Department of Education and the Hawaii Association of Independent Schools. Judging was based on originality, creativity and ability to express the contest's theme of "Spirit of the Islands" in a positive and creative manner. The contest's judges represented Hawaii's government, community, arts, education and tourism.
The Boeing 737-800 plane sporting the Islands-inspired mural will fly across the carrier's route network in the United States, Canada, and Mexico. This morning, the plane reportedly flew to Honolulu from Oakland, Calif. for the design's unveiling.
The contest was held to mark Alaska Airlines five years of air service to the Islands. In a news release issued by the carrier, Joe Sprague, Alaska Airlines' vice president of marketing said, "What better way to celebrate five years of flying to the Aloha State than to share Hawaii's culture and spirit in a flying mural inspired by our future — our keiki, or children."
Click here to see a gallery featuring the contest's finalists.