Hawaii turning to wind turbines to step up clean-energy efforts in the Islands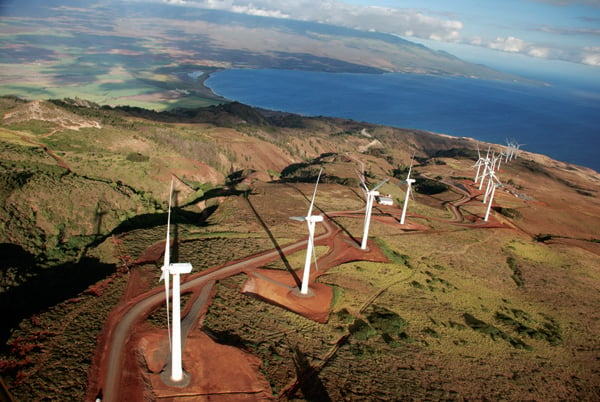 About five miles northeast of the historic Haleiwa town on Oahu's North Shore, on the grounds of Kawailoa Plantation, construction of Hawaii's latest clean-energy effort is completed and commercial operations are under way.

At full output, the 69 megawatt Kawailoa Wind project has the potential to meet up to 10 percent of Oahu's annual electrical demand and thereby avoid the annual burning of some 300,000 barrels of oil.
In a news release issued this week by First Wind, the Boston-based wind energy company built the project, which now includes 30 wind turbines, Hawaii's Lt. Gov. Brian Schatz said: "This is, by far, the single largest wind energy project in Hawaii's history."
Schatz added, "We should all be pleased and proud that we are making good progress towards more affordable, sustainable energy. We've got more work to do, but this is an important moment in our efforts towards a clean energy future."
Hawaii state law mandates that by the year 2030 clean energy must be used for 70 percent of electricity and surface transportation. Also, 40 percent of that clean energy must come from local renewable sources.
First Wind CEO Paul Gaynor said: "We are proud to complete work on our Kawailoa Wind project, which represents our fourth project in Hawaii to achieve commercial operations over a six-year period."
The other projects include: Kaheawa Wind (two projects) located in West Maui (total: 51 megawatts, 34 wind turbines); and Kahuku Wind, also on Oahu's North Shore (30 megawatts, 12 turbines). When the Kaheawa project started generating wind energy in 2006, its commercial operations were the first of its kind nationwide.
The grounds on which Kawailoa is located, Kawailoa Plantation, is owned by Kamehameha Schools, formerly called Kamehameha Schools Bishop Estate. Founded by Princess Bernice Pauahi Bishop, great-granddaughter and last royal descendant of Kamehameha the Great, Kamehameha Schools is Hawaii's largest private landowner.
For more information about First Wind, click here.