Hawaii ukulele players strumming to set new world record with massive ensemble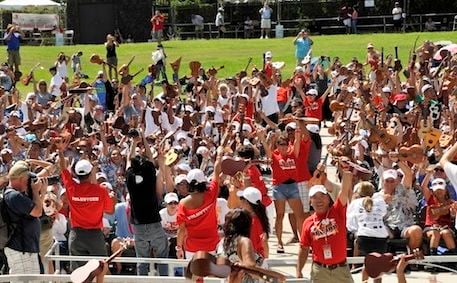 A Guinness World Record was set on Aug. 20, 2011 when exactly 1,547 ukulele players performed in unison. And where do you suppose that upbeat, bouncy performance took place?
On Oahu's sunny Waikiki Beach? Nope. Big Island? Maui? Kauai? Not even close, globally speaking. The recent record was set in Helsinborg, Sweden.
In the interest of Island pride, passion for music, a fundraising effort and, yes, just plain fun, ukulele players from Hawaii and elsewhere are now getting ready to strum in an ensemble dubbed GO FOR DA RECORD … HANA HOU!

The event get-together will get under way at 4 p.m. and wrap up 9 p.m. on Sat., April 28 at Blaisdell Arena in Honolulu. Led by Hawaii's ukulele virtuoso Jake Shimabukuro (pictured, below), the ensemble will assemble at 7 p.m. for a performance attempt to top the current world record.
Shimabukuro will be joined on stage by other Hawaii ukulele artists including Kalei Gamiao, Jody Kamisato, Bruce Shimabukuro, Derick Sebastian, Taimane Garner, Brittni Paiva, Chris Salvador, Aldrine Guerrero, Bryan Tolentino and groups Heart and Soul and Kanilea. In addition, young ukulele sensation Sungha Jung, from Korea, has also offered his support and will be in attendance and give a brief performance.
The musical piece that will be performed was composed by Shimabukuro. Click here to check out a previous performance of the composition and an instructional video.
The composition was first played during the first GO FOR DA RECORD effort to topple to world record, held on Oct. 22 at the Waikiki Shell Amphitheater. That performance, which fell a bit short of the world-record requirements, prompted organizers to push for a second try.
So, want to take part? Grab an ukulele, practice the piece — and go for it! Participation in GO FOR DA RECORD … HANA HOU!" is free to all ukulele-playing participants. Player registration is required. To register online, click here. Registration will also be available at the arena on the day of the event. (Online registration is encouraged, however, to avoid long lines.) Admission for spectators and other attendees is $10 (Children under age of 5 will be admitted for free).

In addition to striving for a music-making record, the event will serve as a fundraiser for music and arts program initiatives led by the Music For Life Foundation. Music for Life will also donate a portion of the net proceeds to support Rainbow For Japan Kids, a program that, with the help of corporate sponsors and volunteer organizations, identifies Japan earthquake and tsunami-affected children and brings them to Hawaii for educational, learning and healing experiences. The majority of the proceeds from the event will be used to purchase ukuleles and other musical "tools" for Hawaii's schools.
In a news release issued by the event's organizers, Shimabukuro said: "I am delighted to support this event that will benefit the needs that are very important to me." He added, "Bringing music education back into our local schools and helping the children of Japan who were devastated by the tsunami and earthquake through Hawaii's Rainbow For Japan Kids program, are two causes that I hold close to my heart."
Click here for additional information about GO FOR DA RECORD … HANA HOU!