Hawaii Veterans Day: fighter jet flyover at Punchbowl Crater, Mighty Mo sunset salute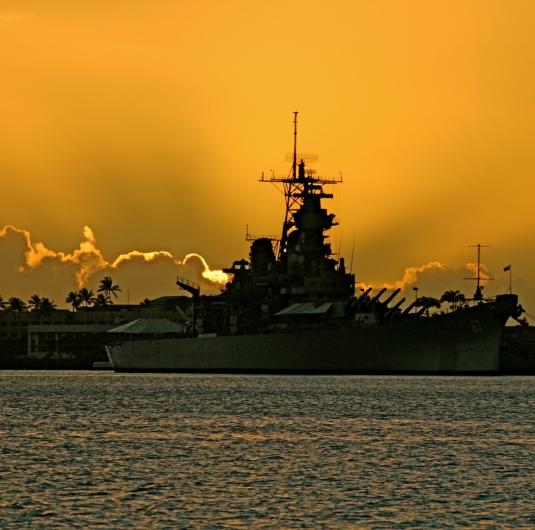 Veterans Day will be observed on Oahu with patriotic ceremonies, ranging from a morning event at the National Cemetery of the Pacific at Punchbowl, which will feature a Stealth fighter jet flyover, to a sunset salute on board the Battleship Missouri Memorial.
The ceremony at Punchbowl Crater is slated to begin at 10 a.m. on Fri., Nov. 11. Organizers request that attendees be seated by 9:30 a.m. Adm. Robert Willard, who leads the Pacific Command, will be the guest speaker.
A news release issued by the Hawaii Air National Guard announced that the Guard plans to conduct a "four-aircraft F-22 flyover in support of the Veterans Day ceremony at Punchbowl." The flyover is slated for about 11 a.m., with jets from the 199th Fighter Squadron flying a route over Kahala, along the H-1, head over the National Memorial Cemetery of the Pacific and continuing along the Koolau range.
The Battleship Missouri Veterans Day Sunset Ceremony will be held on Friday, Nov. 11, 2011, from 4:45 to 5:45 p.m. under the Special Events Pavilion on the ship's fantail. The event is free but reservations are required. For individuals without base access, complimentary roundtrip shuttle bus service from the Pearl Harbor Visitor Center will be available beginning at 3:45 p.m. For more information or reservations, click here.
Recently designated by the U.S. Department of Veterans Affairs as an official "Regional Site" for observance of Veterans Day, the Battleship Missouri Memorial will bring Veterans Day and Armistice Day observances around the world to a close with is sunset ceremony on the Mighty Mo in Pearl Harbor.
While Veterans Day is the annual U.S. federal holiday honoring military veterans, Armistice Day or Remembrance Day is observed on Nov. 11 to mark the anniversary of the signing of the armistice that ended World War I. Major hostilities of WWI were formally ended at the eleventh hour of the 11th day of the 11th month of 1918.
The annual Mighty Mo sunset ceremony will feature an a capella guest performance by The Sounds of Aloha Chorus, a 50-member barbershop chorus that sings "Hawaii Ponoi," "God Bless America" and — a Veterans Day favorite — the "Armed Forces Medley," among others. Among the guest speakers: Brooks W. Outland, a USS Missouri veteran who served on the ship from 1950 to 1952 during the Korean War era. Outland volunteers at the Battleship Missouri Memorial and serves in an advisory capacity in the restoration of a 40-mm quad auto cannon, which is much like the one he operated while stationed aboard the USS Missouri. For more information about the sunset ceremony, click here.