Hawaii Volcanoes celebrating 25th anniversary as World Heritage site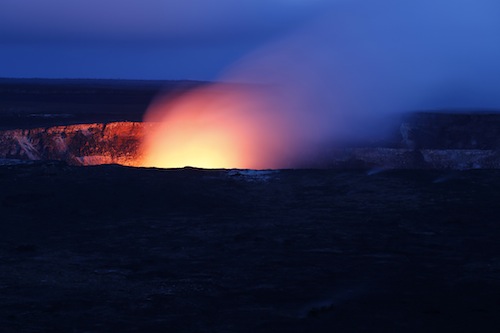 This week, the Big Island's Hawaii Volcanoes National Park is celebrating the 25th anniversary of its designation as a World Heritage site with two events: an "After Dark in the Park" presentation and a roundtable talk, both focusing on World Heritage site status and the 40th anniversary of the international World Heritage Convention.
Today, there are 21 World Heritage sites in the United States, including two in Hawaii. In addition to Hawaii Volcanoes, Papahanaumokuakea Marine National Monument — the largest single area dedicated to conservation in the United States — was dedicated as a World Heritage site two years ago. Both were cited by the World Heritage Convention, which is operated by the United Nations Educational, Scientific and Cultural Organization (UNESCO) for "superlative attributes of universal value important to the common heritage of humanity." There are more than 960 World Heritage sites around the globe, ranging from Australia's Great Barrier Reef to the Great Wall of China.
Here are some more details about the anniversary events organized by Hawaii Volcanoes.
• World Heritage "After Dark in the Park" — 7 p.m. tomorrow (Wed., Oct. 24) at Kilauea Visitor Center Auditorium. National Geographic Traveler editor Jonathan Tourellot will provide an overview about World Heritage sites. The event, which is part of the park's ongoing After Dark in the Park series, is free, but park entrance fees apply.
• World Heritage Anniversary Roundtable — 1 p.m. to 4 p.m. (Thurs., Oct. 25) at The Fairmont Orchid on the Kohala Coast. This event, presented by the park, Big Island Visitors Bureau and the Fairmont, will feature a discussion about the relevance of the World Heritage designation. Among the roundtable participants: National Geographic's Tourellot, park staff members, and representatives of the travel industry. To RSVP to this free event, click here.
For more information about Hawaii Volcanoes National Park, click here. To learn more about World Heritage sites, click here.