Hawaii Volcanoes National Park celebrating 10th anniversary of Mauna Loa acreage with free guided hikes
There's a hike for everyone.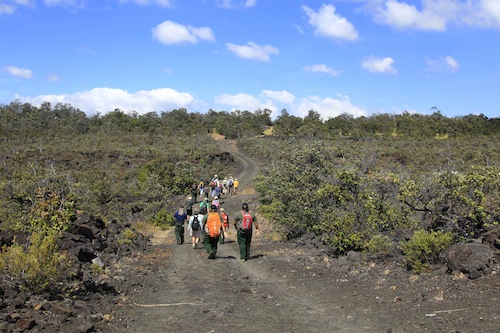 There are legends behind most places in Hawaii, and the Kahuku area in the south Big Island district of Kau is no different.
The story goes that Kahuku, now largely barren and overrun by hardened, jagged a'a lava, was once lush with forests and taro fields. Lush, that is, until Pele, the Hawaiian goddess of fire, unleashed her wrath on these lands with lava flows from Mauna Loa volcano after area chiefs turned aloof on her frequent visits. The once verdant land was turned desolate.
Now through September, landowner Hawaii Volcanoes National Park is offering visitors a chance to learn more about this storied area—dubbed the Kahuku Unit—with several free activities. The programs commemorate the 10th anniversary of the National Park Service's $22 million purchase of the 116,000-acre Kahuku Unit in 2003, which effectively doubled the size of Hawaii Volcanoes National Park.
The massive acreage is situated along the slopes of Mauna Loa, between the volcano's 2,000- and 13,000-foot elevations, offering access to a variety of climates and ecosystems including forests, pastureland, lava fields and alpine landscapes.
The park is offering the following activities as part of the Kahuku Unit's 10th anniversary:
• Ohia Lehua program
Learn about the park's native ohia lehua tree (middle photo) and its vital role in native Hawaiian forests. It's one of the most prominent trees found in the Kahuku unit.
Aug. 18, Sept. 28, from 11:30 a.m. to 1 p.m.
• Mauna Loa Southwest Rift Zone hike
Take a short, guided hike to an overlook located on the Kahuku acreage's Upper Palm Trail. From the overlook, park rangers will point out numerous prominent geologic features left behind by Mauna Loa Southwest Rift Zone eruptions. Hikers will learn about the fascinating natural processes that created these features and the cultural traditions associated with each.
Aug. 10, Sept. 15, from 11:30 a.m. to 1 p.m.
• Palm Trail guided hike
This moderately difficult, 2.6-mile loop trail traverses scenic pastures along an ancient cinder cone, offering some of the best panoramic views in the area. Hikers will see relics of the ranching era, sections of remnant native forest and impressive volcanic features from eruptive fissures that opened on Mauna Loa in 1868 (top photo).
Aug. 17, Sept. 29, from 9:30 a.m. to 12:30 p.m.
• People and Lands of Kahuku guided hike
This moderate two-mile, three-hour guided hike (bottom photo) loops through varied landscapes to explore the human history of Kahuku. Discover emerging native forests, lava field and other sites that tell the story of the people who lived here before.
Aug. 24, Sept. 14, Sept. 22, from 9:30 a.m. to 12:30 p.m.
The meeting point for all activities will be a parking area near Mile Marker 70.5, on the uphill side of Highway 11, marking the entrance to the Kahuku Unit.
No advance registration is required. Sturdy footwear is recommended for all activities. Be sure to bring water, rain gear and a snack.
Click here for more information about Hawaii Volcanoes National Park's Kahuku Unit 10th anniversary activities.