Hawaii voyaging canoe Hokulea set for departure this weekend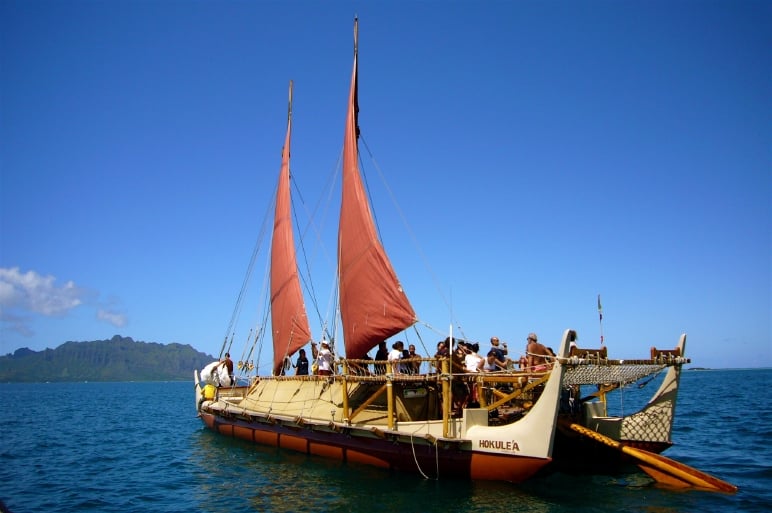 The legendary Polynesian double-hulled voyaging canoe, Hokulea, will set sail from Oahu this weekend. The destination: Palmyra Atoll—some 1,000 miles away from Hawaii's shores.
Famed Hokulea navigator and Polynesian Voyaging Society (PVS) chairman Nainoa Thompson confirmed the crew is scheduled to depart for Palmyra on Saturday. However, strong winds that have battered the Islands could put their travel plans on hold.
Palmyra Atoll sits 1,050 miles from Oahu, nestled within the fragile chain of the Northwest Hawaiian Islands.
The trip to Palmyra and back is the first of at least 12 long-distance training missions to prepare crews for an upcoming global circumnavigation, which is scheduled to start May 2012, with the Hokulea returning to Hawaii in June 2015. Over the three-year period Hokulea will require 12 crews to travel to more than 20 countries.
Since its maiden voyage to Tahiti in 1976, Hokulea has set out on nine occasions—traversing the far reaches of the South Pacific and beyond. In 2007, Hokulea racked up more than 8,000 miles en route to Japan.
The crew of Hokulea continues to use navigation similar to that of ancient Polynesian voyagers—favoring celestial bodies and ocean currents over instruments and other forms of modern technology—making the planned global trek all the more impressive. We'll keep you posted as news about the 2012 trip develops.
UPDATE 3/2/2009: Strong winds kept the Hokulea from departing to Palmyra Atoll last weekend. The voyaging canoe will attempt to set sail again today if weather permits.
UPDATE 3/4/2009: The Hokulea's departure has been delayed for a second time due to high winds and cloudy skies. For non-instrument navigators, it is important to be able to see the stars. No new sailing date has been set. We'll let you know as soon as we find out.