Hawaii Wine & Food Festival gets under way tomorrow at resorts on Oahu's leeward coast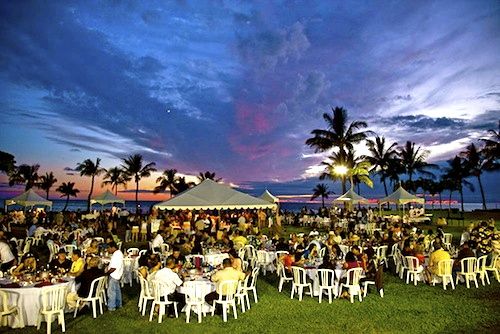 The fifth annual Hawaii Wine & Food Festival at Ko Olina on Oahu will feature a Thursday evening of premier wine pairings followed by more primo vino and fashion shows on Friday and Saturday evenings. Oh, and plenty of delish dishes and music.
Among the chefs is the "Stiletto Chef," model-turned-chef Candice Kumai, who is a judge on the Iron Chef America television series and a cookbook author. Kumai is based in New York City. Another visiting chef, Pao-yuan Huang, is an award-winning chef and educator in Taiwan. The Hawaii chefs in the lineup range from Kevin Haney of 12th Ave Grill and SALT to Scott Higa of the JW Marriott Ihilani Resort & Spa. For the festival's full list of chefs, click here.
The festival is a fundraiser for educational and scholarship programs tied to the Kapolei Foundation, which assists youth on leeward Oahu.
Festivities will get under way tomorrow with preview party showcasing winemakers and chefs, 5 p.m. at Azul Restaurant at JW Marriott Ihilani Resort & Spa. The event's Italian-inspired antipasti menu will be served up with wine pairings from California vinters. The Mike Tulba Acoustic Dou will provide musical entertainment. Cost: $200 per person.

A grand tasting, with a beachside barbecue and "Fashion Fusion" show are slated for Friday evening, starting at 6 p.m., at Ko Olina Resort's Paradise Cove. Attendees will have opportunity to chat with chefs, winery owners and winemakers. The fashion show will spotlight Hawaii designer Valerie Joseph. Among the event's featured entertainers are: jazz musician Steve Oliver, and Sunway and Paahana featuring hula dancer Kalehua Broad. Cost: $100 per person.
The festival's grand finale, which will again feature wine, food, fashion and music, is set for 6 p.m. on Sat., May 19 at Paradise Cove. Cost: $150 per person. For more details about the festival's evening events, click here.