Hawaiian Airlines-JetBlue partnership aims to ease travel from East Coast to Hawaii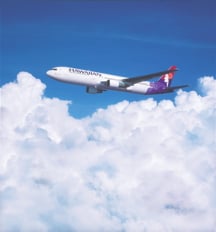 Hawaiian Airlines and New-York based JetBlue Airways this week announced a partnership agreement that will aims to ease travel to the Islands from the East Coast.
Starting this week, customers will be able to purchase single tickets combining travel on both Hawaiian and JetBlue, allowing for "seamless" travel between the carriers' networks, according to a news release issued by Hawaiian Airlines. For example, a passenger could travel from Boston to Los Angeles on JetBlue and then connect with Hawaiian to Honolulu.
Customers may book their connecting travel by calling Hawaiian Airlines or by contacting a travel agent. Both carriers plan to sell each other's flights on their respective web sites in the near future.
Also, the partnership permits passengers to earn or redeem frequent-flier credit with either carrier.
Under a preliminary agreement, JetBlue's TrueBlue members will soon be able to accrue points on any Hawaiian-operated flight, while HawaiianMiles members will be able to earn miles on any JetBlue-operated flights.
The carriers plan to further expand their partnership on June 5, when Hawaiian launches the only nonstop service between New York City and Hawaii with its new wide-body Airbus A330-200 aircraft, which seats 294 customers.
Hawaiian Flight 51 will depart New York's John F. Kennedy International Airport (JFK) daily at 10 a.m. and arrive at Honolulu International Airport at 3 p.m. The return Flight 50 ("Hawaiian 5-0") will depart Honolulu daily at 3:05 p.m. and arrive in New York at 6:55 a.m. the following morning.
Hawaiian offers nonstop service to Hawaii from 10 U.S. mainland cities as well as service to Japan, South Korea, the Philippines, Australia, American Samoa, and Tahiti. Hawaiian also provides daily jet flights within the Islands.
In addition to New York, JetBlue's "focus" cities include Boston, Fort Lauderdale, Los Angeles, and Orlando. The airline serves 70 cities with 650 daily flights and plans to launch service to Dallas/Fort Worth in May.
For more information about Hawaiian Airlines and the carrier partnership, click here.