Hawaiian Steel Guitar Festival slated to get under way in Waikiki this weekend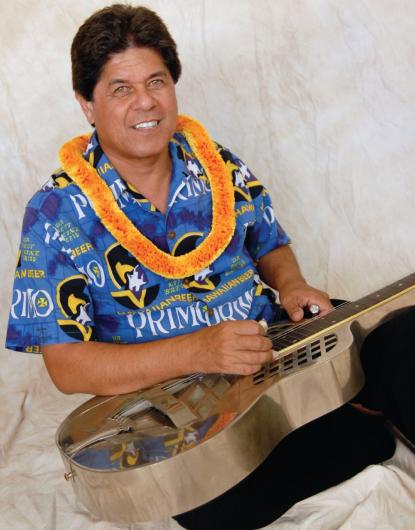 The second annual Hawaiian Steel Guitar Festival, slated to get under way in Waikiki this weekend, will feature a lineup of masters of the island-style musical touch, tone and chord progression.
The month-long festival's opening performance Stars of the Hawaiian Steel Guitar, is set for 5 p.m. to 8 p.m. Sun. July 3 at Waikiki Beach Walk on Oahu. Featured musicians include: Alan Akaka & the Islanders with Na Keiki a Ke Kula Mele, Bobby Ingano, Casey Olsen & the Hiram Olsen Trio, Greg Sardinha (pictured, right), and special guest Kiyoshi "Lion" Kobayashi from Japan.

The Hawaiian steel guitar was invented and popularized in Hawaii. Legend has it that in the mid-1880's, an 11-year-old student at Kamehameha School for Boys, began experimenting with ways to make different musical sounds on his guitar. The story goes that while walking along the railroad tracks, he picked up a bolt and slid it across the strings, resulting in the very first characteristic slur of steel guitar. Intrigued by the sound, he taught himself to play using the back of a knife blade. 


Country Music Hall of Fame recipient Jerry Byrd moved to Hawaii in 1972 and committed himself to teaching new generations how to play steel. Three of the festival's performers — Akaka, Olsen, and Sardinha — were Byrd's students.
After Sunday evening's opening show, the festival's performances will continue, 5 p.m. to 6 p.m. on Sundays through July. Here's the rest of lineup:
• July 10 — Henry Kaleialoha Allen

• July 17 — Eddie Palama 

• July 24 — Greg Sardinha 

• July 31 — Na Keiki Kika Kila, showcasing the combined schools of steel guitar masters Akaka and Sardinha. 

For additional information about the festival, part of the ongoing Na Mele No Na Pua Music Heritage Program organized by Waikiki Beach Walk and Outrigger Enterprises Group, click here.