Hawaii's bon dance season gets under way this week. Here's where to go for festivals.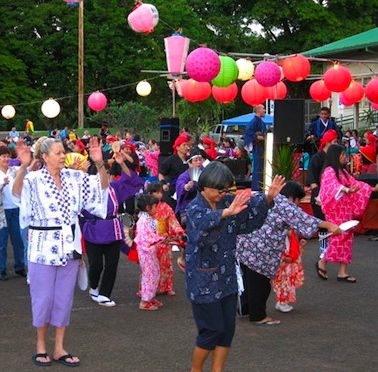 Bon dance season in Hawaii will get under way this week on Oahu with events at Hawaii's Plantation Village in Waipahu (pictured, above) and at the Hawaii State Library, situated between Iolani Palace and Honolulu Hale in Honolulu's Capitol District.
The Japanese custom of o-bon — Hawaii shortens the word to bon —honors the spirits of family members who have passed away.
You'll find o-bon festivals slated for just about every weekend at Hawaii hongwanji missions and temples, from June through August. According to tradition, it is believed the summer months are when ancestral spirits return to visit family and friends.
If you're visiting the Islands this summer, we recommend taking part in at least one o-bon festival, especially if you have never experienced the annual Japanese Buddhist tradition in person. (The 2013 schedule for Hawaii bon dance events starts on the next page.)
In Japan, the tradition of summer o-bon festivals dates back more than 500 years. Here in the Islands, the festivals serve as both a ceremony of spiritual remembrance and a celebration of cultural heritage and community. Everyone is welcome at an o-bon festival, regardless of religious background or ethnicity. As such, each temple's festival — and there are dozens throughout summer — is often well attended.
O-bon festivals are best known for group dances known as bon-odori. The dance differs depending on the Japanese prefecture of origin, but generally involves dancers circling around a high wooden scaffold called a yagura (pictured, above) while swaying to the rhythms of folk songs and other music.
Note to novice dancers: the dance leaders are usually in the innermost circle. Just try to follow their moves. If the moves elude you, just walk with the dancers in your circle. Beginners and children are welcome to take part in the dancing, which is intended to invite the ancestral spirits to visit family for the duration of the festival, which often continues through two evenings.
The festivals are also known for serving up delicious Japanese foods such as andagi (sweet fried dough), grilled teri-beef and -chicken skewers, musubi (rice balls wrapped in dried seaweed), and stir-fry noodles. The menu is intends to both nourish dancers and raise money for the host hongwanji. So, bring your appetite. You may want to try all of it.
Also, make sure you bring a camera to capture some memories. Want some ideas for potential photo opportunities? Before heading out to a bon dance, check out photographer Luke Takayama's online bon dance photo gallery.