Hawaiʻi's Famous Lava Tube Reopens Today
Nāhuku, or Thurston Lava Tube, in Hawaiʻi Volcanoes National Park has been closed to the public for nearly two years.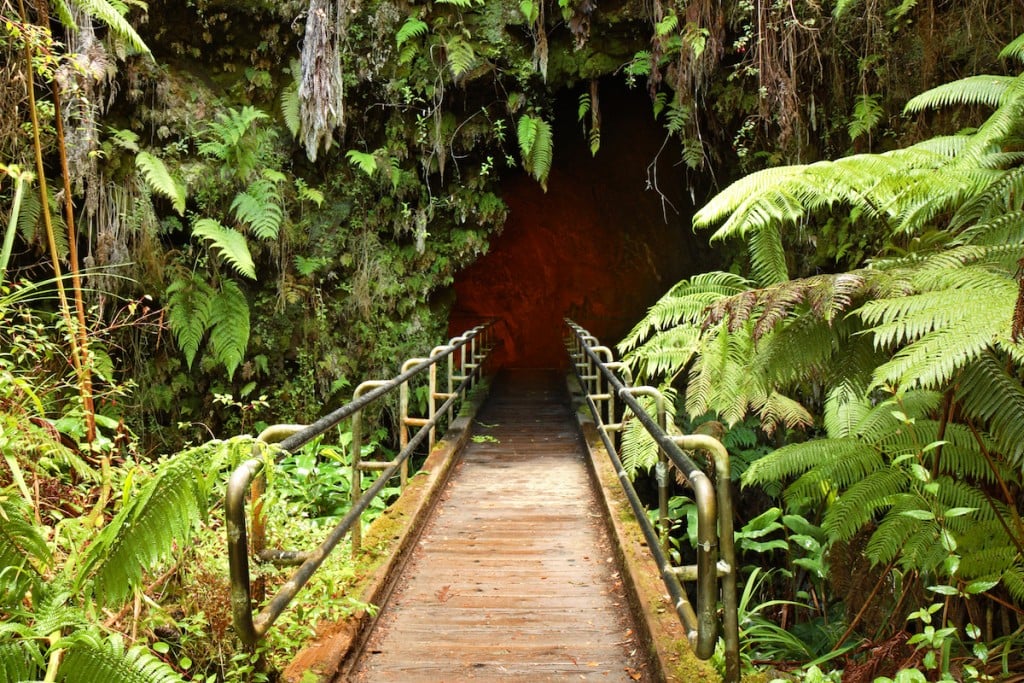 For the first time in nearly two years, Nāhuku, more commonly known as Thurston Lava Tube, is open today at Hawaiʻi Volcanoes National Park.
The lava tube was closed due to the unprecedented and destructive Kīlauea eruption in 2018 that forced the longest shutdown in the park's history (134 days). Nāhuku was closed for even longer—658 days. It has been one of the most popular attractions at the 323,431-acre national park on Hawaiʻi Island.
According to Benjamin Hayes, the park's chief of interpretation and education, loose rocks fell into the tube from the cave ceiling following a 6.9 magnitude earthquake in May 2018, which led to its closure. But after months of work and expert analysis to ensure the area was safe, the 600-foot-long lava tube—one of the most accessible in the world—is open again.
Rockfalls are not uncommon inside lava tubes—and there are still inherent risks being inside one—but the park worked to mitigate those risks as much as possible.
"It's not risk free," Hayes says. "Everyone is assuming some risk going into a cave or lava tube, and some of those risks include potential falling rocks, hitting your head on low ceilings, tripping in the dark. But we are confident [Nāhuku] can be entered safely."
Nāhuku is a 500-year-old lava cave located at 3,900 feet on Kīlauea Crater. A lava cave forms when a river of lava gradually builds solid walls and ceilings, which, in Nāhuku, are more than 20 feet tall in some places. The native rainforest surrounding Nāhuku is home to endemic plant, bird and insect species, including the Happyface Spider.
There are fewer parking spaces available—only 14—and each has a time limit of 30 minutes. There are dedicated spaces for tour loading and unloading. Visitation is highest between 10 a.m. and 2 p.m.
"We've lost a lot of parking capacity in the park," Hayes says, "so we really encourage visitors to plan in advance and pack your patience."
He recommends parking at Devastation Trail, connecting to Kīlauea Iki Trail via Byron Ledge and head to the lava tube. This is a 7-mile trek roundtrip, but you can expericence some of the best attractions at the park and not worry about parking. "It's a more immersive experience," he says.
SEE ALSO: Explore a Hawaiian Forest and Volcanic Caldera on the Kīlauea Iki Trail
For more information, visit the Hawaiʻi Volcanoes National Park website here.