Hawaii's "Go for Broke" Army hero, longtime U.S. senator, Daniel Inouye, dies at age 88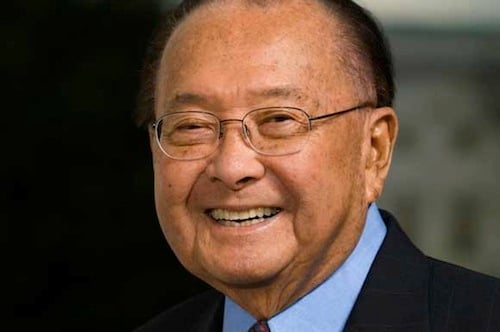 Hawaii's Sen. Daniel K. Inouye, a decorated World War II veteran who lost an arm in battle and represented the Islands in Congress for 50 years, died yesterday. He was 88 years old.
The senator, who was third in line of presidential succession as the U.S. Senate's senior member died of complications tied to a respiratory illness at a Bethesda, Md., hospital, his office said in an official statement.
Inouye, who grew up in Oahu's Honolulu area, began his career in public service at the age of 17 when he enlisted in the U.S. Army shortly after Imperial Japan attacked Pearl Harbor on Dec. 7, 1941. He served with "E" company of the 442 Regimental Combat Team, as group consisting entirely of Americans of Japanese ancestry. The combat team, known for its motto of "Go for Broke," would become one of the most decorated military units in history. Inouye lost his right arm while charging machine gun nests on a hill in San Terenzo, Italy on April 21, 1945. His actions during that battle earned him the Medal of Honor.
Three years after statehood was established in 1959, Inouye, a Democrat, was elected to the U.S. Senate where he served for nearly nine consecutive terms.
In a statement issued by Hawaii Gov. Neil Abercrombie's office, the governor said: "The Senator gave everything. He knew the true meaning of 'Go for Broke.' He left us with a legacy of honor and service to the people of Hawaii, to the people of this nation, without parallel."
Inouye spent his career in Congress building a federal presence in Hawaii aimed at ensuring that the state would receive its fair share of federal resources. He worked on matters ranging from expanding the military's presence in the Islands to building critical roads and expanding bus services. Also, Inouye he championed the rights of Native Hawaiians and the return of Kahoolawe.
Inouye also helped set in motion the process that eventually led President Ronald Reagan in 1988 to issue an apology and provide $20,000 each to survivors of Japanese internment during World War II.
Working with fellow Hawaii Democrat U.S. Sen. Daniel Akaka, Inouye helped win historic passage of a resolution signed by President Clinton in 1993 formally apologizing for the U.S. government's role in the 1893 overthrow of the kingdom of Hawaii.
In addition, during his long career in politics, Inouye fought for the rights and benefits for veterans, supported the development of major facilities and research assets at the University of Hawaii, and advocated for local agriculture and alternative energy initiatives.
At the Capitol in Washington, D.C., Inouye served as Chairman of the powerful Senate Committee on Appropriations, the Senate Commerce Committee and was the first Chairman of the Senate Select Committee on Intelligence.
After serving as a member of Watergate Committee, Inouye went on to serve as chair for the special committee investigating the Iran Contra Affair.
According to the statement from Inouye's office, when asked in recent days how he wanted to be remembered, the senator said: "I represented the people of Hawaii and this nation honestly and to the best of my ability. I think I did OK." The statement continued: "His last words were, 'Aloha.' "
Inouye is survived by wife Irene, the former president and chief executive of the Japanese American National Museum in Los Angeles, whom he married in May 2008, son Ken, daughter-in-law Jessica, granddaughter Maggie and step-daughter Jennifer Hirano. He was preceded in death his first wife, Maggie Awamura.
Gov. Abercrombie yesterday that a public memorial will be planned.