Hawaii's Merrie Monarch hula festival names winners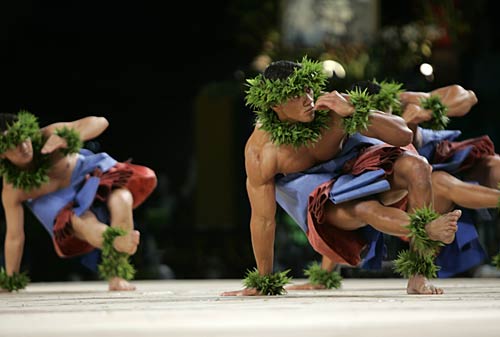 This year's Merrie Monarch Festival has come to a conclusion. Ke Kai O Kahiki walked away with the big prize of top hula halau.
The Oahu halau (troupe) won the festival's overall honor Saturday night thanks to a strong showing in the men's categories. They won the men's kahiko (traditional) competition with one of the festival's most talked about dances, a hula mai, or procreation chant, and placed second for the men's auana (modern) dance.
Halau Na Mamo O Puuanahulu—led by kumu hula (hula teacher) Sonny Ching—placed second overall for the second straight year, with top scores in women's kahiko and men's auana dance. The group won the women's overall award.
The festival opened last Thursday with Cherissa Henoheanapuaikawaokele Kane winning the title of Miss Aloha Hula 2009, the festival's top individual award.
Kane—a dancer with singer-songwriter Kealii Reichel's Halau Kealaokamaile—also won the festival's Hawaiian Language Award for her chanting skills. The prize? $1,000.
Video of the winning performances will be available on KITV.com throughout the week. In the meantime, you can browse a collection of clips of other halau from last weekend's events. Click here and scroll down until you arrive at the "video" header for a list of videos.
For a complete list of Merrie Monarch Festival winners, click here.