Hawaii's Most Romantic Beaches, According to Hollywood
The Islands' beaches regularly star in supporting roles to movie romances on the silver screen.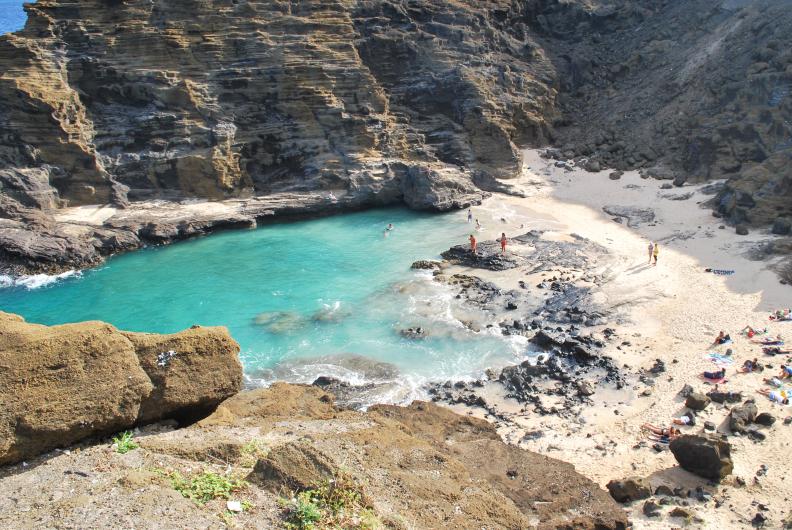 Think of some of the best romantic dramas and comedies and likely its setting is a character in and of itself. "Roman Holiday" and the streets of Rome, "Love Actually" and the city web that's London, England, and we just can't imagine "When Harry Met Sally" taking place anywhere but New York City. Hawaii's beaches regularly receive the same star treatment, cast as supporting roles to popular on-screen romances over the past century. Here are some of the more iconic:
Halona Beach Cove, as seen in "From Here To Eternity"
This Oahu beach brought out the endorphins in this black-and-white kiss between Deborah Kerr and Burt Lancaster. At the time, the scene was considered to be pretty provocative for 1953. Today, it's considered one of the most iconic kiss scenes of all time. Halona Beach is a tucked-away cove past Hanauma Bay on the way to Makapuu, to the right of the popular lookout point above the Halona Blowhole.
Hanauma Bay, as seen in "Blue Hawaii"
Neary every gesture Elvis Presley made in his life could turn someone to moosh, but put him in front of a Hawaiian beach, shirtless, strumming a guitar? The sea level rose approximately 10 inches from all the people he instantly melted. Hanauma Bay was the location of the scene above, one of the most popular snorkeling spots in all the Islands. But here, in "Blue Hawaii," the first of three films Elvis shot in Hawaii in the 1960s, he gets the entire beach pretty much all to himself.
Honopu Beach, as seen in "Six Days Seven Nights"
The 1998 adventure-comedy starring Harrison Ford and Anne Heche gives ample screen time to much of the Napali Coast, particularly remote Honopu Beach. Honopu is cast as a stand-in for South Pacific atoll of Makatea, where the bickering protagonists have to find common ground in the sands of this coastline to find shelter, safety and rescue—perhaps even love. Glimpses of Honopu is most readily accessible by the many kayaking, catamaran, Zodiac boat and helicopter tours of the incredible Napali, who will surely point out this gorgeous beach to visitors.
Pipeline and Ehukai Beach, as seen in "Blue Crush"
This famous surf break on Oahu's North Shore got the star-studded treatment in this female-driven surf flick from 2002. Girl crushes manifested in the likes of newcomers Kate Bosworth and Michelle Rodriguez who charge the challenging waves here, a beach that proved to be as much of a character as any of the movie's speaking parts.
Hanalei Bay, as seen in "The Descendants"
This George Clooney drama (based on the book by Hawaii's own Kaui Hart Hemmings) sends its main character to Hawaii's oldest Main Hawaiian Island to investigate his wife's affair (all right, maybe not the most conventionally romantic plot point) with another man. It takes place on the beach of Kauai's famous Hanalei Bay, where Clooney tries to lay low as he searches for the man's property along the coast. Hanalei is on the north shore, and it's largest bay—a haven for standup paddleboarding, picnics, sailboats and swimming.
Maui's north shore, as seen in "Papillon"
So, "Papillon," the 1973 prison drama starring Steve McQueen isn't the most romantic movie ever made, but we'd argue anything within a 10-foot radius of Steve McQueen automatically becomes sexy by osmosis. In the film's famous final scene, McQueen jumps from a cliff located on the north shore of Maui (a stand-in for France's French Guiana), a stunt he reportedly did all himself. Swoon.
Kawela Bay, as seen in "The Hunger Games: Catching Fire" and "Forgetting Sarah Marshall"
The notable love triangle between Katniss, Peeta and Gale continues to unfold in this popular teen series, but shippers were probably having a field day with this installment that introduced Finnick Odair into "The Hunger Games" universe. Kawela Bay's calm waters proved to be ideal for shooting this intense section of the Quell arena. Unlike the way it's portrayed on screen, Kawela is a quite idyllic bay surrounding the Turtle Bay Resort on Oahu's North Shore. The Judd Apatow-produced "Forgetting Sarah Marshall" flipped the expection of this resort and its adjacent beaches main draw—its remoteness—to bring out the hilarity of a heartbroken man trying to shut out the memory of his ex-girlfriend, only to run into her and her new boyfriend on this property.
Waimea Beach, as seen in "50 First Dates"
When Adam Sandler and Drew Barrymore decided to rekindle their movie chemistry from "The Wedding Singer," they naturally decided on a script that takes place in a Hawaiian paradise. The majority of 2004's "50 First Dates" was filmed on the windward side of Oahu and the North Shore, with one of the most romantic areas being Waimea Bay in the summer, when the waves are calmer and primed for low key dates and never-ending first kisses by the water.