Hawaii's Oldest and Largest Noncompetitive Hula Celebration Happens This Weekend
Hula halau and cultural practitioners prepare for a weekend of tradition at the 42nd annual Prince Lot Hula Festival.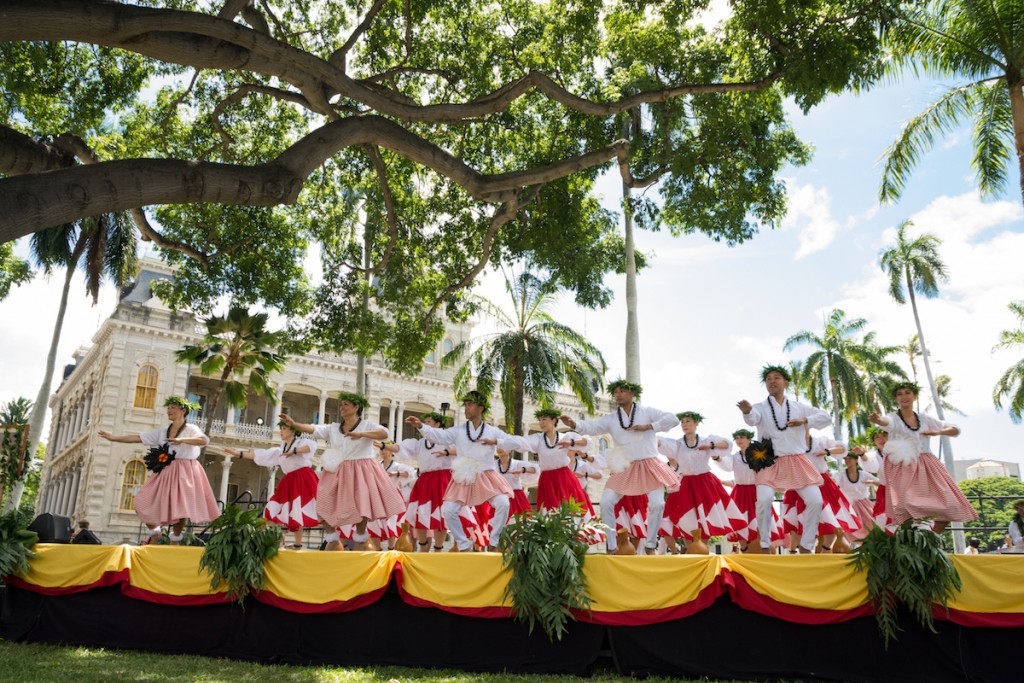 For hula practitioners and avid spectators, summer is another exciting season for cultural celebration as the Prince Lot Hula Festival takes center stage. While many halau prepare tirelessly for prestigious hula competitions, the Prince Lot Hula Festival distinguishes itself as Hawaii's premier noncompetitive hula festival. Welcoming halau and dancers of all ages and skill levels, the festival offers a free public showcase of hula performances in honor of Kamehameha V, Prince Lot Kapuaiwa.
Prince Lot ascended the throne in 1863, three decades after hula was deemed improper by Christian missionaries and banished from practice. In an effort to preserve and perpetuate the art form, Prince Lot dedicated his summer home in Kamananui Valley on Oahu to restore the public display of hula during his reign. He hosted lavish celebrations upon the grounds, welcoming performances to honor native traditions and to encourage Hawaii's artistic practices. Over a century later, the estate's beneficiaries, Frances "Patches" Damon Holt and Harriet "Haku" Damon Baldwin, established the Moanalua Gardens Foundation to preserve native sites like Moanalua Gardens. In 1978 the sisters commemorated his efforts  and committed the property to its original hula function, with Nalani Olds and Wendell Silva founding the Prince Lot Hula Festival as a gift to the community to honor the alii (Hawaiian royalty) at the very site he dedicated to the art form.
Since its humble beginnings, the festival has grown in recent years to include thousands of visitors from across the state and beyond, with upwards of 5,000 to 7,000 guests a day over the two days. To accommodate its growth, the festival relocated to another sacred site, further honoring Hawaii's monarchs upon the sacred grounds of Iolani Palace in Honolulu in 2018. While hula and Hawaiian music remain central to the celebration, food vendors and cultural demonstrations provide educational opportunities to further Hawaii's ancient traditions. Lei making, poi pounding and lauhala weaving are among the many demonstrations available to guests, as well as local artisans who share their talents at the shopping marketplace. Free tours of Iolani Palace are welcomed and encouraged throughout the weekend as well.
This year marks the 42nd annual celebration of Prince Lot Festival, with a new theme for the festive occasion. "I Mua E Na Pokii…Move Forward, O Youth," is a message of empowerment and encouragement to the next generation to continue leading with aloha and to celebrate their history and culture. This year will see a remarkable number of participants, including 22 halau from every major Hawaiian island sharing traditional kahiko and modern auana hula, as well as the welcomed return of kumu hula Robert Cazimero and Halau Na Kamalei O Lililehua after a four-year absence and an impressive Pele tribute by 90 haumana (students) of Halau I Ka Wekiu under the direction of Karl Veto Baker and Michael Lanakila Casupang. The festival will also award its two greatest honors to cultural leaders, kumu hula Iris Naleialoha Napaepae-Kunewa, who was the last student of hula master Lokalia Montgomery, and Kamuela Chun, who was trained in the art of oli (chant) by the famed Kanakaole ohana in Hilo. These extraordinary cultural practitioners will receive the Moanalua Gardens Foundation's Malia Kau award and the Namakahelu Oli award, respectively.
Admission is free. Bring beach chairs and blankets. No commercial photography is allowed. 9 a.m. to 4 p.m. Saturday, July 20, 9 a.m. to 3 p.m. Sunday, July 21, at Iolani Palace, 364 S. King St., Honolulu, moanaluagardensfoundation.org