Hawaii's Rainbow of Cultures and How They Got to the Islands
Laborers from all over the world moved to the Islands to work on the sugar plantations, and stayed to make Hawaii what it is today.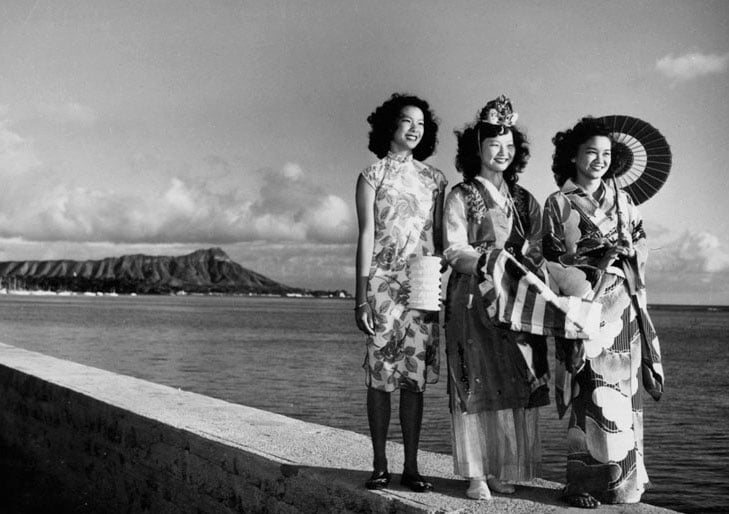 Beginning in the 1850s, as the sugar industry grew and plantations began to multiply throughout Hawaii, plantation owners—many tracing their ancestry to English and American missionary families—began importing contracted laborers from outside the Islands to supplement Hawaiian laborers. By the early 20th century, thousands of laborers from China, Portugal, Japan, the Philippines, Korea, Puerto Rico and Okinawa had moved to the Islands, completed their sugar plantation contracts and elected to stay.
Chinese laborers, who began arriving in the Islands a half-century before most other ethnic groups, were the first to fulfill their contracts and leave the plantations, collectively creating one of Hawaii's first middle classes, founding banks and their own businesses. The Portuguese eventually contributed to the growth of Hawaii's ranching industry, working as paniolo (cowboys).
This blending of cultures in such close geographic quarters would ultimately influence many of the things we consider uniquely Hawaii—from the multiethnic foods we eat, fashions we wear and businesses we frequent to the politicians we elect, fellow residents we befriend and families we raise. Ask many Hawaii residents what birth ethnicity they most identify with, and they'll very likely check off a combined list of mixed plantation ethnicities rather than simply identifying a single culture.
"Hawaii is such a great place because the people are nice," says Dennis Ogawa, a professor of American Studies at UH Manoa. "We're the rainbow culture, the model of the vanguard of what the world should be like."
The Chinese
Chinese laborers were the first immigrant group to arrive in Hawaii for work on the plantations and numbered more than 50,000 between 1852 and 1887. Many also arrived to work on rice plantations throughout the Islands, which replaced kalo (taro) as a mass-farmed crop at the time. After finishing their contracts, about a third returned to China. Many more, however, elected to raise families here to provide their children better educational opportunities than they could in their homeland. Many Chinese laborers moved to urban areas like Honolulu, creating business and residential enclaves. Honolulu's Chinatown district, one of the oldest such districts in the U.S., remains a thriving hub of Chinese culture more than a century after it was first settled.
Best events and places to learn about the culture:
Chinese New Year: The Lunar New Year is celebrated throughout the Islands with Chinese lion dancing, firecrackers and the eating of traditional foods. The biggest gathering, however, happens in Honolulu's Chinatown district at the end of each January with festivals, a parade and block parties.
Chinatown District in Honolulu: The multi-block Honolulu district that, over the past century, has survived fires and the bubonic plague still claims vibrant roots in the local Chinese community with its open markets, vegetable stands, innumerable restaurants and medicinal herb shops.
Notable people:
Don Ho: Oahu-born musician and entertainer whose charismatic stage presence and catchy hit "Tiny Bubbles" made him Hawaii's first international superstar. There's even a statue of him in Waikiki.
Hiram Fong: Prominent Oahu-born businessman and politician. First Asian American and Chinese American elected a U.S. Senator, serving from 1959 to 1977. First Asian American to seek the Republican Party's nomination for U.S. President in 1964.
Alan Wong: Hawaii-based James Beard Foundation award winning chef and restaurateur. One of 12 chef co-founders of the Hawaii Regional Cuisine culinary movement, along with part-Chinese, part-Hawaiian Sam Choy.
The Japanese
Between 1885 and 1924, more than 200,000 Japanese immigrated to Hawaii as plantation laborers until their arrivals suddenly stopped with the Federal Immigration Act of 1924. "After that, the door was shut," says Ogawa. "So it's the only (Hawaii) ethnic group really defined by generation." The Issei, or first generation, kept strong connections to Japan, with many planning to return. Impacted by World War II, second generation Nisei felt it necessary to prove their patriotism to a country that interred many of them for having the enemy's face. The Sansei, or third generation, further removed itself from Japanese culture, growing up speaking only English. Sansei and generations since, however, have more often sought to learn and share the culture of their grandparents and great-grandparents, evidenced in numerous festivals, celebrations and other events offered statewide.
Best events and places to learn about the culture:
Japanese Cultural Center of Hawaii: The Oahu-based center serves as the hub of Honolulu's Japanese community and is home to an art gallery, resource center, martial arts studio, teahouse and gift shop. It also hosts multiple cultural events and exhibitions.
Urasenke Tea House: This traditional teahouse, in the midst of Oahu's bustling Waikiki resort area, welcomes visitors to participate in Japanese tea ceremonies.
Honolulu Festival: An annual Oahu festival celebrating Japanese culture and the diversity of Pacific Rim cultures with entertainment, food, workshops, a Waikiki parade and fireworks show.
Bon Dance Season: Each summer, Japanese Buddhist temples statewide host evening bon dances, honoring the spirits of family members who have passed away.
Notable people:
Daniel K. Inouye: World War II veteran, Medal of Honor recipient and member of the 442nd Regimental Combat Team. Longest-serving Hawaii U.S. Senator, first elected in 1962. Highest-ranking Asian American politician in U.S. history as President pro tempore from 2010 until his 2012 death.
Patsy Mink: First woman of color and first Asian American woman elected to Congress, in 1965. Served six consecutive terms.
Ellison Onizuka: Hawaii Island-born NASA astronaut. In 1985, he became the first Asian American and first person of Japanese ancestry to fly into space.
The Portuguese
More than 16,000 Portuguese immigrants, many of them from the offshore islands of Madeira and the Azores, arrived in Hawaii from 1878 to 1911 to work the plantations. While Chinese and Japanese workers arrived in the Islands as single men, however, the Portuguese came as families, with plans to stay. Being European, they were offered superior contracts than immigrant workers from Asia, receiving an acre of land, better working conditions and often serving as luna, or supervisors. They were also offered American citizenship when Hawaii became a territory of the U.S. in 1898. Upon completing their labor contracts, many Portuguese started their own businesses or farms. Some opened restaurants and bakeries while others became paniolo, working the ranches on horseback. Today, the Portuguese influence on Hawaii culture is found everywhere from restaurant menus featuring comfort food favorite Portuguese bean soup to the distinctive plucking of the Hawaiian steel guitar.
Best events and places to learn about the culture:
Portuguese Genealogical Society of Hawaii: Founded in 1981, its Oahu headquarters houses a library where visitors can peruse historical documents collected by the society.
Kona Historical Society: The Hawaii Island-based nonprofit perpetuates the traditional art of Portuguese bread baking weekly in a large, wood-fired forno. Volunteers are welcome to roll dough.
Notable people:
Manuel Nunes: Madeira immigrant credited with bringing the ukulele to Hawaii and becoming one of the instrument's first local craftsmen.
Shane Victorino: Maui-born, part-Portuguese Boston Red Sox outfielder.
Frank De Lima: Popular Hawaii-based, part-Portuguese comedian.
The Hawaiians
Having first arrived from Polynesia and settled in the Islands more than a millennia before the start of the sugar era, Hawaii's indigenous culture largely chose self-sustaining fishing and farming over plantation life. Their population ravaged by lack of immunity to diseases brought to the Islands by foreigners, Hawaiians were employed by landowners for field clearing and planting during the industry's early years, pre-1850, but not so much at its peak. According to the 2010 U.S. Census, more than 527,000 people nationwide identified as "Native Hawaiian." Hawaiian culture has particularly flourished in the last half-century through new generations of kanaka maoli—Native Hawaiians—perpetuating the Hawaiian language and traditional tenets of the culture, including hula, land and ocean stewardship, music, surfing and myriad art forms. Interest and participation in Hawaiian cultural practices has also expanded to other resident Hawaii ethnic groups and worldwide.
Best events and places to learn about the culture:
Bernice Pauahi Bishop Museum: Founded in 1889, it houses the world's largest collection of Polynesian cultural artifacts and more than 24 million natural history specimens. Its library boasts one of the most extensive collections of books, periodicals, newspapers and special collections related to Hawaii and the Pacific, including the personal papers of Hawaiian royalty.
 The Merrie Monarch Festival: Held in the Hawaii Island town of Hilo, the annual cultural festival celebrating and perpetuating hula traditions also hosts hula's most prestigious competition.
Aloha Festivals: Launched in 1946, the annual September festival on Oahu is the largest Hawaiian cultural celebration in the U.S., featuring multiple music, dance and cultural events.
Notable people:
Prince Jonah Kuhio Kalanianaole: First Native Hawaiian elected to the U.S. Congress, in 1903. A prince of the overthrown Kingdom of Hawaii, he remains the only royal-born person elected to Congress.
Duke Kahanamoku: Legendary waterman and 5-time Olympic medalist, he popularized the Hawaiian sport of surfing and was the first person to be inducted into both the Swimming Hall of Fame and the Surfing Hall of Fame.
Daniel Akaka: Oahu-born first Native Hawaiian U.S. Senator, from 1990 to 2013. (He is also part Chinese.)
John Waihee III: Hawaii Island-born first Native Hawaiian elected governor of Hawaii and a U.S. state.
Nainoa Thompson: As crewmember of the Hokulea voyaging canoe in 1980, he was the first Native Hawaiian to utilize early Polynesian navigating techniques on a long-distance ocean voyage since the 14th century.
The Filipinos
The first Filipino plantation laborers arrived in Hawaii in 1906, most male and unmarried. By the industry's peak in the early 20th century, however, Filipinos made up more than half of the sugar plantations' labor force in the Islands. As their contracts ended, Hawaii's Filipino population boomed as many of the men remained and sent for their families. By the 2010 U.S. Census, Filipinos had surpassed Japanese as the state's largest ethnic group. (Filipinos were the third-largest ethnicity in the 2000 census.) "And there are new immigrants coming here all the time," says Rev. Alex Vergara, president of the Oahu Filipino Community Council. "So there's still a very strong connection to (the Philippines)." The impact of Filipino culture is now felt in all aspects of Hawaii life, from politics to sports, healthcare to education, and food and entertainment.
Best events and places to learn about the culture:
Flores de Mayo Festival: Held each May in Waikiki's Kapiolani Park, the annual festival features a young leaders' conference, a Filipino cook-off and screenings of Filipino movies, in addition to a fiesta and parade.
Filipino Community Center: Established in 2002, the Oahu community center offers cultural programs, social services and language classes.
Waipahu Festival Marketplace: Opened in 2007, the indoor farmers market in Oahu's Waipahu town resembles open markets found in the Philippines, selling a variety of fresh and imported Filipino delicacies.
Notable people:
Ben Cayetano: In 1994, he was elected Hawaii governor, becoming the first Filipino American governor of a U.S. state.
Angela Perez Baraquio (Grey): Crowned Miss America 2001, she was the first Asian American and first Filipino American to win the title.
Brian Viloria: Oahu-born professional boxer and former world flyweight and lightweight champion.
The Koreans
Chinese, Japanese and Portuguese laborers were already long entrenched in the hard labor of Hawaii's sugarcane fields when the first large group of Korean immigrants arrived on the RMS Gaelic in 1903. A mix of men, women and children, they were mostly from small rural villages in Korea. With Hawaii a U.S. Territory and the 1900 Organic Acts, which banned contract labor, passed before they arrived, Korean laborers were not locked into long-term contracts and quickly ditched plantation life to live and work elsewhere and open businesses. Within two years of the Gaelic's docking, more than 7,000 Koreans would arrive in Hawaii for work, with many of them staying on.
Best events and places to learn about the culture:
Korean Festival: A popular annual Oahu festival featuring Korean dance, art, music and food.
Taste of Korea: An annual Oahu culinary fundraising event featuring Korean dishes prepared by top Honolulu restaurants. Its mission is to fund the building of a Hawaii Korean Culture Center.
Notable people:
Michelle Wie: Oahu-born professional golfer. At age 10, became the youngest player to qualify for a USGA amateur championship.
B.J. Penn: Hawaii Island-born two-time, two-division UFC mixed martial arts champion, first American gold medalist in the World Jiu-Jitsu Championship.
Herbert Choy: Kauai-born first Asian American to serve as a U.S. federal judge and first Korean American lawyer admitted to the bar in the U.S.
The Okinawans
Okinawa is the southernmost prefecture of japan, comprised of hundreds of islands, but Okinawans in Hawaii rarely refer to themselves as Japanese. They are Okinawans, or Uchinanchu, and proud of the distinction. The first immigrant laborers from Okinawa arrived in the Islands in 1900, eventually numbering more than 25,000. Arriving after the passing of the Organic Acts, the Okinawans, like the Koreans, were free from long-term plantation contracts and left to run their own farms and piggeries, open restaurants, find government work and start businesses soon after arriving. Today's Hawaii Okinawan population numbers more than 50,000, with many active in 50 member clubs that are part of the Hawaii United Okinawan Association. The association also hosts one of the biggest annual ethnic festivals in the state each August, the Okinawan Festival.
Best events and places to learn about the culture:
Okinawan Festival: Held each September at Kapiolani Park in Waikiki, the two-day cultural gathering attracts thousands of residents and visitors for Okinawan music, dance and entertainment. The highlight, however, is always the food-booth menu, featuring a variety of traditional and contemporary Okinawan favorites.
 Hawaii Okinawa Center: Opened in 1990 to honor the first Okinawan immigrants to Hawaii, the Oahu cultural center houses historical and cultural materials related to the ethnicity's experience in the Islands.
Notable people:
Gov. David Ige: In 2014, Oahu-born David Ige became Hawaii's first Okinawan American governor.
Robert Taira: Hawaii Island-born entrepreneur and founder of King's Hawaiian bakery.
Albert and Wallace Teruya: Co-founders of Oahu-based grocery store chain Times Supermarkets.
The Puerto Ricans
The Puerto Ricans were not the largest of the cultures immigrating to Hawaii for plantation work, but their presence would grow in years to come. Many of the first Puerto Ricans arriving in Hawaii in 1900 were out-of-work laborers from homeland coffee plantations destroyed by devastating hurricanes. This disaster made them a convenient labor option for plantation owners to take advantage of, since Puerto Rico, like Hawaii, was a U.S. territory at that time. Puerto Ricans were also contracted to counter threats of unionization by Japanese and Filipino laborers, a move which proved ultimately futile. By 1901, more than 5,000 Puerto Rican men, women and children had immigrated here. Many remained, creating a Hawaii Puerto Rican population numbering more than 35,000 today.
Best place to learn about the culture:
Puerto Rican Heritage Society of Hawaii: This nonprofit is dedicated to preserving the knowledge of the history, culture, and arts of the Puerto Ricans in Hawaii. It holds infrequent events at the Hawaii Mission Houses museum and other venues around the state.
Notable people:
Manuel Olivieri Sanchez: Court interpreter who led a legal battle for U.S. citizenship for Puerto Ricans living in Hawaii.
Bruno Mars: Oahu-born Grammy Award-winning singer/songwriter. (He is also half Filipino).
Faith Evans: A former state legislator and the first woman in the United States to serve as a U.S. Marshal.