Hawaii's Saint Damien memorialized in a Manhattan street name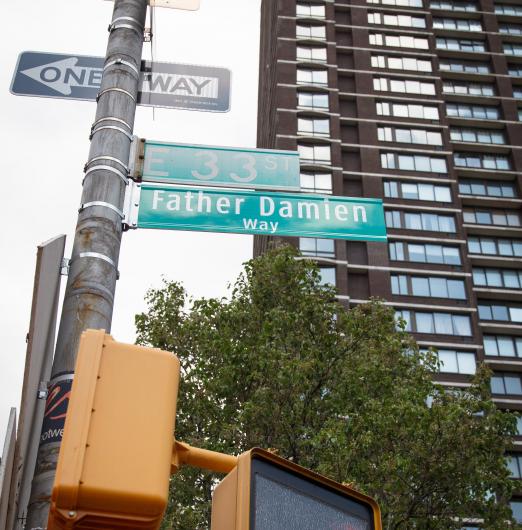 A statue of Father Damien represents the state of Hawaii in the U.S. Capitol's National Statuary Hall in Washington D.C., and now an urban thoroughfare in Eastern Manhattan also bears his name.
In an official ceremony on Monday afternoon (May 11), a block of 33rd Street not far from the East River and between First and Second Avenues was co-named "Father Damien Way." Similar to other co-named Manhattan thoroughfares such as 6th Avenue (Avenue of the Americas) or 53rd Street (U2 Way), this stretch of 33rd Street will now be known "33rd Street (Father Damien Way)."
Father Damien was a Catholic priest who famously lived amongst and cared for Hansen's disease (leprosy) patients exiled on Molokai's remote 4 ½ square-mile Kalaupapa Peninsula. He cared for and lifted the spirits of the outpost's residents from the time of his arrival in 1873 until he succumbed to the disease himself in 1889.
The Catholic Church canonized him in October of 2009 and declared him the patron saint of people with leprosy. He was just the 10th canonized individual to have lived, worked, and/or died in what is now the United States.
The street-naming ceremony was held at the Chapel of the Sacred Hearts of Jesus and Mary in front of an audience of more than 250 people, according to representatives from Flanders House, the diplomatic presence of the Dutch-speaking northern region of Belgium. The group initiated the nomination of the Belgian national for the honor and chose the location.
The ceremony included a prayer service and remarks on the life and legacy of Father Damien delivered by Hawaii State Sen. J. Kalani English and two former patients who still call Kalaupapa (now a National Historic Park) home. A street sign with the new name was placed at the intersection of 2nd Ave. and 33rd St.
33rd Street (Father Damien Way) is home to the Chapel of the Sacred Hearts of Jesus and Mary, a church that bears the same name as the congregation and missionary institute that sent Father Damien to work in Hawaii. The street is also near Bellevue Hospital, the only treatment center for Hansen's disease patients in NYC.