Hawaii's still very active Kilauea volcano sends lava flow into Kalapana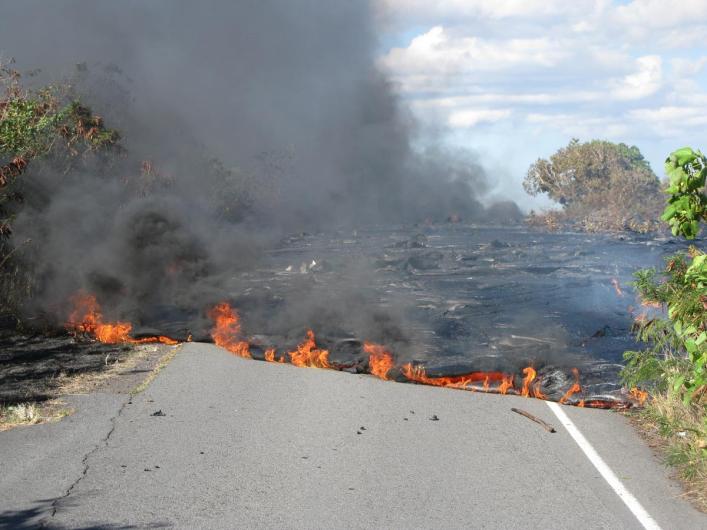 HAWAII Magazine reader Beth Kowalski e-mailed us with a question about our lack of coverage of Kilauea Volcano activity in recent months:
Has activity at Kilauea volcano not been newsworthy lately? Your website used to write often in 2008 and 2009 about lava activity at Hawaii Volcanoes National Park. But the last story I found about it at HawaiiMagazine.com was last October. I can read about Kilauea's eruptions at the Hawaiian Volcano Observatory's website. But I liked how your website broke down the scientific news about the eruption into easy-to-understand articles and language. I know the volcano is still active, so what's up?
Funny you should write us this week, Beth.
After several months of quiet, business-as-usual activity at the Big Island volcano, lava flows from Kilauea's east rift zone Puu Oo vent this week came within a 100 or so yards of several homes in the Kalapana area for the first time since 1992. Parts of the flow also covered sections of Highway 130 and 137, which once led to coastal viewing sites for Puu Oo lava entering the ocean.
Kalapana, you may remember, was the small Puna district town virtually destroyed by lava flows from Kilauea volcano between April 1990 and February 1991. Over 10 months, the devastating flows slowly moved through the heart of the town, taking with it homes, longtime businesses and invaluable archaeological sites. Gone forever when the flow finally came to a stop were the natural fresh water spring and swimming hole Queen's Bath, Kaimu Bay and Black Sand Beach and much of the area's picturesque coastline.
According to the Hawaiian Volcano Observatory's website this morning, the current lava flow affecting Kalapana was still advancing, albeit very slowly, over Highway 137, but had not yet destroyed any homes.
Eruptive activity at Kilauea volcano is always newsworthy to us, Beth. And, like you, we check in with HVO's website regularly to keep up with news about Kilauea volcano's lava activity. The HVO staff is diligent about updating their website daily, often with video and great photos (like the ones published here). We always enjoy checking in.
In the spring and summer of 2008, Kilauea volcano was making international headlines just about every week. In March of that year, Kilauea's summit Halemaumau crater woke up from 84 years of slumber with a series of steam, ash and rock explosions that prompted two closures of Hawaii Volcanoes National Park. While that activity was continuing, the meeting of ocean water and underground lava flows from Puu Oo vent—active since 1983—was producing visually stunning explosions of rock, steam and ash off the Puna coastline.
We reported on all major activity at volcano through 2008 and 2009, as often as there was news from the geologists at Kilauea. And yes, Beth, HawaiiMagazine.com's last story on actual Kilauea activity was this one (with video) from October of last year. But as was made pretty obvious from this week's news, Kilauea volcano is still very much active.
The steam and ash plume at the Halemaumau crater vent continues to rise from an ever-expanding crack in the crater floor. Lava still fills the Halemaumau vent, occasionally creating a sloshing lake of molten rock. On the Puna coastline, lava flows from Puu Oo vent also regularly pour into the sea at varying levels of voluminousness creating the newest land on earth—though much less explosively.
If you are on the Big Island this week and want to see the current flow near Kalapana, be advised that all access on Highway 130 to the head of the flow is being monitored and controlled by Big Island police and Civil Defense officials.
HawaiiMagazine.com will continue to monitor news from HVO on the Kalapana lava flow. Keep checking back in for updates.